A middle-aged man with no significant medical history presented to ED with sudden onset, severe chest pain radiating to his back. He was eating when pain began. Pain was intensifying so he called EMS. He received 324mg ASA and 0.4mg nitroglycerin prior to ED arrival. On arrival BP was 140/55, HR 74. In triage, he was profusely diaphoretic and ill appearing and so was brought to the resuscitation room. Lungs were clear to auscultation. While he had a 2+ pulse in the right upper extremity, the team was unable to palpate a pulse in his left upper extremity. He had no acute ischemia on EKG.He had a large bore IV placed and was brought immediately for a CTA.

Here is the bedside ultrasound of the abdominal aorta in long axis: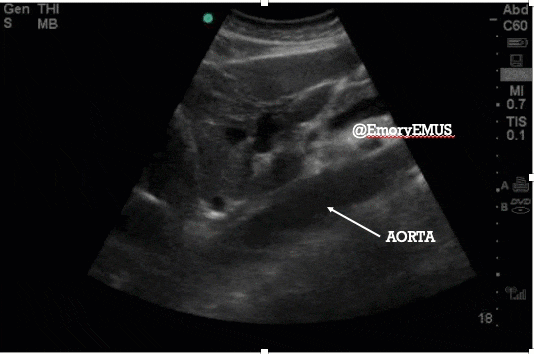 Here it is in short axis: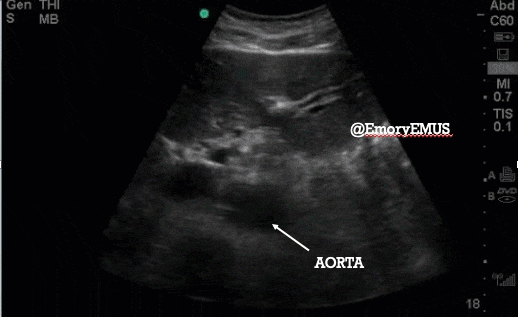 No dissection flap.
But you know in your soul and your bones that this aorta is torn.
Here is the CTA: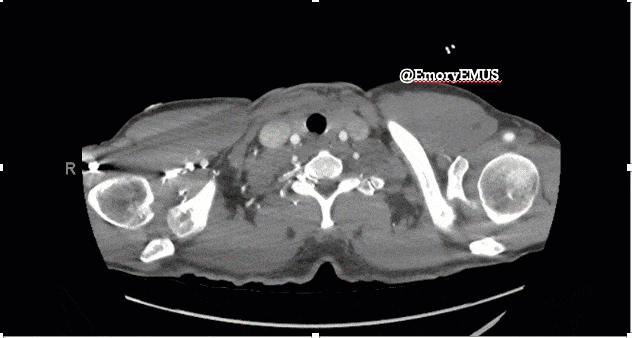 This is a type A aortic dissection extending from the aortic root up into the carotid and subclavian/brachiocephalic arteries, and distally the entire length of the aorta through both iliac arteries and into the R common femoral artery. Esmolol infusion was started and he was transferred to the care of a cardiothoracic surgeon.
The dissection is not at all subtle, so how did the ultrasound not detect it?
Well, I cheated a little bit and left out two important views that we obtained.
Here is the parasternal long axis. No flap was seen in the descending thoracic aorta in this view either: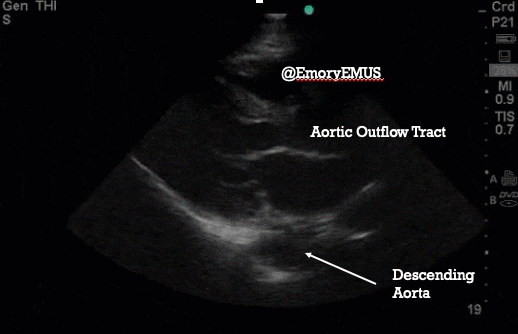 But here is clue number 1: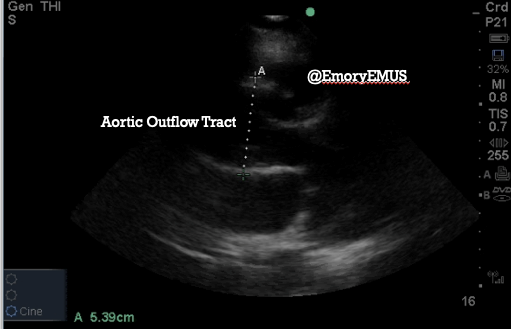 The probe was flipped and shifted away from the LV apex, but stay with me, this is a mirror of the parasternal images above. This measurement is of the aortic outflow tract, just at the sinus of Valsalva. A normal aortic root is 4cm or less. In this patient, it was 5.39cm. A dilated aortic root only means that the thoracic aorta is aneurysmal, but in many patients with type A dissection, there is an enlargement of the aortic root in association with the dissection. It is worth emphasizing again that aortic root enlargement is not specific for type A dissection.

We then moved on to the suprasternal view. This view is obtained by placing the patient supine and extending the neck as far as possible. A shoulder roll can be used to assist with this or the patient's head can even be tilted off the end of the bed. The probe is placed in the suprasternal notch to visualize the aortic arch and its branches.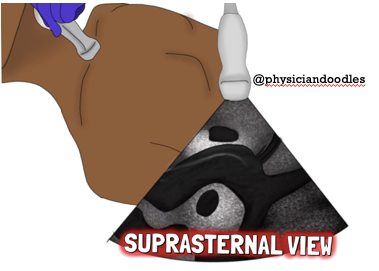 Here's the dissection flap we found in the aortic arch: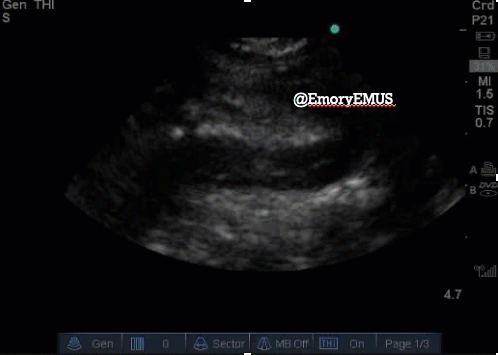 This still doesn't explain why the dissection was not seen in the abdominal views. I' offer what makes the most sense as an explanation. For context, the patient was hypotensive while these images were obtained. The whole point of controlling HR and BP in aortic dissection is to minimize shear forces that would propagate;the dissection or feed excess blood into the false lumen. Because this patient had his BP controlled in narrow parameters, the movement of the flap has been stopped. That's it, a nice visual representation of the science. Blood pressure is likely highest at the aortic root and aortic arch so the flap was still visible. Otherwise, just as you do when looking for a retinal detachment, you should adjust the gain (brightness) to see if a flap will appear. (It did not for us.)

Again, if your patient with suspected dissection is hypotensive, you may not see a dissection flap on ultrasound.

For those of you who think you've missed out by not seeing the abdominal dissection flap on ultrasound, Dr. Shayne at GMH enlisted last month's ultrasound team, Drs. Rahel Gizaw and Daniel Freeman, for a bedside ultrasound to evaluate for aortic dissection in a hallway patient. His patient was recently discharged from another emergency department with a diagnosis of musculoskeletal back pain.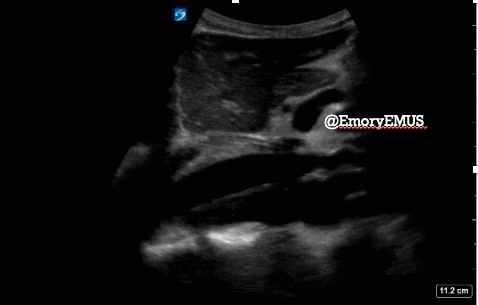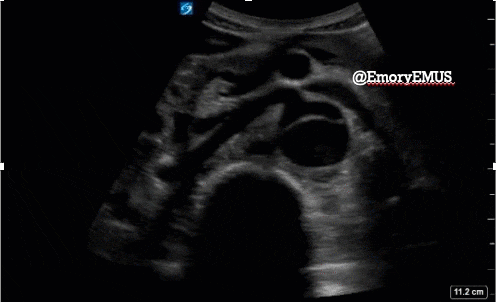 FYI, Dr. Gizaw, aside from being a good human and dissection catcher extraordinaire, is also quite a talented illustrator. The ultrasound section is grateful for her suprasternal ultrasound illustration above. Follow her @physiciandoodles on Instagram.