This week's image is brought to us by Emory Medical Student and future EM applicant Christina Wieczorek. With the use of the linear probe, Christina was able to find a broken sewing needle embedded in the foot. See the image of the XR as well as the labeled US still image below. 
The patient presenting with a wound should always raise concern for a possible retained FB. Despite meticulous irrigation, wound evaluation, and XR imaging, some FBs are still missed. Although radiopaque FBs will often be seen in standard XRs - as seen on the image below - radiolucent objects such as wood are often not visualized. The US has proven to be a valuable tool for localizing FBs in soft tissues, especially in those that are radiolucent.

With the high-frequency linear probe, attempt to find the FB centered on the long axis as shown in the image. From there you can take measurements of overall depth and proximity to the skin surface as well as identify surrounding anatomy. The skin surface can be marked to show the overall location of the FB and guide incision. Extraction can be done with our without US guidance. 
In this case, the pt had a rather simple extraction of the needle by her primary ED provider, Dr. Hannah Woebkenberg.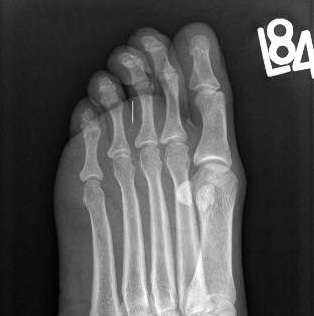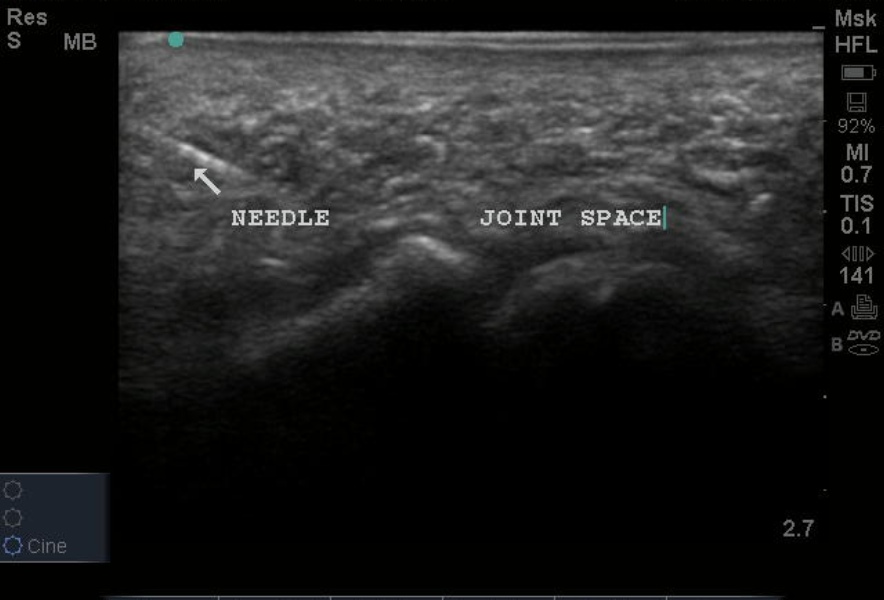 Date: May 2012