An infant patient was brought in by EMS for unresponsiveness. He was found that morning by a parent in bed looking "blue," and chest compression with rescue breaths were immediately started. Upon arrival at the emergency department, he was bradycardic with irregular respiration and minimally responsive. He was intubated for respiratory failure and neuroprotection. Once stabilized, his workup was significant for normal LFT, lipase, and hemoglobin. His head CT showed bilateral subdural hematomas and loss of gray-white differentiation. Ocular ultrasound of both eyes was performed: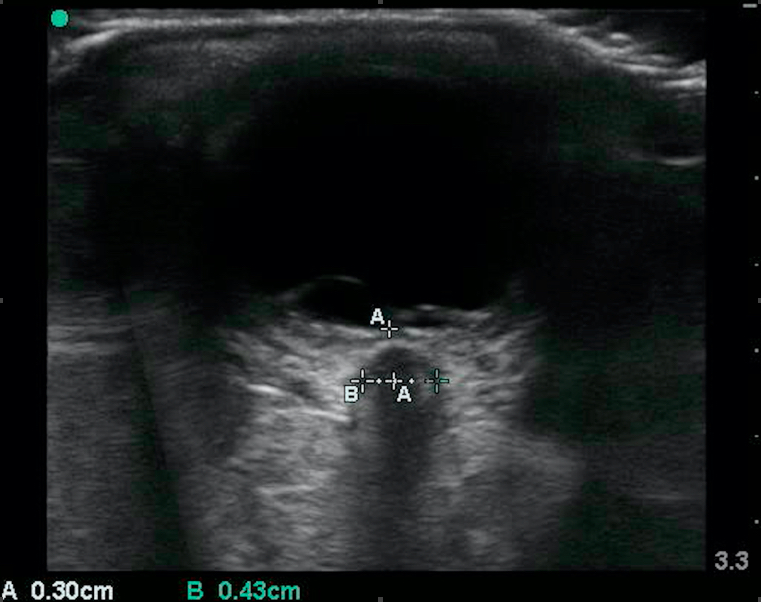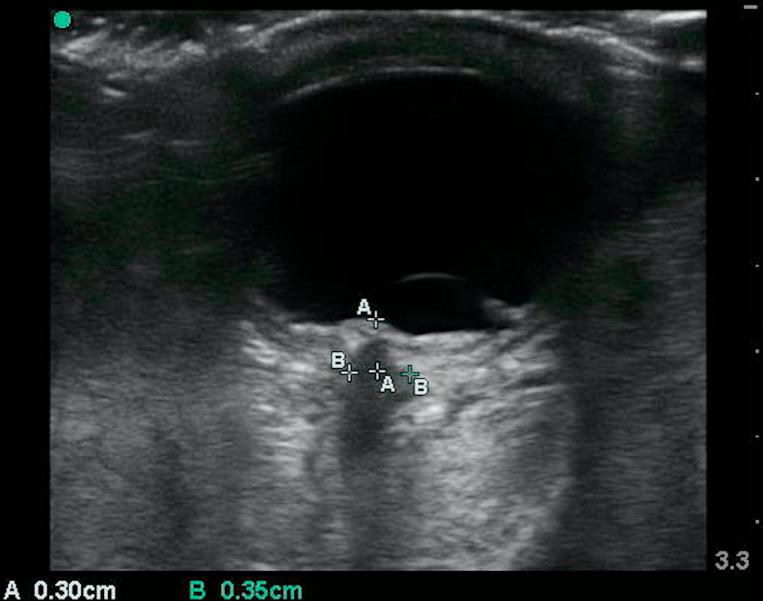 Notice any abnormalities?

The red arrows are pointing to areas of retinoschisis in each eye. These are retinal hemorrhages. What we see in these images is essentially blood dissecting off a portion of the retina. Normally the retina appears as a smooth white line outlining the posterior chamber on ultrasound. On these images, the provider is also measuring the optic nerve sheath diameter seen in the far-field of the image. The presence of retinal hemorrhages and subdural hematomas confirm suspicions for abusive head trauma.
In 2016, Riggs et al. published a case series examining the use of ocular ultrasonography in patients with abusive head trauma and compared these findings to dilated indirect fundoscopy performed by ophthalmologists. In this series of three patients, retinoschisis on ocular ultrasound was found on all three patients, and directly correlated to the presence of retinal hemorrhage in two of them. The third patient expired before fundoscopy could be performed.
There haven't been enough studies yet to accurately correlate the presence of retinoschisis with retinal hemorrhages, let alone substitute ocular ultrasound for fundoscopy. If they could be correlated, Riggs et al. point out significant advantages to using ocular ultrasound in this capacity: it is non-invasive and radiation-free; findings could be seen sooner since funduscopic examinations need to be delayed for preservation of pupillary exam and for patient stability, and findings could still be discovered if the patient has severely swollen eyelids preventing eye-opening. More studies need to be done in this area.
Image credit: Drs. Lekha Shah and Pete Gutierrez.