The image this week is a unique presentation - but one that can be rather easily assisted by bedside ultrasound. The patient, an adult female, came to the ER for evaluation of worsening abdominal pain post GYN procedure. In the workup, the use of bedside ultrasound gave the following still image.  
Image 1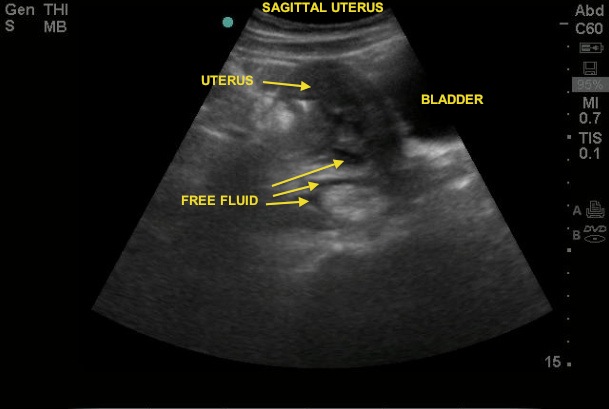 Can you see the pathology (on video)? Any guess as to the procedure the patient had in the GYN office? 
This patient, unfortunately, suffered a rare, but important, complication of her procedure - uterine rupture post-IUD placement (Image 2). 
Image 2
Although this patient had a recent procedure, she underwent the same workup and evaluation for a young female with undifferentiated lower abdominal pain. Recall that IUDs are not 100% effective at contraception - there have been cases of IUPs with IUDs in place! Also, case reports exist with IUD migration into the abdominal cavity.
The US images above use the abdominal (curvilinear) probe to assess the pelvic structures - in that fashion typical to the evaluation of the pelvic window in the FAST exam. Complete evaluation of the uterus and surrounding structures should be done in 2 planes - the longitudinal and short axis (Image 3).
Image 3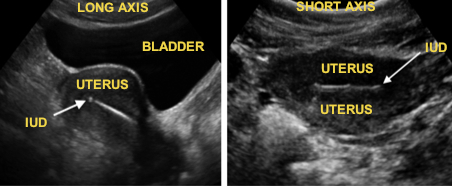 In this normal image, notice the appearance of the IUD in the two views - it is hyperechoic with minimal shadowing. In the setting of a copper-containing IUD, you may also see reverberation artifact cascading down from the IUD itself (see image 4). 
Image 4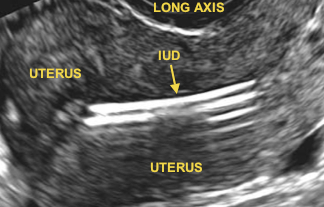 Date: June 2013