The image of the week focuses on fetal heart rate determination. As commonly practiced, the pregnant patient has an additional vital sign – assessment of the fetal heart rate. This is a rather easy US skill to acquire, but the measurement must be done with the M-Mode, not pulse wave Doppler: see Image #1 – incorrect use of Doppler; and image #2 – correct use of M-Mode. Although not studied well in humans, inadvertent and prolonged use of pulse-wave Doppler may have adverse effects on the unborn fetus. Particularly, investigations with laboratory animals have documented that pulsed (Doppler) ultrasound can cause elevations in temperature and damage biological tissues in vivo.
Image 1

Image 2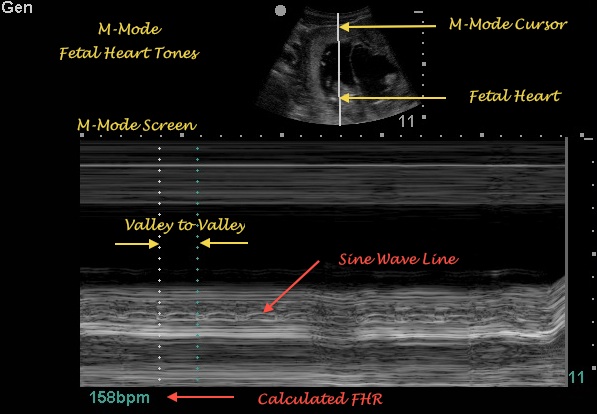 When visualizing a developing pregnancy, think of using "Mommy-Mode." This is an easy way to recall the need for M-Mode imaging. In brief, M-Mode gives a real-time representation of a moving object. In actual bedside practice, first visualize the beating fetal heart on the screen (with trans-abdominal or transvaginal scanning, with preset changed to OB setting), then press M-Mode; this brings up a single M-Mode cursor beam. Using the trackpad or mouse ball, place the beam over the best view of the beating heart. M-Mode is then pressed again. The resulting image is a representation of the movement as seen through the single M-mode cursor beam. Generally one is able to see a faint sinusoidal wave across the M-Mode screen. The waveform represents the movement of the beating heart. By pressing the freeze button, one can then use the caliper function to measure the fetal heart rate. This is done by measuring from peak-to-peak (or valley to valley) of two subsequent waves. A software calculation will turn this measurement into a calculated fetal heart rate that you can then document (Image 2).
Note: the above does depend on a fetus remaining rather still while the M-mode cursor is on. Also, each of the Emory ED machines uses the general concepts described above, but may have subtle differences or other variations of doing the same thing – but all involve M-mode, not pulse wave Doppler. 
Date: September 2011