The IOW comes to us from Drs. Brandon Penn, Courtney Woods, and Gina Porter - an excellent example of findings consistent with ectopic pregnancy. The patient, a 34 yo female, arrived to the ER with severe right lower quadrant pain. Vital signs were significant for BP of 80/60s and HR of 120s. Surgical history was notable for a tubal ligation several years prior.
The first image is the right upper quadrant part of the FAST exam - note the free fluid at the liver tip (Image 1). In a patient with suspected ectopic pregnancy, this finding predicts the need for operative intervention (see Moore et al., 2007). Scanning through the pelvis, a complex mass likely representing the ectopic was seen in the left lower quadrant (Image 2). The findings correlated with the operative report confirming the presence of an ectopic pregnancy in the left fallopian tube. 
Image 1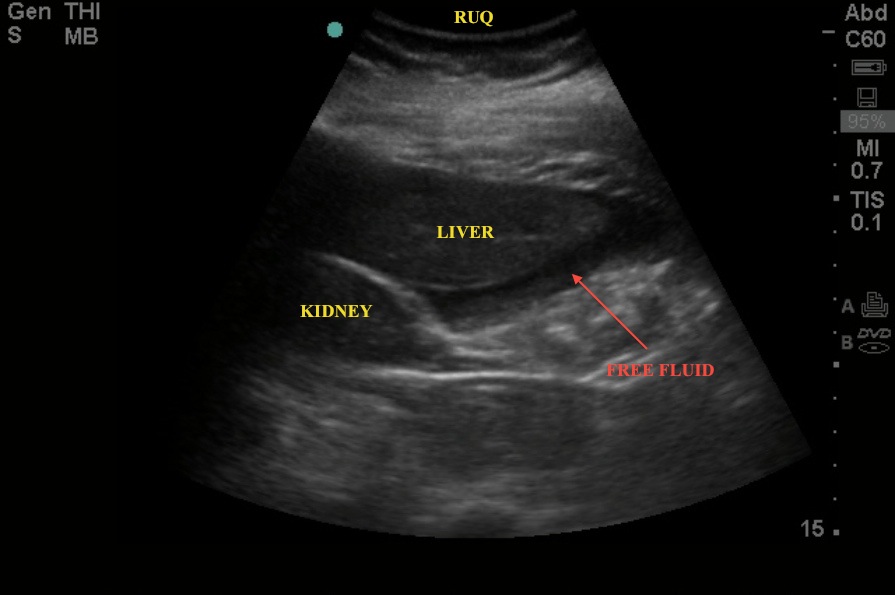 Image 2
Take-home points: Remember that you do not need to find the ectopic on your bedside ultrasound. As ED providers the primary goal is to identify and intrauterine pregnancy. If we can't, and the BHCG is positive, we must think ectopic until proven otherwise. Second, when concerned for ectopic, perform a FAST exam looking for free fluid. This can expedite consultation and appropriate management.