Image 1
Notice the probe type? What part of the body is this? Any thoughts as to the pathology?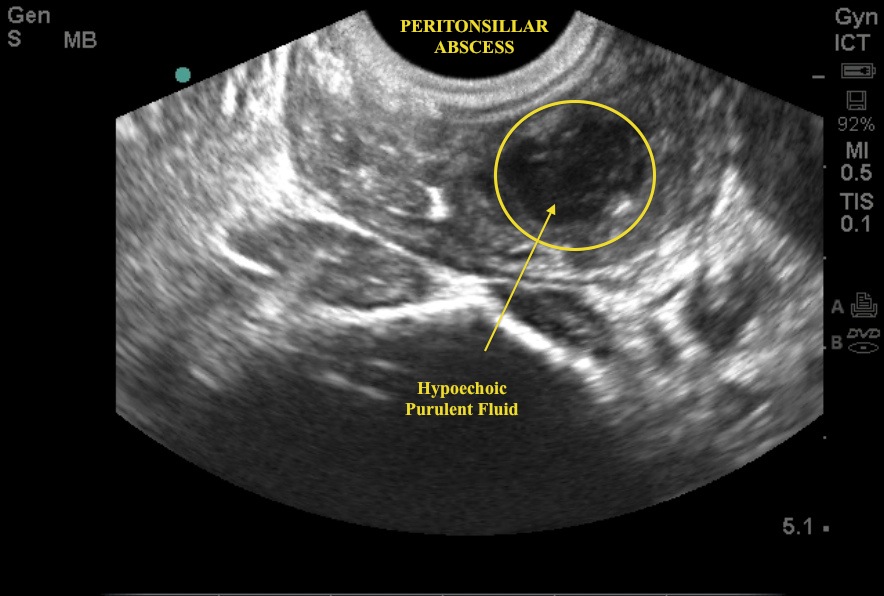 Here we have the intracavitary probe evaluating the posterior oral pharynx. Why? Looking for a peritonsillar abscess (PTA). This pt presented with a sore throat and a muffled voice. Dx: PTA. Can we drain this in the ED ourselves...YES. What do you want to know about prior to draining? Proximity to big red - i.e., the carotid artery. After placing topical anesthesia, use a cleaned intracavitary probe with a probe cover, and place orally over the area of swelling. Have suction ready. On the US screen look for an area of mixed echogenicity. In this image, you see a rather superficial abscess without any visualization of the carotid artery. Bedside US and successful I & D were performed by our own PGY2, Dr. Dilani Weerasuriya.
Image 2
Not the most common US image, but any idea what we are looking at in Image 2? This pt arrived with NV and abdominal pain. Physical exam showed an incarcerated hernia.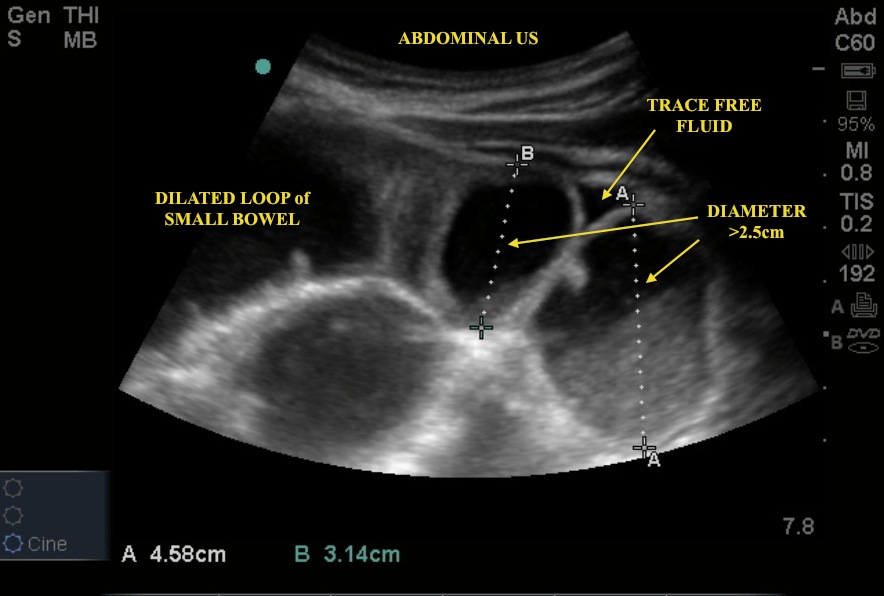 Here the curvilinear probe is placed over the abdomen, scanning over the 4 quadrants with a particular focus around the area of the hernia. Note the tubular structure and the fact that it is distended (>2.5 cm in diameter) and fluid-filled. This is classic for a small bowel obstruction (SBO). Although not classically part of the algorithm for SBO work up, US has better specificity than the acute abdominal series and something we should be reaching for when clinically evaluating a possible bowel obstruction. The pt went to the OR for surgical management.
Image 3
23 yo female with pelvic and abdominal pain. The ideal pt for a prompt bedside abdominal US. Here the US, as performed by EM Intern Natasha Demehri, showed some concerning findings in the right adnexa. Can you ID the pathology? See Image 3 and video link below.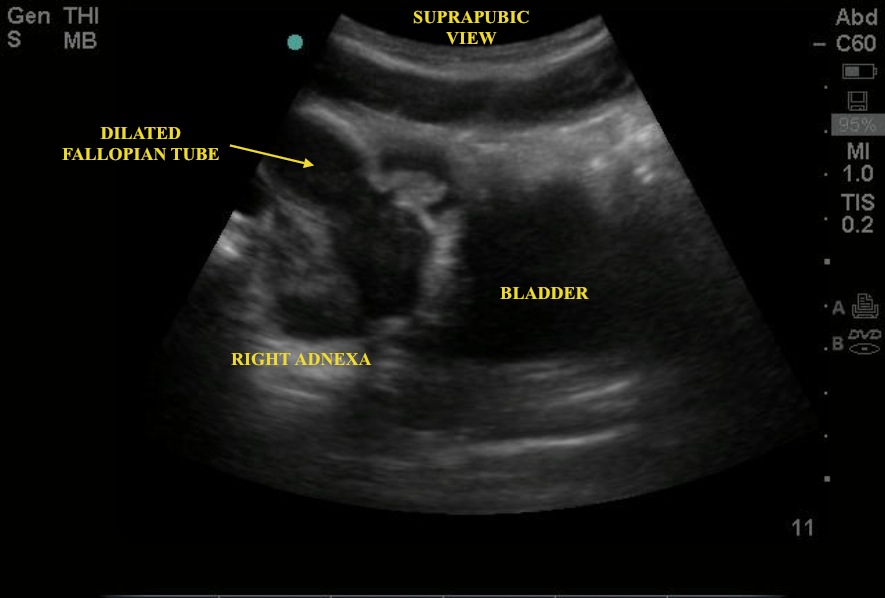 Here the US probe is placed at the point of maximal tenderness and angled into the RLQ. Note the use of the linear probe (on the YouTube video) as the providers tried to identify the etiology - appendicitis vs pelvic mass. The enlarged fallopian tube is being caused by both echogenic material (pus/debris) and hypoechoic fluid (likely blood). Also, note the free fluid outside the fallopian tube. These US findings are classic for an ascending infection - typical of those seen in the spectrum of pelvic inflammatory disease, salpingitis, and turbo-ovarian abscess. In this case, the diagnosis of hydropyosalpinx was made. 
Date: August 2012