This week's image is brought to us by Drs. Juron Foreman and Allen Stokes. They used ultrasound to identify a large area of the consolidated lung. Ultrasound can distinguish consolidated lung from effusion and can provide details not seen on CXR.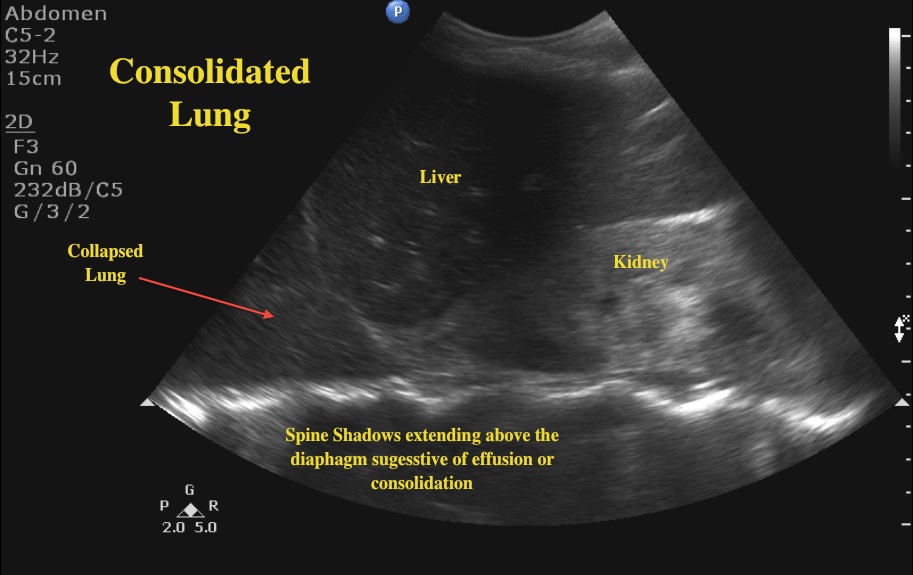 Recall that normal lung is air-filled and not readily visible with ultrasound (normally we interpret lung artifacts- A-lines/B lines). In consolidation as fluid fills the lung and displaces air the lung is easier to visualize with ultrasound, taking on the appearance of a solid organ like the liver.  
In this image we can also see the spine shadows extending above the diaphragm - normally air in lungs obscures the spine shadows. Complex effusions can be more difficult to distinguish from the consolidated lung. See video posted on the US blog that shows an empyema secondary to TB. To distinguish the two you can look for air bronchograms (small bright reflectors from air trapped in the lung), B-lines artifacts at the edge of the lung, or doppler can be used to visualize small pulmonary vessels.
Date: February 2012