A 50-year-old man was brought to Grady Marcus Trauma Center after being stabbed to his left chest. On arrival, he tolerated a supine assessment but was pale and diaphoretic. Initial BP 105/60, with HR 90s, SpO2 was 93% on room air. His GCS was 15. Unsurprisingly, he reported chest pain. The secondary survey revealed a 4 cm laceration to the left chest located just lateral to the mid sternum. Supervised by Dr. Robertson, the eFAST was performed by Dr. Jonathan Thomas PGY-3, who archived his images under the correct MRN for us to review.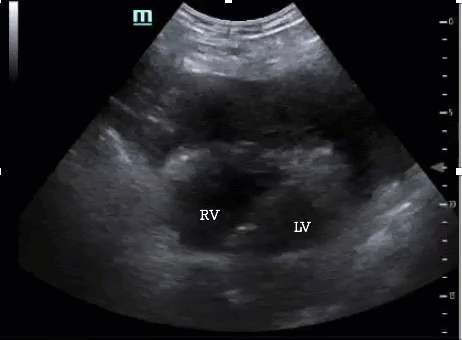 This subxiphoid view demonstrates a large effusion, a hyperdynamic left ventricle and collapse of the right ventricle. The collapse in the right ventricle happens because the pressure in the pericardial space exceeds that in the right during diastole, which inhibits cardiac filling and causes obstructive shock.
There is some controversy regarding the usefulness of the eFAST exam in penetrating trauma to the precordium, particularly in the presence of abnormal VS. (This patient only has one disposition—to the OR). Do it anyway while you prepare to transfer to the OR. This is a quick investigation that can change management. Some wounds that appear to enter the chest may not have injured the heart at all and the shock may be instead from a tension pneumothorax/hemothorax. Other missiles that appear to be thoracic wounds may actually terminate in the abdomen. In patients with multiple penetrating injuries, the size and hemodynamic effect of traumatic hemorrhage can help guide operative planning on which cavity to decompress/repair first.
Note that this trauma patient was not tachycardic during any point during his prehospital or ED care despite borderline BP. This is well documented in the literature. Your considerations, in this case, should include still include hemoperitoneum (including ruptured ectopic in the right context, notorious for paradoxical bradycardia), neurogenic shock, inferior or posterior STEMI (medical or traumatic) and beta/calcium channel blocker use. As a matter of fact, you should remain particularly concerned about hypotensive trauma patients with normal or bradycardic heart rate.
For those of you only rarely see penetrating trauma to the precordium, this evaluation is useful for your patients with new or enlarging pericardial effusion and you are uncertain about its hemodynamic significance. In tamponade, since the right side of the heart cannot fill, the IVC will become plethoric with no respiratory variation. If the IVC is flat in a medical patient, you should consider alternate reasons for shock.
A more advanced maneuver in a stable medical patient is to apply M-mode through the mitral valve and right ventricle in the parasternal long-axis view. The mitral valve is open during diastole when the heart is filling. If tamponade is present or imminent, the right ventricular free wall will move inwards when the mitral valve opens (RV diastolic collapse). Simply, the two waves should not point towards each other.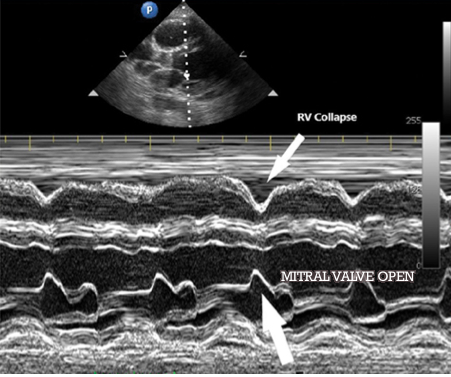 Dr. Thomas' patient was found to have 4mm transmural LV laceration, just lateral to the LAD, which was repaired in the OR. He was discharged 10 days later in fair condition. He had no long term anatomic abnormalities on last month's transesophageal echo.
Key Points
Tamponade is a clinical diagnosis. Even small effusions can cause tamponade, especially with acute hemorrhage. 

M mode and IVC evaluation can help in the evaluation of impending tamponade in a medical patient.
Do not rely on tachycardia to determine clinical instability.