The IOW comes from Dr. Kevin Little, who used the ultrasound to evaluate a patient with a history if sickle cell disease presenting to the ER with hypotension, respiratory distress, and AMS. History was limited, and the differential diagnosis was broad. Pulmonary embolus was considered, but he was too unstable to have a CT performed. In addition, this patient had a known history of pulmonary hypertension (likely from chronic pulmonary microvascular occlusion from his sickle cell disease). A history of chronic pulmonary hypertension makes the echocardiographic diagnosis of acute right heart strain from a new PE extremely challenging. In the image below note that the right ventricle is larger than the left ventricle, suggesting increased right-sided pressures.
Image 1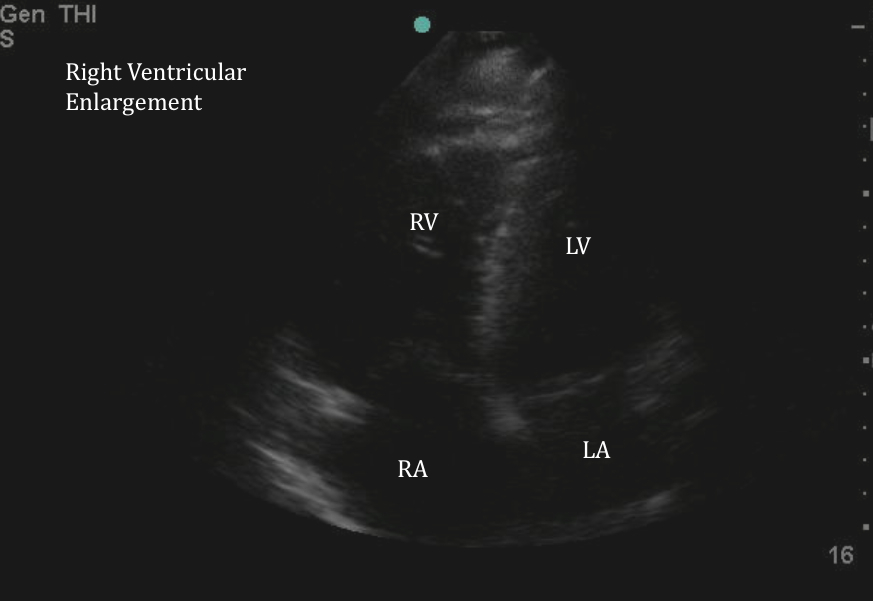 It is not possible to tell if this dilation is from chronic and acute right heart strain. Dilation of the right ventricle as seen above, or a D-sign caused by bowing of the septum into the left ventricle, will occur with both acute and chronic right heart strain. There is only one ultrasonographic finding that is considered specific for acute right heart strain- McConnell's sign.
McConnell's sign is defined as right ventricular free wall akinesis with sparing of the apex. Typically this looks as if the apex of the RV is a trampoline bouncing up and down while the rest of the RV remains still. This finding is not sensitive, but in a small study was specific for an acute PE. Other causes of acute right ventricular strain (i.e., right-sided MI) likely cause a similar pattern, but this has not been extensively studied. 
In addition, the ability of Emergency Department providers to identify this has not been studied, so further research is needed.
Date: November 2014