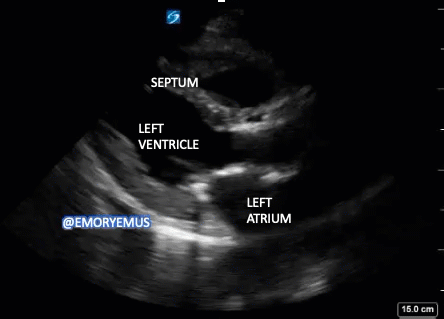 A 72-year-old woman presented to the ED at Grady Memorial Hospital with abdominal pain and weakness that made her leave her dialysis session. Initial blood pressure was 84/53 and she appeared ill. She was noted to have a cardiac murmur on exam. Working with Dr. Melissa Gittinger, now PGY2 Dr. Taylor Stavely was concerned about patient's ability to tolerate fluid boluses for hypotension. She performed a point-of-care limited echo.
The ejection fraction is severely reduced, which was consistent with patient's history of HFrEF and EF 25%.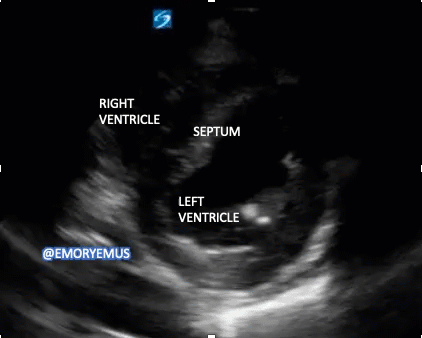 Additionally, the interventricular septum appears to be bowing towards the left ventricle.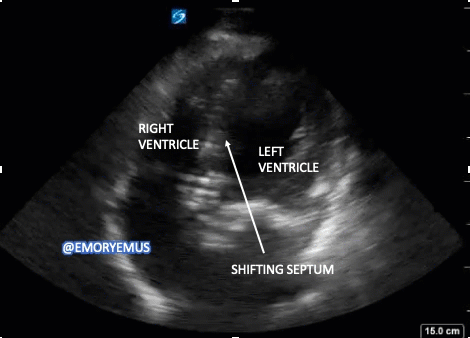 In the short axis view, this is often called the 'D' sign, because the left ventricle, which is usually 'O' shaped, assumes more of a 'D' configuration because the septum is flat. This occurs when there is either pressure or volume overload in the right ventricle. Acute pulmonary embolism is the typical diagnostic consideration, but this can be seen in pulmonary hypertension or any longstanding chronic lung disease that will lead to it (including COPD, pulmonary fibrosis etc.)
But hold on to your heparin drip. Not everything about this picture adds up. The right ventricle is not enlarged at all. It's about half the size of the left ventricle on the apical 4 chamber view, which is normal.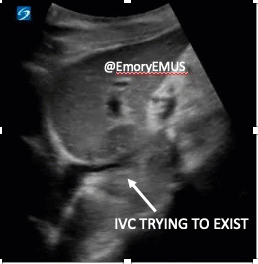 That's ok, all that right heart pressure will back up into the IVC.
(Of course it didn't because that's not how IoFN works.) This IVC is unequivocally flat. IVC ultrasound gets a bad rap but a flat IVC usually signifies intravascular volume depletion. A right heart that is generating sufficient force to push against the (higher pressure) left ventricle to form a 'D' sign should be associated with a plethoric IVC. 
There are some other sonographic features of right heart dysfunction that are easy to perform, but that's for another time.

The real culprit for the 'D' sign/septal bowing is right here in her EKG.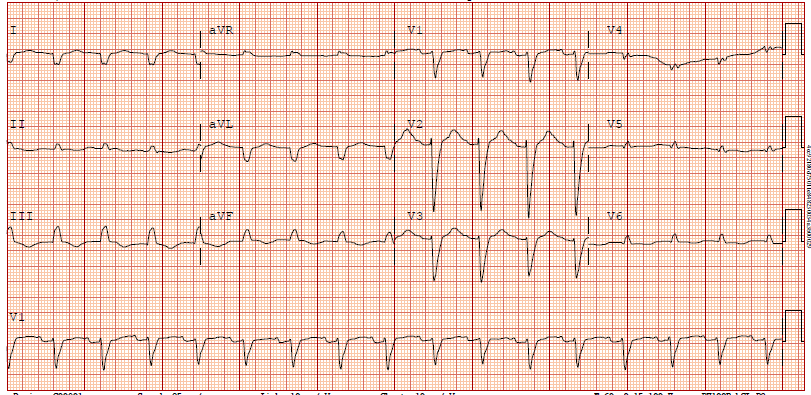 This patient has a left bundle branch block (Sgarbossa negative). What you're actually seeing on this echo is the septum depolarizing at a different time than the left ventricle free wall because of the conduction delay, not septal bowing from right heart overload. 
That's it. That's the case.
The patient received a 1L fluid bolus that she tolerated well. She did not have a PE. She was admitted and received some more care.
Tricia A. Smith, MD, MPH
Assistant Professor
Department of Emergency Medicine
Emory University School of Medicine
Attending Emergency Physician
Emory University Hospital

May 2020