This week the IOW is brought to us by Dr. Katie Dean, EM PGY2. During her evaluation of a patient with SOB and tachycardia, Katie used dedicated cardiac views to narrow her differential.
See the YouTube links to see the parasternal long axis (PSLA) and the parasternal short axis (PSSA). 
Do you see an effusion? Does the EF look normal? Is there chamber enlargement? What should you be thinking about these views? See labeled still images #1 and #2. 
Image 1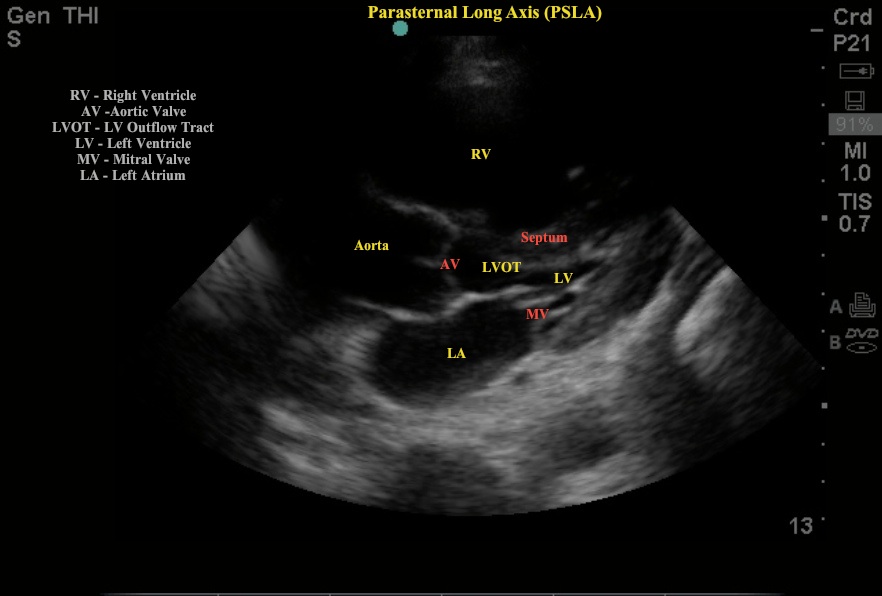 Image 2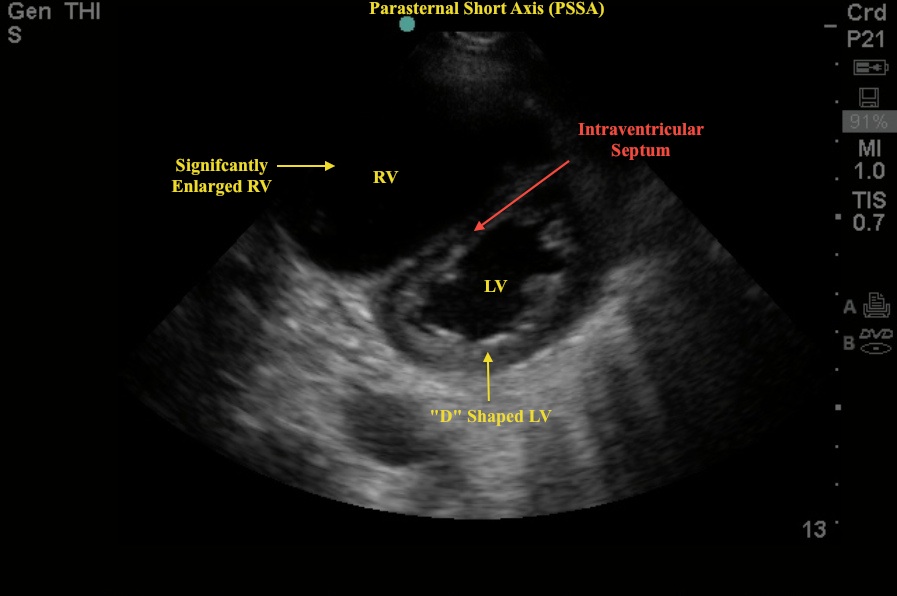 This patient had concerning vital signs (elevated HR and RR) and also had significant risk factors to suspect Acute PE (metastatic cancer, prior PE). On the PSLA view note the LARGE RV and atypical movement of the intra-ventricular septum into the much smaller LV. In the PSSA view note again the LARGE RV and the "D" shape of the LV. During right heart strain, the inter-ventricular septum flattens and makes the PSSA view of the left ventricle look like the letter "D" instead of the letter "O".
These images are from a patient with CHRONIC right heart failure, not acute right heart strain from a PE. The take-home is that these two diagnoses can have similar bedside echo findings. An enlarged RV alone does not confirm the diagnosis of a PE. The clinical context and any prior workups (previous echos) may be your best guide. The following bedside echo findings MAY suggest the diagnosis of hemodynamically significant PE:
"D" sign as noted above
Enlarged RV to LV Ratio
A right free ventricular wall <0.4cm in diameter
A McConnell's sign - right ventricular strain with normal apical right ventricular function
As a separate reminder, PLEASE SAVE YOUR SCREEN DOCUMENTATION with every use of the US.
On every machine press, the spacebar and you can begin to type your findings. Please include the following:
Your Name / Attending Name (first initial and full last name)
Indication: i.e., RUQ pain, trauma, hematuria, etc.
Findings: any measurements you take, what you see
Interpretation: your overall impression, for example- Negative FAST, evidence of cholecystitis
Once you are done typing, hit the "save" button to save your documentation as a still image. When you do not save the documentation image, credit for performing the US cannot be given. 
Date: August 2012