This case comes to us from Dr. Beau, a PGY-2, and Dr. White, our residency program director. The patient was a previously healthy young man who arrived in the emergency department in extremis. Collateral history from relatives was that he had progressive dyspnea and unintentional weight loss over the last few months. On the day of the presentation, he became diaphoretic and lethargic, with acutely worsened dyspnea. Past medical, surgical, and family history were noncontributory. There was no history of illicit substance use.
Vital signs on arrival were:
BP 106/52
HR 114
Rectal temp 34.7C (94.5F)
Respiratory Rate 22
SpO2 90% on room air
Weight 80kg (176lb)
He was a diaphoretic, pale young man in moderate respiratory distress, unable to speak in sentences. Lung sounds were normal.
Abnormal lab results included WBC 27.6 with 90% neutrophils, lactate 10.0, hemoglobin 9.5, CO2 content 10, anion gap 29, creatinine 1.6. BNP was 3,698 (ref <78 pg/mL) and troponin was slightly elevated at 0.38 (ref <0.04 ng/mL). He had a moderate transaminitis with AST: ALT <2:1
Arterial blood gas suggested severe metabolic acidosis, with a pH 6.99. 
Given the clinical picture, the patient was evaluated for potential sources of sepsis, but the differential diagnosis remained broad severe pneumonia, myocarditis, pulmonary embolism, ARDS, and infective endocarditis.
Focused echocardiogram was performed: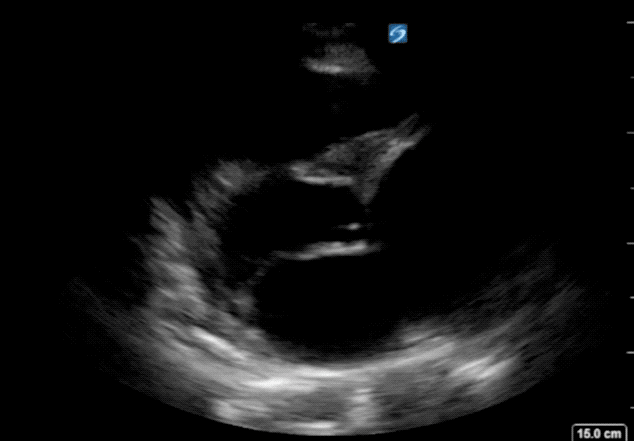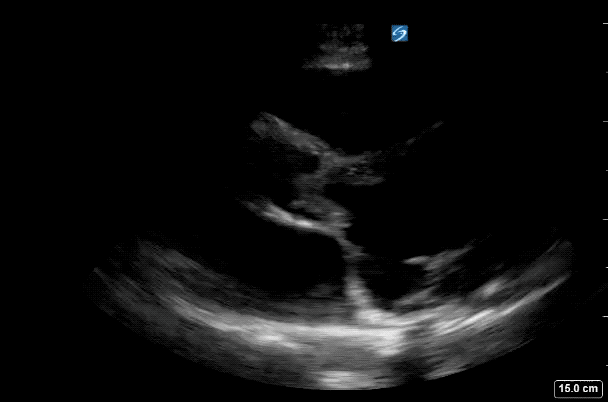 On these parasternal long-axis views, there is large vegetation on the aortic valve consistent with infective endocarditis. Though no color Doppler study was performed in this video, the aortic valve also appears incompetent.
Large vegetation such as this is easy to see, but if there is clinical suspicion for endocarditis with a negative bedside or formal echocardiogram, transesophageal echo should be performed. Once the echocardiogram was performed, cardiology and cardiothoracic surgeons were called for definitive care, which is often an emergency valve replacement.
Bedside ultrasound is a crucial tool for undifferentiated dyspnea, particularly in the critically ill patient. In this instance, rapid diagnosis led to prompt and specific changes in the patient's management.