This week's IOW comes to us from Dr. Lekha Shah and demonstrates the notorious cardiac tamponade! 
This was a female patient with a history of breast CA who presented with shortness of breath and unstable vitals.
Image 1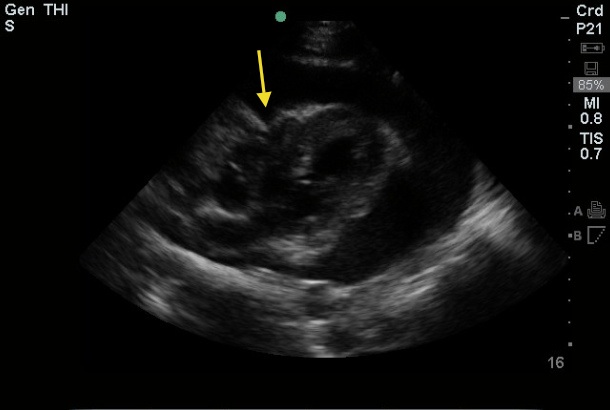 The image above is a parasternal long view with the arrow denoting right ventricle collapse during diastole, as well as a significant pericardial effusion. 
The clip above demonstrates the significant effusion and the RV collapse more evidently, and is sometimes referred to as appearing like 'a man jumping on a trampoline.' 
Cardiac Tamponade Key Points
Chronic versus acute effusions: In patients with chronic effusions, the pericardial sac has time to stretch in response to fluid and can sometimes contain a liter or more before tamponade occurs. With acute effusions, as little as 100 cc of fluid can cause tamponade.
Mechanisms
Trauma (penetrating and blunt), pericarditis, heart surgery, cancer (lung most common), uremia, hypothyroidism, acute MI. 
Less common causes include aortic dissection, radiation therapy, leukemia, lupus and spontaneously in patients on anticoagulation. 
Exam Findings
Electrical Alternans on EKG. Low voltage QRS complexes are also seen.
'Water Bottle Heart' on CXR
Beck's Triage of hypotension, JVD and muffled heart sounds
Pulsus Paradoxus - a drop > 10 mm Hg in BP during inspiration
Diagnosis
Echo is the diagnostic test of choice!!
**Note to Self: In this case, a lot of us would most likely put PE near the top of our differential, so hopefully this will remind us to keep our differentials broad and our ultrasounds close! (Also, it's a little awkward if radiology is the first to diagnose the tamponade on CT...)
Treatment
Pericardiocentesis: Usually done in the ED if a patient is in extremis and you should assume it is a TEMPORARY FIX. Insertion of catheters drains, etc. may be done during pericardiocentesis to allow ongoing drainage (especially important to consider if you are at a smaller institution and will be transferring the patient once they are stable).
Pericardial window by CT surgery. 
If CT surgery isn't an option where you practice, getting interventional cardiology involved is a good idea as they can put drains in using the cath lab.
** Also remember these usually have an underlying etiology that will need management. Don't forget to treat these as well. For example, a patient with an INR of 8 and tamponade needs reversal, etc. 
Date: May 2013