The image shows a bedside ultrasound used to diagnose an intraabdominal abscess in a patient with perforated diverticulitis. The patient was a 43yo male on antibiotics following a recent diagnosis of diverticulitis who presented with increasing LLQ pain. To perform the exam they placed the curvilinear probe on the patient's abdomen over the point of maximal tenderness. The image below shows a section of sigmoid colon with a thickened wall,  surrounding fat stranding, and a large overlying intraabdominal abscess. 
Image 1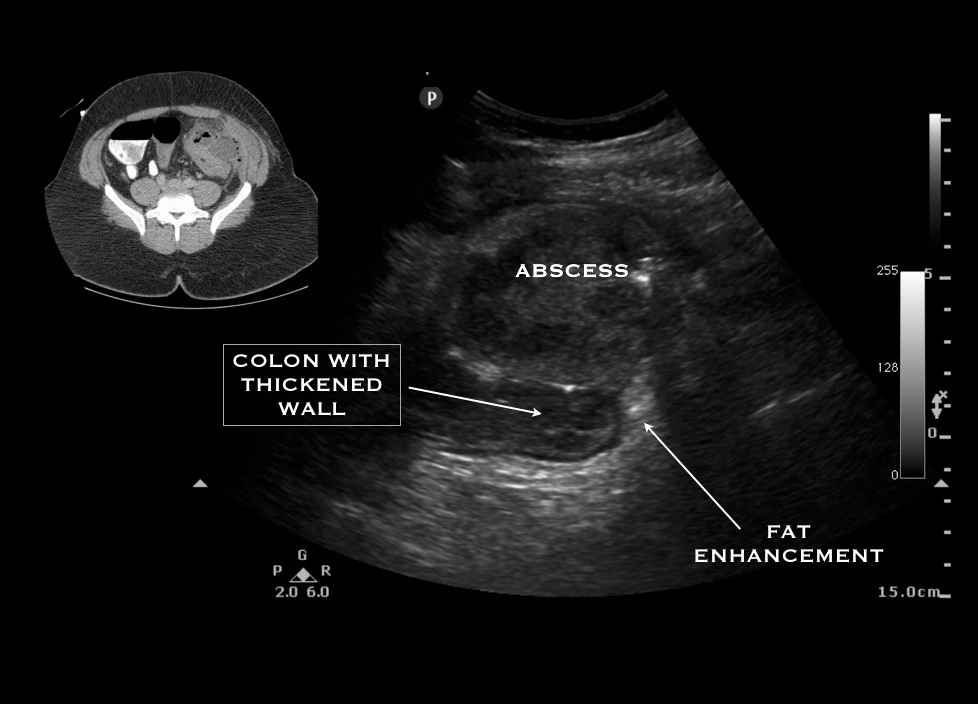 A normal colon can be differentiated from small bowel on ultrasound by its lack of peristalsis, its fixed location, and the lack of plicae circulars (small folds within the small bowel wall). Studies in the hands of expert bowel sonographers show ultrasound has a sensitivity and specificity of >80% for the diagnosis of diverticulitis. Diagnosis is made by identifying the following findings: colonic wall >5mm thick, fat enhancement, evidence of abscess, visualized diverticuli, air artifacts suggesting diverticuli, and tenderness with compression of the probe. This exam has not been studied in the hands of POC ED providers and should not replace CT, but it is helpful to know the kinds of pathology you may encounter when scanning the abdomen. Ultrasound may be a useful tool in making an early bedside diagnosis or in cases where CT cannot be obtained. 
Learn more
Helou N, Abdalkader M, Abu-Rustum RS. Sonography: first-line modality in the diagnosis of acute colonic diverticulitis? J Ultrasound Med. 2013 Oct;32(10):1689-94.
November 2013
Authors: Dr. Jean Wheeler and Erica Colvi