The Importance of Landmarking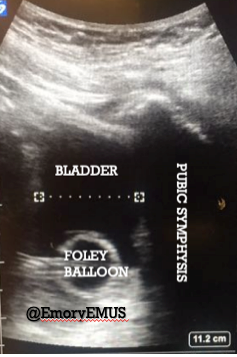 When evaluating the pelvis (just like the upper quadrants and the lung), you need to landmark relevant organs to obtain accurate images. For the bladder, you should use the pubic symphysis in the sagittal plane as your landmark.
Without a landmark, you can (and have, and will) mistake a collection of free fluid, an ovarian cyst, a loop of small bowel, or miscellaneous innards for the bladder. Bladder position changes relative to the level of distension, so finding the pubic symphysis in the sagittal plane is the only reliable way to ensure you are looking at the bladder. The pubic symphysis will most of the time be much lower than you think, and the bladder will be immediately behind it (screen left with the probe marker towards the patient's head).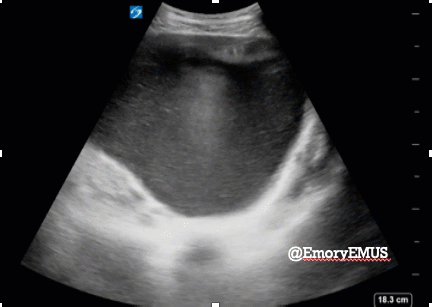 This clip was reported as part of a "negative" FAST. The echogenic debris within this fluid-filled structure is actually mucin from a previously undiagnosed ovarian tumor in a young woman. No clip of the bladder was recorded.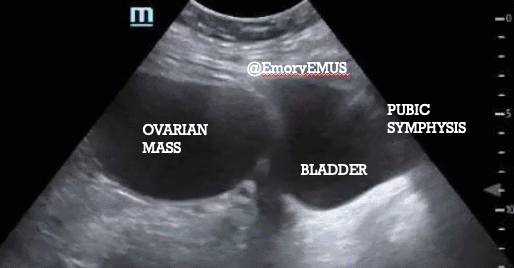 EM PGY-3 Rhamu Kharel and Grady faculty Brad Wallace made note of this recently when they noted a similar structure in the pelvis on a transverse view. Here is their sagittal view.
The patient was later referred for pelvic MRI and is scheduled for GYN for evaluation of what turned out to be an ovarian mass. This FAST should be called indeterminate.
Fan Through the Entire Bladder
Next, do not start your scan with the bladder already in view. You will miss free fluid. Like the kidneys in the upper quadrants, the bladder should appear on the screen, then disappear entirely to ensure you have evaluated the most likely places free fluid will collect.
This image is courtesy of EM PGY-1s John Diehl and Kristen Bascombe, and PGY-2 Jordan Beau, who did an excellent FAST last month. I've edited it to make a point. Take a look at this "negative" view: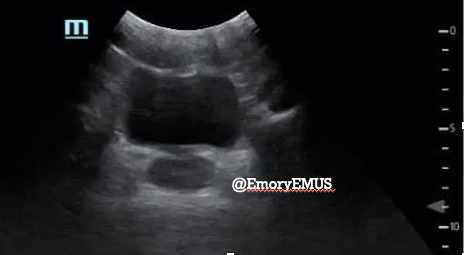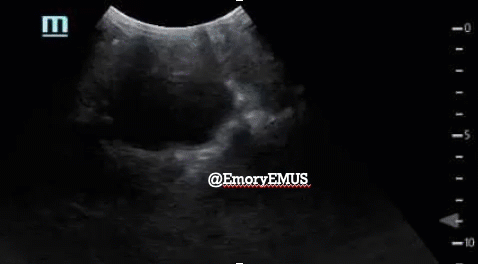 But this team knows how to do FAST. They were sure to fan the probe until the bladder disappeared. Ideally, it should "disappear" in both directions of probe fanning. Here is the full clip.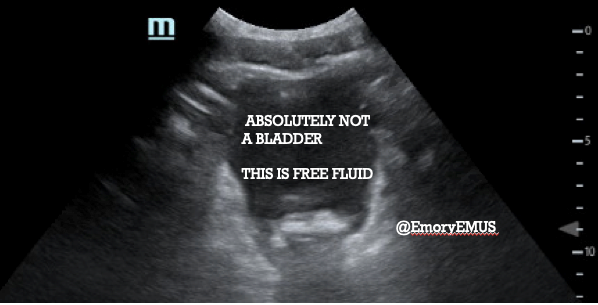 That is a non-trivial, non-physiologic amount of fluid in the pelvis. This collection can (and has) easily been mistaken for a bladder. (See: importance of landmarking.)
Visceral hemorrhage is an important clinical condition. Not everybody gets a CT, and not everybody can get a CT right away. Think about:
"Soft" trauma activations -- e.g., for tachycardia, but GCS 15
Activated "trauma" who is really a medical patient
Patients going straight to the OR (may want to know which cavity to open first)
Level 3 trauma who has stable vital signs but high energy mechanism
Multiple severely injured patients/mass casualty
Delay to CT for critical procedures, ongoing resuscitation (intubation, cordis, massive transfusion, tourniquet, pelvic binder)
CT already in use (stroke alert, mass casualty)
Scan all the things! Save all the clips! Record all the MRNs.
Tricia A. Smith, MD, MPH
Assistant Professor of Emergency Medicine
Emory University School of Medicine
Attending Emergency Physician
Emory University Hospital
September 2019