Pearls and Pitfalls in the FAST Exam Part 1 - Localizing Fluid
Is this pericardial effusion small, medium or large?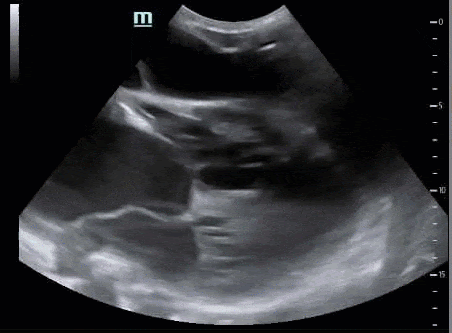 This pericardial effusion here is actually so small as to be nonexistent. The fluid seen here in this subxiphoid view is in the abdomen, so this is hemoperitoneum or ascites. The clue is that the liver appears intermittently at the upper left corner of the screen, surrounded by fluid. When in doubt, always obtain a second cardiac view before setting up your pericardiocentesis/pericardial window
How about the size of this pericardial effusion?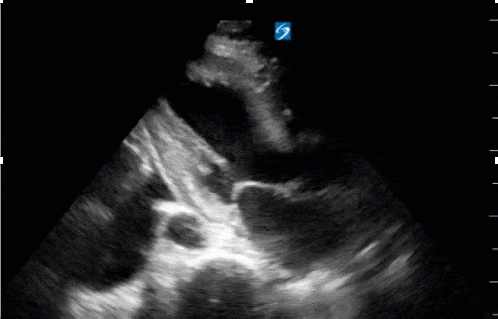 Of course, this is another trick. The fluid here is in the pleural space. This is an even more difficult determination, but the real way to distinguish is to find the descending aorta. On the parasternal long-axis view, pericardial fluid will be anterior to the descending aorta (higher up on the screen), and pleural fluid will be posterolateral (deeper, or lower than the descending aorta on the screen).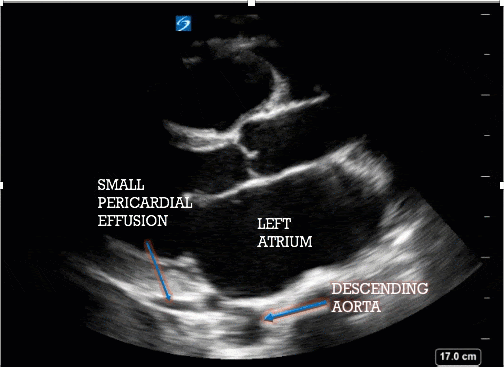 Look at this again, now paying attention to the descending aorta.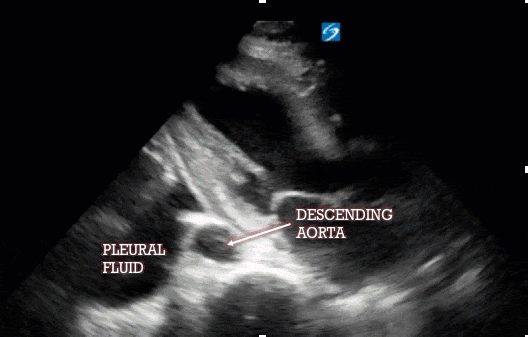 Pearls and Pitfalls in Lung Ultrasound in the FAST Exam
Now that you found this pleural fluid, you decide to check for lung sliding and find this.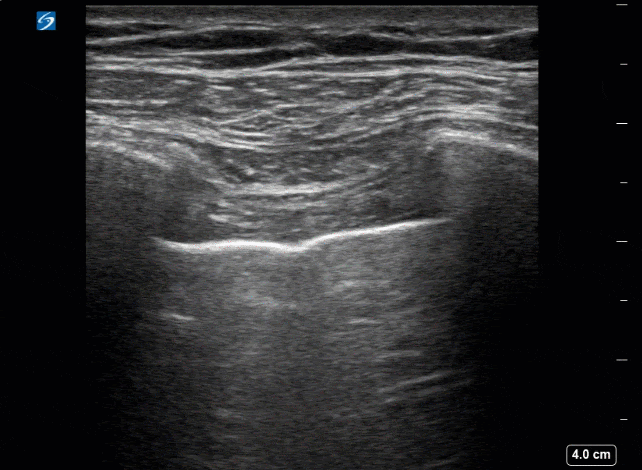 No lung sliding here. (This is not a trick.) Before you set up for a chest tube, recall a few things. Lung sliding only means the visceral and parietal pleura are moving against each other with respiration. When lung sliding is absent in trauma, you should, of course, consider a pneumothorax (in many cases you won't be able to reliably estimate its size), or a hemothorax. False positives, however, will involve any condition where the pleura do not move against each other: pulmonary fibrosis, pleural metastases, or prior pleurodesis. It is also always a good idea to make sure your patient is breathing while they are in your care, but if your patient is in significant pain, ensure they are not holding their breath (from pain, etc.) for the few seconds of your evaluation—there will be no lung sliding in these instances.
Images: Dr. Camille Beecher, EM PGY-1, Grady Nurse Practitioner Adam Hoffman, and Tricia Smith
Date: June 2019