Images demonstrate a 6cm AAA with intramural thrombus in a patient presenting with abdominal pain - see labeled images below. 
Image 1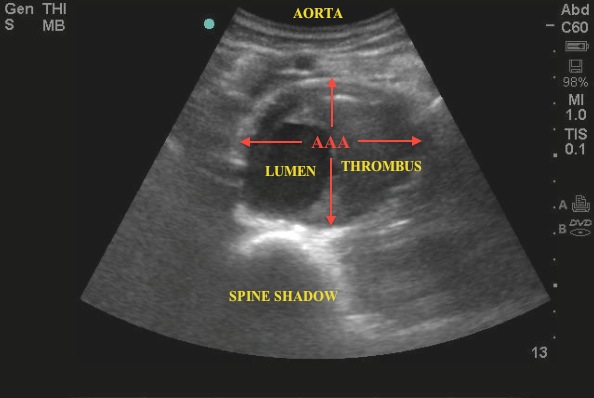 . 
Image 2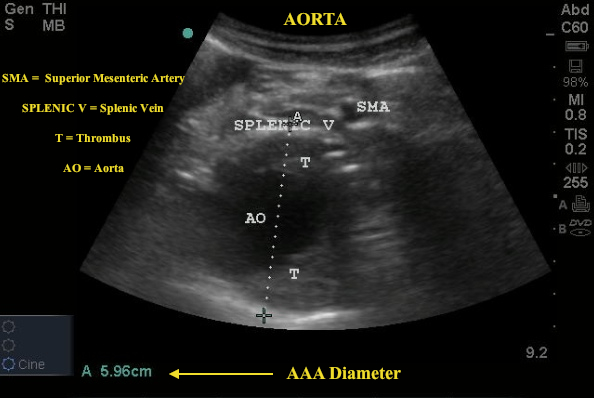 . 
AAA is the 13th leading cause of death in the United States, causing about 0.8% of all deaths annually.  All men 65-75 years who have ever smoked should be screened once for an AAA by ultrasound. The mortality rate of a ruptured AAA is >90% and seconds are valuable. Therefore, it is essential for the emergency medicine physician to recognize the presence of an AAA in an expeditious manner. Kuhn et al. showed that emergency physicians can identify an AAA with 100% accuracy with only a brief 3-day training course (see attached reference).
The Exam
The length of the abdominal aorta is only about 6 inches!  Most scanning of the aorta will, therefore, take place in the short distance between the xiphoid (where aorta enters the abdominal cavity through the diaphragm) and the umbilicus (where the aorta bifurcates into the iliacs). Use the curvilinear probe with steady downward pressure to help visualize structures as well as displace any pesky bowel gas. 
Obtain at least 3 transverse views, labeled, "high", "middle", "low", with measurements (calipers) showing the maximal aortic diameter from the subxiphoid aorta to the bifurcation. Sagittal views may also be obtained but a word of caution as these views can give false measurements of the true diameter. Transverse measurements are ideal.  
Vascular Anatomy (Aortic Branches)
Proximal Aorta (celiac trunk-->SMA),
Celiac trunk- "seagull sign" common hepatic & splenic artery
Superior Mesenteric Artery- outlined in white
Mid Aorta (SMA -->proximal to bifurcation)
Renal Arteries
Inferior Mesenteric Artery
Distal Aorta (just proximal to bifurcation good imaging through the bifurcation of iliacs)
***90% of all AAA's are infrarenal***
Management
AAA is diagnosed when the diameter exceeds 3cm. At 3cm the risk of rupture for an AAA of 3.0 cm is less than 4% over 5 years.  The risk of aneurysm rupture does not exceed the risk of repair until the aneurysm diameter reaches 5.5 cm.
The 2009 Society of Vascular Surgery (SVS) guidelines recommend surveillance every 6 to 12 months using ultrasound or computed tomography (CT) for medium-sized asymptomatic aneurysms (4.0 to 5.4 cm in diameter) but less frequent intervals (every two to three years) for smaller aneurysms. 
Pitfalls
AAA often contain clot. Failure to recognize mural thrombus as part of the aortic lumen may lead to erroneously small measurements.
Long axis (sagittal) measurements of the aortic diameter are inaccurate.  
Date: March 2013