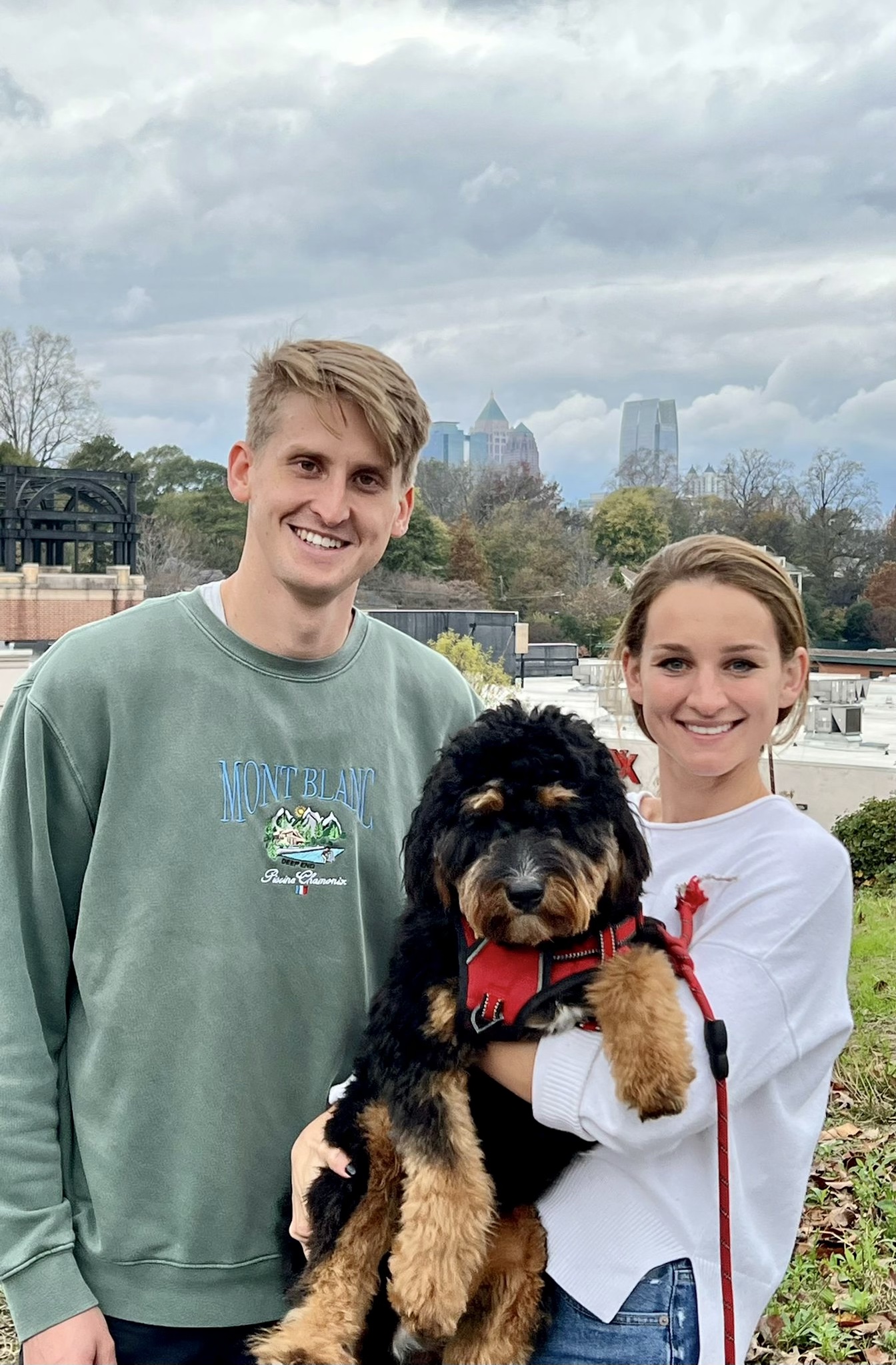 Charles Crepy D'Orleans, 2023 Doctor of Medicine (MD) candidate, Emory University School of Medicine, was raised across borders in Santiago, Chile, São Paulo, Brazil, and Miami, FL in a trilingual family alongside four siblings. He studied molecular and cellular biology and French Literature at Johns Hopkins University in Baltimore, MD. "My love for exploration flourished in Baltimore, and I spent most of my time in different neighborhoods and communities. This same desire for exploration (along with Grady!) brought me to Atlanta," says Charles.
Match Day will reveal where Charles will continue his training in general surgery, with a tentative plan to pursue cardiothoracic surgery. The combination of anatomy, dexterity, and medicine in an ever-evolving field drew him to surgery from the very beginning of medical school. Since his first case, he describes a sense of comfort belonging in the dynamic theater of the operating room.
Charles is engaged to Anna Goebel, also a 2023 MD candidate at Emory, and they are participating in Couples Match. Matching as a couple allows two residency applicants to link their rank order lists, usually for purposes of obtaining positions in the same geographic location.
They met at the start of the M1 year – and maybe a little earlier during their second look weekend before medical school started – and have been together ever since. Last summer, Charles and Anna got a Bernedoodle puppy, Polly, so she is also participating in this year's match and is coming with them on this new adventure. "We started planning a trip for after the interview season to New Zealand and Australia. This helped keep us sane during the interview months and gave us something to look forward to. After we submitted our rank list in early February, we flew across the Pacific to New Zealand and Australia! Now we are back in Atlanta excited to celebrate the match and our engagement with our families," says Anna.
Anna is originally from Germany and moved to the United States when she was in elementary school. She moved to Atlanta when she started high school at Lakeside, a short drive from the Emory campus. She went to the University of Georgia and received a BA in German and a BS in Biology. "I have always known I wanted to study medicine as both my parents and grandparents are physicians. I was able to shadow physicians at Emory during my summer college breaks and work in an Emory Digestive Disease lab, introducing me to the exciting world of clinical research," says Anna. The dedication to teaching, excellent patient care, and serving Grady were evident during her Emory interview day and she knew it was the perfect fit for her career goals. Her love for Emory and Grady rubbed off on her little sister who is now an M1. 
Match Day will reveal where Anna will continue her training in internal medicine, with hopes to pursue a gastroenterology fellowship. Her internal medicine rotation allowed her to combine her desire to teach and form patient connections with her curiosity to understand the clinical picture. "I've learned that patients' stories are as valuable as the labs and imaging we order. Ultimately, I decided to apply to internal medicine because it allows me to form strong patient-provider relationships, teach, and advocate for my patients within the hospital system as their primary provider," says Anna.
Over the last four years, Charles has worked with the Emory Global Perioperative Alliance, a student-led organization that grew from a common objective: to provide surgical services to communities around the world. After a two-year hiatus due to COVID-19 travel restrictions, the alliance was resurrected with a trip to Guatemala. "As a trip leader, I oversaw the recruitment of a peri-operative team, confirmed the scope of operations to be performed and devised an operating room layout. We successfully coordinated inventory procurement, evaluated patients in clinic, scheduled cases, and readied patients in pre-op while sterilizing surgical instruments and managing OR turnover" says Charles.
Anna has loved being part of the Emory Pipeline Collaborative (EPiC) over the last four years. EPiC is a federally funded program to prepare high school students for college success and entry into health careers by increasing students' academic achievement, college readiness, social support (mentoring), and health career awareness. "This is an incredible program that allows Emory undergraduate and graduate students to connect with the Atlanta community and form long-lasting relationships with their mentees and co-mentors. It has been an honor to watch high school student progress through the program," says Anna. 
During Match Day, Charles and Anna learned they matched at the University of Pennsylvania.