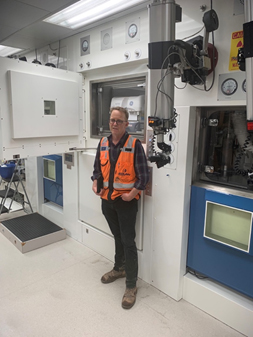 A key component of the Excellence to Eminence strategic framework is to enable faculty, staff and learners to focus on the mission by building extraordinary infrastructure. 
Emory's largest research building to date, the second Health Sciences Research Building (HSRB II), is scheduled to open this spring with 350,000 square feet of research space dedicated to biomedical science. HSRB II will remove boundaries and invite cross-disciplinary research with access to some of the most sophisticated imaging equipment available today, including a new radiopharmacy suite.
Ken Cornell, general superintendent at JE Dunn Construction, explains the new HSRB building construction process and what the new radiopharmacy suite will be like. "The construction started in September of 2019. Right now, we are at the point where we are starting on the structure. We are starting to go up 6 floors, with two more floors underground level. The new radiopharmacy suite is going to be on level G2, which is the last floor in the basement. In this area, there will be cyclotrons and hot cells. The cyclotrons produce the radiation that is sent through tubes to the hot cells, and the hot cells is where they make the radiotracers. The basement will also have the biorepository, where they will keep cell and tissue samples. They also have a number of imaging modalities throughout the suite."
Continue reading more about FACBC technology
Cornell's interest in the radiopharmacy suite goes beyond his role at JE Dunn. As a participant in the
Axumin trial
, Cornell describes the moment he made the connection between his career and his health in the video below.