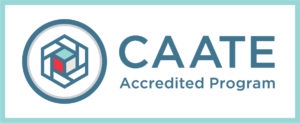 The Emory Athletic Training Residency Program is a one-year educational program that begins in June each year. It is one of only twelve athletic training residency programs that are accredited by the Commission on Accreditation of Athletic Training Education. There is a $47,000 stipend for the year along with medical benefits, dental benefits, and retirement matching. The athletic training residency program provides the athletic training resident (ATR) with opportunities in the clinical and surgical settings. Although outreach is not required, the ATR also has the opportunity for community outreach for additional income.
The AT resident will rotate between three surgeons and a group of non-operative physicians on a monthly basis. Once state licensed and certified as an Orthopaedic Technologist, the residents will complete a course in aseptic technique, learning how to work in a sterile environment. 
Through their experience working as a surgical assist in the operating room, they will learn operating room skills from sterile techniques including assisting the physician with patient positioning, positioning of the arthroscopic camera, tissue retraction, suturing, and sizing/preparation of previously harvested grafts. Other responsibilities will include conducting and presenting research, working closely with clinical staff to understand and interpret imaging studies, and attendance at journal clubs and grand rounds. There are also opportunities to work a variety of PRN community outreach opportunities working with local high school and collegiate athletics for additional compensation. This is completely optional, and not a required component of our program.
Residency Program Goals
Goal 1: To train the AT resident to become a knowledgeable and skilled athletic trainer within an orthopedic physician practice setting.
Goal 2: To incorporate the AT resident into the operating room environment, teach the role of surgical first assist, and pre- and post-operative patient care.
Goal 3: To further develop the AT resident into a leader in the field by increasing their multidisciplinary skills, such as communication, interdisciplinary collaboration, the business of healthcare, and teamwork.
Goal 4: To expose and allow the AT resident to participate in outcomes-based research within an orthopaedic setting.
Residency Learning Objectives
Objective 1:  To provide structured, comprehensive educational programming, in addition to hands-on clinical experience and preceptor mentorship, in the orthopaedic physician practice setting.
Objective 2:  To expose the AT resident to the orthopedic operating room, preoperative, and postoperative care environments through direct observation and application of learned surgical assist skills.
Objective 3:  To provide an environment that requires interdisciplinary collaboration amongst members of the orthopaedic physician practice team.
Objective 4:  To involve the AT resident in mentored and independent-led scholarly activities, such as outcomes-based research and didactic teaching.