Call for Kidney, Urology and Hematology Research Training Applications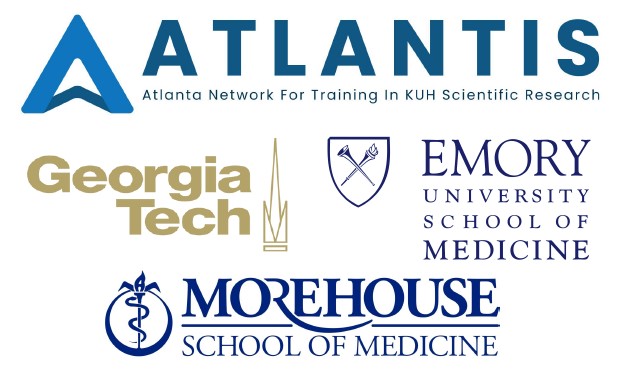 The ATLANTIS Program is currently accepting applications from pre- and postdoctoral trainees from Emory University, Morehouse School of Medicine, and the Georgia Institute of Technology engaged in research related or relevant to nephrology, urology, and non malignant hematology. Trainees pursuing basic laboratory, clinical, translational, informatics, and outcomes research projects are all eligible for funding consideration. The ATLANTIS program will provide successful applicants with 2 years of research training support.

The program is designed to train the next generation of kidney, urology, and hematology health scientists. Researchers, and to establish a vibrant network of mentors, mentees, and leaders in the field. ATLANTIS predoctoral (4) and postdoctoral (6) slots provide financial support for trainee stipends as well as concurrent professional development training via an ATLANTIS Professional Development Core and collaborative and networking connections via an ATLANTIS Network Core.
Components of the ATLANTIS Program
ATLANTIS Cores
Recognizing that pre- and postdoctoral fellows need a flexible and multidisciplinary training program, the ATLANTIS program is designed to promote individualized training of the next generation of Kidney, Urology, and Hematology (KUH) researchers. Through dynamic interactions between the TL1 Training Core, the Network Core, and the Professional Development Core, each ATLANTIS scholar will have the freedom to shape and individualize their research experiences and opportunities for career and professional development. Trainees will have the opportunity to become involved as active members of the vibrant ATLANTIS KUH community. As these interactions expand, so will their understanding of their own research interests, future career goals, and the skills needed to succeed.
ATLANTIS Training Core

The training core selects applicants and provides the training benchmarks expected of each scholar.  The training core evaluates each scholar, his/her mentor(s) and the overall program annually. Our goal is to continuously improve and grow the program to best meet our trainees' needs. The Training Core works closely with the Professional Development Core to provide the coursework and counseling required to ensure each scholar's success. 



ATLANTIS Professional Development Core 

To expand their preparedness for navigating the changing landscape of their KUH research careers, ATLANTIS trainees will complete formal training in written and oral communications, grant writing, and laboratory management. To lead KUH research teams of members from diverse training backgrounds, trainees will also receive executive and leadership training organized by the Emory Office of Postdoctoral Education and the Goizueta Business School. The Goizueta Business School provides elective classes for ATLANTIS trainees interested in commercializing their research findings through a start-up company. Many ATLANTIS mentors have collaborations with industry and/or have their own start-up companies, both of which can provide guidance and opportunities for trainees considering an industry and other research-related careers. 



ATLANTIS Network Core

The ATLANTIS Network Core provides trainees with a welcoming and nurturing scientific community, bringing together established, emerging, and future KUH health researchers from Emory, Georgia Tech, Morehouse School of Medicine, and throughout the Atlanta metro region. Included in the Network Core offerings and activities are 1) a peer network for trainees to interact, exchange ideas, and troubleshoot scientific and professional issues; 2) promotion of inter-disciplinary collaborations and team science through existing and new programming; and 3)

community outreach programs to increase early exposure to biomedical careers in KUH disciplines to high school and undergraduate students and promote KUH-related research opportunities to trainees in undergraduate, graduate, medical school, and residency programs. ATLANTIS trainees have the opportunity to serve as official ambassadors to promote the merits and value of our networked learning communities to peers in other training programs.