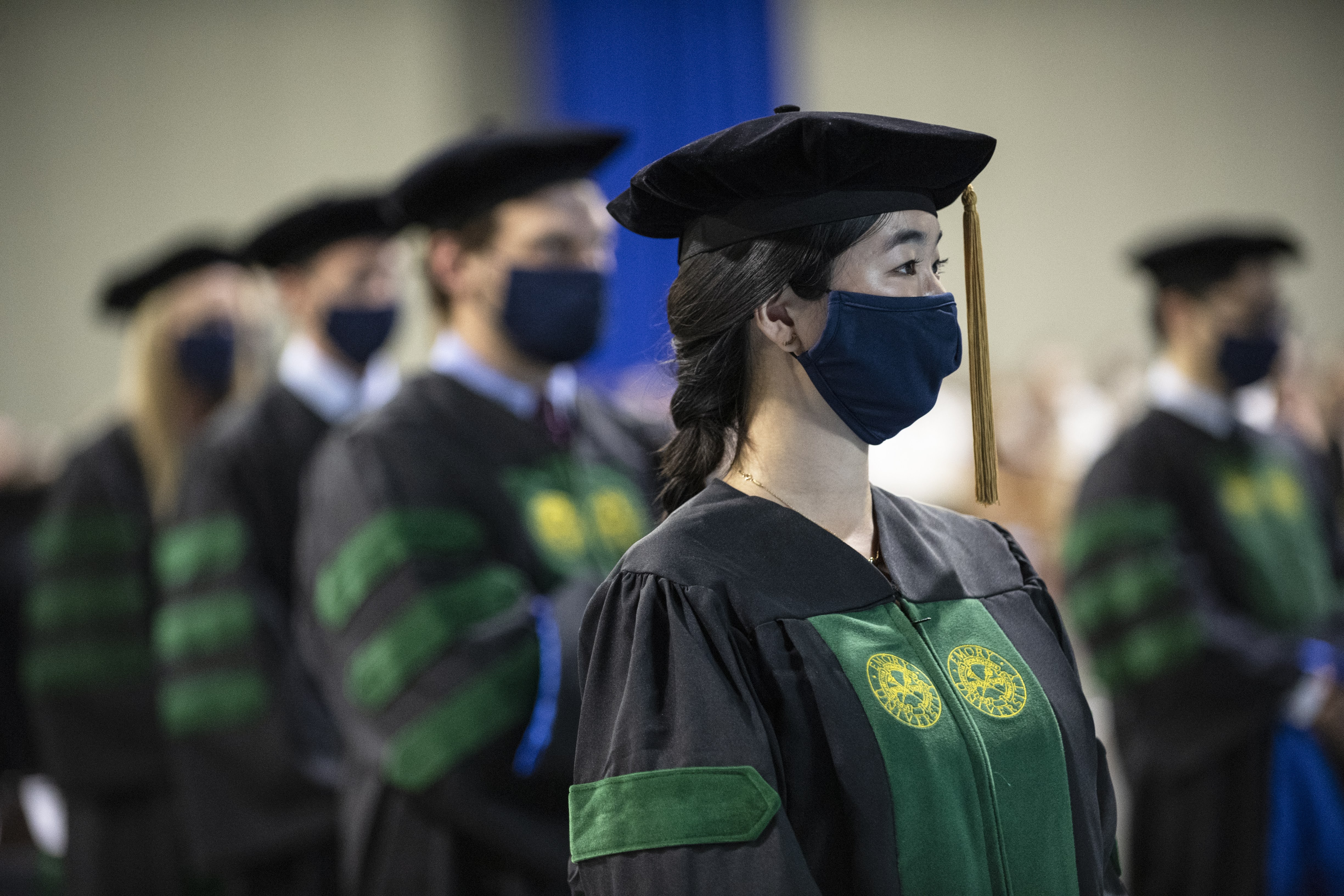 As photos of their years in medical school flashed by on the video monitors to Zac Nelson's lively song, "Life is Wonderful," the Class of 2021 Emory School of Medicine did something no one was sure would actually happen until it did: gathered in person to celebrate becoming physicians.
The ceremony was Friday, May 14, at the Georgia World Congress Center, instead of the Emory campus, and was live streamed to graduates, families, and friends who couldn't make the function in person. 
It was a defining moment for the 123 graduates, who are going on to residencies around the country, including some who are staying at Emory. 
"Our communities need us more than ever and medical professionals all over the world have answered the call to serve with great courage, ingenuity, and determination," wrote Dean Vikas Sukhatme and Executive Associate Dean J. William Eley, in a letter to the graduates. "The Emory School of Medicine Class of 2021 has revealed itself; you have shown composure, diligence, equanimity, passion, and compassion as you have led our efforts to serve through volunteerism, the creation of educational materials, support of each other, and support of those who are in the greatest need in our community. We are humbled by your actions and deep commitment to medicine in the service of all." 
The live ceremony opened at 3:30 p.m. sharp, with bagpipers weaving down a center aisle between spread-out groupings of parents, families, and friends, and the medical graduates in caps, gowns, and masks. 
The platform party included Sukhatme, Eley, Emory Executive Vice President for Health Affairs and Woodruff Health Sciences Center Executive Director Jonathan Lewin, Emeritus Member of the Emory Board of Trustees George Overend 64C, and Emory President Gregory Fenves 
"With all the challenges you faced during this unprecedented moment in our history, you achieved your goal of becoming doctors and I could not be prouder," Fenves said, mentioning that it was his first commencement as Emory's president. "Each of you showed tremendous resilience, dedication, empathy, and creativity throughout your time at Emory. This is a class of graduates like no other—tested in ways unimaginable to previous generations of Emory alumni. I am so impressed you did not let anything get in the way of your goals and aspirations. You gave me an education of my own in heart, courage, and commitment." 
Emory commencement speaker Dr. Anthony Fauci congratulated the medical graduates by video after receiving the Emory President's Medal for his "lifesaving leadership to this nation," said Fenves. "Dr. Fauci is a leader uniquely suited to this historic moment, a guide through dark days of fear and confusion, explaining the science of viruses with candor, clarity, and commitment to saving lives." 
Fauci, who received an honorary degree from Emory in 2003, acknowledged his "kinship" with Emory for more than four decades, sharing collaborations with scientists at the School of Medicine, Emory College, and Rollins School of Public Health. The past year, Fauci said, has taught him "how destructive divisiveness is. Science will provide the solution, as we have seen with the rapid development of highly effective vaccines. . . . The virus is the enemy, not each other." 
Dean Sukhatme than asked School of Medicine faculty to rise for the conferral of the degrees of doctor of medicine. 
President Fenves told the new doctors: "You've become experts in fields and disciplines that save lives and benefit humanity. You have the tools to help. This tremendous responsibility is also the opportunity of a lifetime." 
Sukhatme offered his own hearty congratulations. "You are soon to become alumni, joining over 6,000 graduates from the School of Medicine spread throughout the world," he said, "whether your role is in healing, discovery, teaching, or public service." 
And he had just one piece of advice for the new doctors: to stay HIP. 
"The H is for humility, a willingness to learn from anyone, at any time, in any venue. And to be Honest with yourself—what you know and don't know—as well as with your patients. H is also for leading with heart, finding humor and learning to laugh, especially at yourself, for laughter truly is the best medicine. Remember, you will rarely cure but you can always heal," he said. "I is to remind you to imagine, innovate, and impact, to connect the dots. And P is for passion, what engages you, especially in service to others. Combine passion with compassion. Also, remember to pause. Please take a moment to reflect in the midst of all your activities. To find perspective and respect differences." 
Several awards were given to School of Medicine faculty, including: 
Following were the procession of medical graduates receiving their hoods and diplomas and signing the official record book with their professional titles for the first time.
 
Also graduating at the Georgia World Congress Center on May 14 were students from the Emory School of Medicine's Genetic Counseling Training, Medical Imaging, and Doctor of Physical Therapy (PT) programs. Sarah Roberts, MD, PT Class of 2021 Class President, said of the program, "It's is such a unique opportunity to get to work with people who inspire you every day."
 
The nearly two-hour School of Medicine ceremony concluded with a speech by Laura Pinion, MD, Emory School of Medicine Class of 2021 president. "This is, certainly, not the graduation any of us envisioned," she said. "But I know you will all be excellent, compassionate physicians because when pulled from the wards, you went into action, finding the ways to best help. You babysat for health care workers and volunteered to give vaccinations so we could be here for events like these. Imagine the force for good we can be as we head off for our residencies."
Several awards were given to School of Medicine students, including:
Dean's Award: Wesley Manz and Christian Freeman
Basic Science Award: Saumya Gurbani
Burt and Betty Shear Book Award: Nile Harris
Evangeline T. Papageorge Student Award: Grace Moxley
Eldon Langston Bolton, MD Service Award: To the Class of 2021 as a whole for their service on many levels during this pandemic.
Outstanding Genetic Counseling Student of the Year Award: Srika Amin and Kia Hutchins
Best Student Research Presentation: Sunaina Kapur
Per tradition, the new doctors stood and recited the Oath of Hippocrates, led by Dean Sukhatme.  
 
"Commencement is always filled with a sense of awe, gilded with sadness," Sukhatme and Eley wrote. "Your transformation to physician is awe-inspiring; your last day together as a class (until your reunions) is a parting. . . . We stand together with you as you become the next graduates of Emory School of Medicine to leave here and make the world a better place."