Director(s) & Primary Instructor(s):
Goals, Learning Objectives, & Outcome
Goals:
This 18-month track will support residents to gain the knowledge, skills, and methods necessary to: (a) become scholarly teachers and (b) prepare them for careers as medical education scholars.
Learning Objectives:
Upon completion of this track, residents will be able to:
Describe the key principles of scholarly teaching

Develop and implement a lesson plan

Design a scholarly education project
Outcome:
Upon completion of the track, residents will be awarded a certificate of completion and graduate with a distinction in Medical Education from Emory University School of Medicine.
Key Components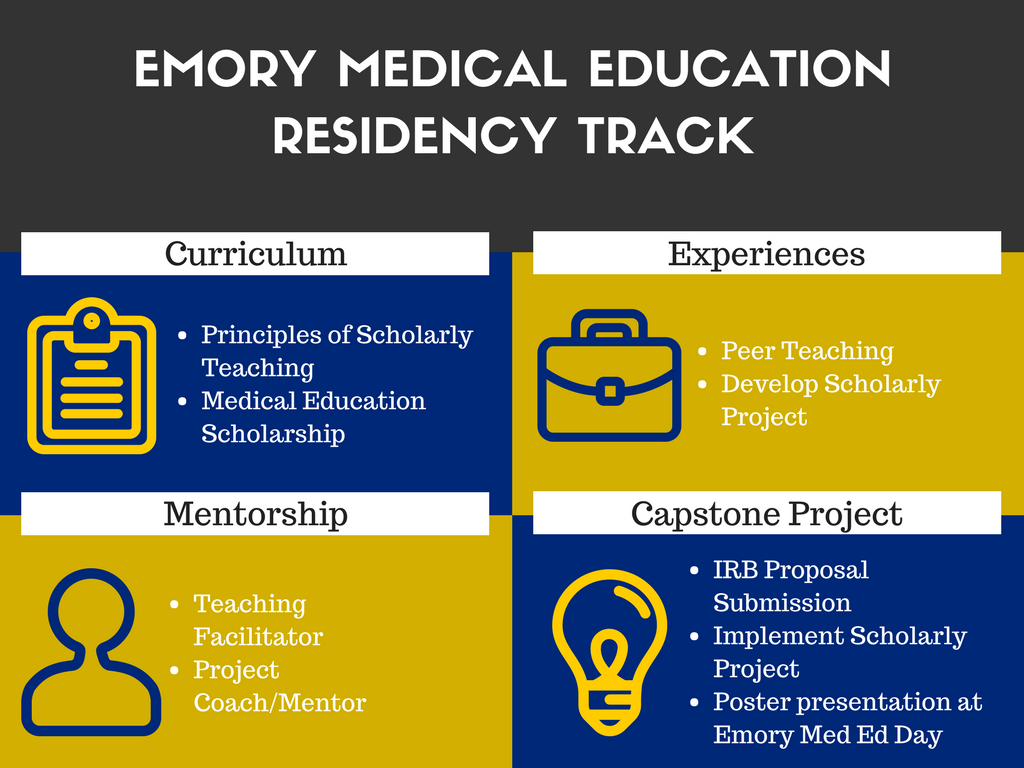 Application Process
Participation will be restricted to residents and fellows at the PGY-2 or higher level. Applications are due in the Spring (deadline of March 15) and are open to residents or fellows who will be PGY-2 or higher level as of July 1 of the same year.
The application must include the following components:
A personal statement describing why you would like to participate in the residency track, your interest in Medical Education, and your expected goals and outcomes. The personal statement should be limited to no more than 1 page.

A brief letter of support from the Program Director. A letter of support from the applicant's program director must be included as part of the application process. The letter should indicate support for the resident's participation in the Medical Education track.
Each year, please submit your application to Drs. Ulemu Luhanga, ulemu.luhanga@emory.edu and Taryn Taylor, taryn.taylor@emory.edu no later than March 15 for consideration in the cohort starting in July.
---
2018 Cohort
Name: Amrita Karambelkar

Email: akaramb@emory.edu

Specialty: Internal Medicine

Medical Education Interests:

Currently my interests are in improving resident and medical student education, especially in Internal Medicine. Improving educational quality in the ambulatory setting as well as in inpatient critical care settings are of particular interest to me. I would like to explore the possibility of simulation in improving clinical skills in critical care scenarios. I also wish to develop educational curricula for peer-teaching in clinic settings.

Name: Appesh Mohandas

Email: amohand@emory.edu

Specialty: Cardiology

Medical Education Interests:

One of the joys of medicine is that there is always more to learn. I am interested in how medicine is taught at the pre-clinical and clinical levels, and I believe that curriculum design plays an important role in how medical students build the foundation of their knowledge. I am also interested in finding efficient and effective ways for teachers to pass information to learners on the wards. I believe that with the right tools, we can all be great teachers and great learners.

Name: Husein Husein

Email: hhusein@emory.edu

Specialty: Nuclear Medicine

Medical Education Interests:

Enriching medical education through peer teaching and develop a scholarly project. This will be a launching pad for academic future career as an effective medical teacher contributing to my exciting and growing field with increasing demand for physicians to keep up with knowledge acquired by new diagnostic radiotracers and radiotherapies and integrating that knowledge into practice.

Name: Jack (Will) Shteamer

Email: jshteam@emory.edu

Specialty: Anesthesiology

Medical Education Interests:

My teaching interests involve instructing medical students (and in the future, residents), as well as public education. My educational research interests include the use of simulation as a part of training in Anesthesiology residency, strategies for teaching advanced airway management, and future directions of resident education in Anesthesiology.

Name: Juan-Manuel Duran

Email: jduran2@emory.edu

Specialty: Family Medicine

Medical Education Interests:

I'm interested in applying the best evidence to improve the quality of medical education at all levels. Through the Medical Education Residency Track, I hope to equip myself to eventually teach students and residents as a master clinician educator, as well as to conduct medical education research. I'm particularly interested in clinical reasoning, diagnostic error, and the development of clinical expertise

Name: Katie Waters

Email: KWATER5@emory.edu

Specialty: Pediatrics

Medical Education Interests:

My interests currently include improving my own teaching skills as well as potentially developing a set of guidelines/tips to help other residents in my position hone their teaching styles. I am interested in being involved in the clinical education of both medical students and residents. I hope to be able to incorporate these features into my future career post-residency in addition to my clinical duties. I am excited to learn more about and gain experience in the field of medical education through this track.

Name: Mallory Raymond MD

Email: mjraymo@emory.edu

Specialty: Otolaryngology

Medical Education Interests:

My current interests in medical education revolve around understanding how surgical residents are learning and should be learning surgical skills, particularly in the subspecialty of otolaryngology. Simulation activities have had quite a buzz, but in advanced surgical settings, such as neck dissections, simulation is underdeveloped, and success with it is quite difficult to measure. Through this track I hope explore ideas for improving the education of otolaryngology surgery residents and ways to apply these ideas more broadly across the medical education community.

Name: Melanie Wooten, M.D.

Email: mswoote@emory.edu

Specialty: Pathology

Medical Education Interests:

As I am pursuing fellowships in Hematopathology and Transfusion Medicine, my current interests in medical education include teaching medical technologists and medical students important concepts in transfusion medicine/blood banking, coagulation, and hematopathology. I also have a particular interest in improving the "wellness" of our medical trainees, at all levels, and currently serve as a co-chair of the Pathology Residency Program Wellness Committee. I personally feel that technology has a great role to play in the future of medical education and hope to explore, and potentially develop, applications that will be useful for training.

Name: Raheel Jajja, MD

Email: mjajja@emory.edu

Specialty: Surgery

Medical Education Interests:

I am a third-year general surgery resident at Emory currently on a research sabbatical. I have an immense interest in studying the use of simulation techniques to improve operating room performance of trainees. Additionally, I am studying the impact of directed incentives on in-training examination performance. 

Name: Raymundo A. Quintana

Email: raquint@emory.edu

Specialty: Cardiology

Medical Education Interests:

My primary interest within medical education is to gain an understanding of diverse adult learning theories and learning assessment strategies. By employing these concepts and strategies consistently throughout my career, I hope to increase my effectiveness in delivering education to medical students and trainees.

Name: Richard Ramonell, MD

Email: rramone@emory.edu

Specialty: Pulmonary and Critical Care Medicine

Medical Education Interests:

In the past, my interest in medical education centered around bedside teaching and developing skills for giving short didactic presentations but this has expanded as I've gained more clinical experience. Since starting my fellowship in Pulmonary and Critical Care Medicine, I've become interested in education theory and methods through which medical education research is conducted. By being a part of the Emory Medical Education Residency Track, I hope to develop my skills in ways that put me closer to my ultimate goal of being a master clinical educator who is able to conduct rigorous, pragmatic medical education research.