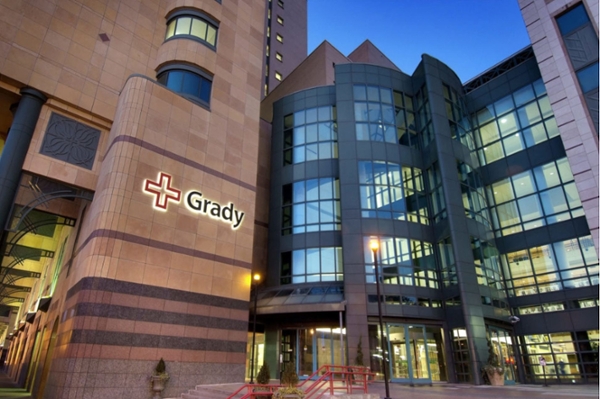 Ortho Trauma Service
The inpatient orthopedic trauma service-line includes 2 Ortho Trauma teams: "A" and "B" and is made up of:
2 Ortho Trauma fellows
2 Ortho chief residents (PGY-5)
2 Ortho PGY-4 residents
1 Ortho PGY-3 resident who's responsibility is also Ortho Spine
3 PGY- 2 residents
One or two Ortho PGY-1 residents
The Ortho chief resident directs team administration. There are also 3 advanced practice providers who are dedicated to the orthopaedic trauma service.
Rotation Schedule
There will be alternating 3 month rotations on "A" service and "B" service for each fellow. The "A" or "B" designation determines which clinic the fellow will be in, but the fellow will be allowed to choose which OR provides the most educational benefit on any given day.  The fellow will assign his/herself to 1. the trauma room: cases from overnight consults 2. one of the elective trauma rooms 3. the hand trauma room 4. the arthroplasty room on M/Th/F or 5. the sports room W or F.  The core fellowship faculty will aid in assigning which OR to be in initially to promote the best educational environment for the fellows.  
Courses
Both fellows will attend the OTA Annual Meeting. In addition, the fellow will have the opportunity to attend up to 2 of the following: the OTA Spring Fellows course, the AO Fellows Cadaver course, the AO Pelvis course, or any other approved educational event.
Call
Each fellow will have approximately four calls per month. For each of these call periods, there is an attending Orthopaedic Faculty member on call as well. The trauma fellow will not be required to take independent attending level call. The fellow is expected to be present for all emergent cases on call and is also expected to be a resource to the senior resident for questions about patient care. 
Evaluation
The fellowship director will evaluate the fellows on a bi-annual schedule with input from the Ortho Trauma Faculty. The fellows will also be asked to evaluate the program formally during the year.