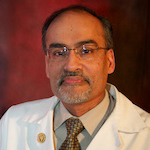 Professor of Medicine
Division of Cardiology, Department of Medicine, Emory University School of Medicine
Director
Emory Clinical Cardiovascular Institute
Dr. Quyyumi is currently a tenured Professor of Medicine in the Division of Cardiology at Emory University School of Medicine and Co-Director at Emory Clinical Cardiovascular Research Institute. He is Board certified in Internal Medicine and Cardiology, and is a Fellow of the Royal College of Medicine.
He graduated from Guy's Hospital medical school in London, and after accomplishing part of his medicine and cardiology training in London, he completed his fellowship training at Massachusetts general Hospital, Harvard University in Boston and at the National Institutes of Health (NIH), Bethesda, Maryland. He was a Senior Investigator and director of the cardiac catheterization laboratory at the Cardiology Branch of the National Institutes of Health for several years before arriving at Emory.
His research focus over the last quarter century has been on clinical and translational research in vascular biology, progenitor cells and angiogenesis, biomarkers and cardiovascular genomics. He has performed seminal studies investigating mechanisms of myocardial ischemia including silent ischemia in the past. His current studies include comprehensive assessment of vascular endothelial function and arterial stiffness and thickness in patients with arteriosclerosis and its risk factors. Other studies investigate the role of genetic and environmental risks on vascular disease, and particularly in relation to health disparities. He is also conducting clinical trials with bone marrow derived stem cells and progenitors in cardiovascular disease. He has published over 250 manuscripts in peer-reviewed journals.