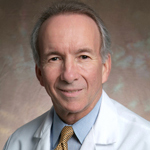 R. Bruce Logue Professor
Division of Cardiology
Dr. Alexander received his doctorate in physiology from Emory University and his medical degree from Duke University School of Medicine. He completed both his residency and cardiology fellowship training at Duke University.
During his medical training, he served as a staff associate at the National Heart and Lung Institute from 1971 to 1973. Prior to joining Emory as Bruce Logue Professor and Chief of Cardiology, he served as Associate Professor of Medicine at Harvard and the Brigham and Women's Hospital. Dr. Alexander served as Chair of the Department of Medicine at Emory from 1999-2013.
Dr. Alexander served as Vice President of Research and was on the Board of Directors for the American Heart Association. He was also a senior editor of the cardiology textbook, "Hurst's The Heart," and has been on the editorial boards of numerous publications.
His major research interests are in the biology of blood vessels and in the treatment and prevention of cardiovascular diseases. His lab is interested in the molecular mechanisms which control the cells in the blood vessel wall, in particular, the chemical pathways that are controlled by the generation of reactive oxygen species. Reactive oxygen species, including oxygen free radicals, are key mediators of many pathologic processes including diseases as diverse atherosclerosis and dementia. Lab studies have led not only to new understanding of the pathogenesis of human diseases but have led to the development of new drugs that are undergoing evaluation in clinical trials. Many of the 30-plus trainees from Dr. Alexander's labs are now leaders of academic medicine in the United States and elsewhere in the world.
Dr. Alexander also has a broad interest in health maintenance and preventive medicine.