This case is of a 76yo man with epigastric pain, nausea and abdominal distension for weeks, worse in the last 3 days. Temp, HR and systolic BP are all 100, and he has some bruising on his arms. He is visibly jaundiced. 
Labs from triage are back before you see him: 
Total bilirubin is 4.2, with AST 204, ALT 158 and ALP 149.  WBC is 5.4. 
Lactic acid is 10.8 
This is a sick patient and you have to decide what additional diagnostics will get your patient to the most appropriate care in the shortest time.  
Is this: 
Cholecystitis? 
Choledocholithiasis? 
Cholangitis? 
Pancreatic head mass? 
Biliary stricture? 
Cholestasis of sepsis? 
Hemolysis – DIC etc? 
Hepatitis? 
Liver metastases?
Gamble on CT first, and risk a nondiagnostic study recommending RUQ US. If you order the ultrasound, it may be equivocal, recommending HIDA/MRCP.  
For this patient, CT was ordered and patient was given 2L crystalloid for sepsis resuscitation. Fractionated bilirubin was requested. 
Lab calls with critical results.  
Repeat lactic acid after IV fluid is now 18.2  
BP is now 95/60 with HR 81. 
More acute patients have caused delays with CT. Numerous calls to surgery, hospital medicine, and gastroenterology have been made with no definitive idea if this is an urgent surgical process. 
The ultrasound fellow was asked to assist with bedside ultrasound to expedite care while CT was pending.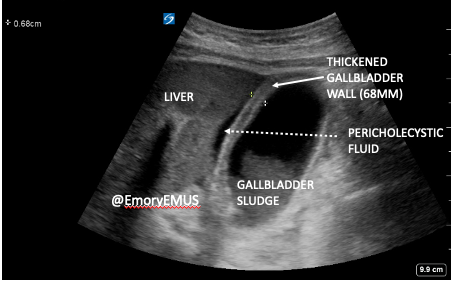 There is:  
gallbladder sludge, with  
gallbladder wall thickening of 68mm (ref 35-45mm) 
pericholecystic fluid 
positive sonographic Murphy's (maximal tenderness elicited when gallbladder is centered on screen). 
These are the 4 sonographic criteria for acute cholecystitis. Case closed. 
Of course not.
He also had: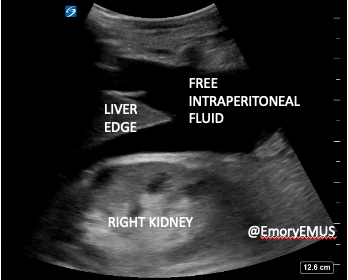 Free intraperitoneal fluid? Ok, so this is likely a gallbladder perforation with sepsis. 
The fellow was trying to increase her scan numbers, so she added an echo.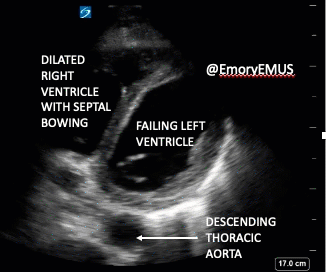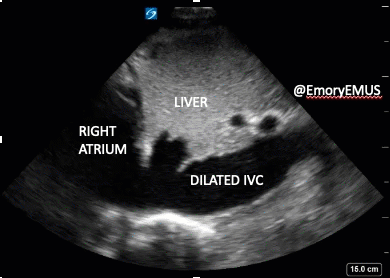 The IVC is plethoric. The right ventricle is dilated. There is septal bowing suggesting RV overload. 
On second thought, that free intraperitoneal fluid does not look like complicated fluid, but more consistent with common or garden ascites.  
Plethoric IVC + dilated R heart + ascites + abnormal LFTs + worsening lactic acidosis with fluids = decompensated R heart failure with hepatic congestion.  
Additional fluids were held, and BNP was added. This resulted at 3,713. CT was completed and showed anasarca. The hospitalist, surgeon, and gastroenterologist carried on with their respective days. 
Patient was admitted to ICU where he was diuresed 48 lbs of fluid for biventricular failure (EF 15% with severe R-sided systolic dysfunction while on dobutamine). He was later readmitted for cardiogenic shock and recommended for hospice care.  
Three years later his EF is 45%, he has no ambulatory distress and remains self-caring. He was weaned from several meds at most recent cardiology visit and reported feeling "great."
Speaking of health scares with great outcomes, our friend with the groin mass showed up to ID clinic as scheduled. The swelling had spontaneously erupted a mixture of blood and pus and he lived happily ever after.  
Still, I said what I said: ultrasound all suspected abscesses. I'm dying on that hill. 


Tricia A. Smith, MD, MPH
Assistant Professor
Department of Emergency Medicine
Emory University School of Medicine, 
Attending Emergency Physician
Emory University Hospital