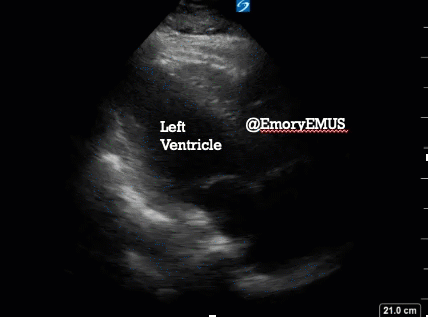 This patient with history of CHF (EF 10-15%), COPD, presented to the ED with concern for chest pain and dyspnea. She had unfortunately had a recent ischemic stroke with hemorrhagic conversion that left her with speech and communication deficits. EMS was called because she appeared to be pointing to her chest and appeared dyspneic, but further history was limited by her aphasia. EMS noted her to be mildly hypoxic, which improved with oxygen by nasal cannula.
Labs were ordered from triage, with results notable for a BNP of 665, Troponin <.03, and a negative COVID-19 PCR. Her exam indicated some lower extremity edema. Given the elevated BNP and volume overload, highest on the differential was heart failure exacerbation, with PE, COPD exacerbation, pneumonia, and ACS rounding out the list. CT chest had been ordered after a nondiagnostic CXR, but the diagnosis was refined with the use of point-of-care ultrasound.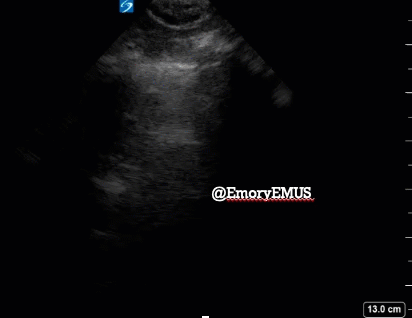 On this parasternal long axis view, the ejection fraction, though reduced, appears to be better than the reported 10-15%. Perhaps she had regained some LV function after an old insult, ischemic or otherwise. Nonetheless, this does not exclude diastolic dysfunction, and this EF of 25-30% is still compatible with a diagnosis of heart failure.  

Lung ultrasound was identical bilaterally. No B lines. Pulmonary edema from CHF exacerbation is unlikely the cause of her acute dyspnea.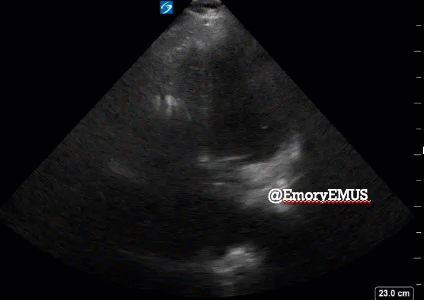 The RV free wall is difficult to make out on this apical 4 chamber view, but overall, RV size and function appear normal. Acute R heart strain/PE seems less likely.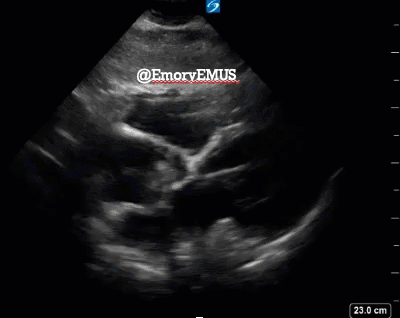 No pericardial effusion is seen on the subxiphoid view below, but what was did found was unexpected and highly abnormal.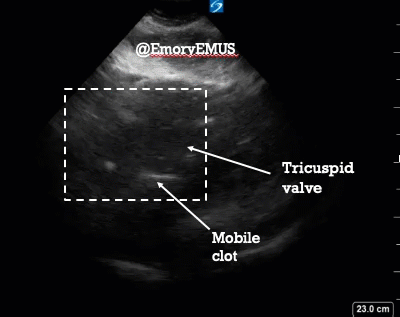 Freely floating and mobile in the right atrium is a hyperechoic mass. That is literal, actual clot in transit, i.e. future PE. At one point, the clot is seen making its way just across the tricuspid valve.  It was then presumed that her dyspnea and hypoxia were attributed to current PE and so chest CT was expedited.
How ultrasound helped: 
It was presumed patient would need anticoagulation in the context of recent intracranial hemorrhage and so CT brain was added simultaneous with CT pulmonary angiogram.

Ultrasound identified right atrial clot needing early mechanical aspiration.

CT PE showed bilateral pulmonary emboli with extension into all lobes. CT brain did not show acute hemorrhage. The neurointensivist and interventional pulmonologist, weighing the risks and benefits, together agreed to proceed with IV anticoagulation and ICU admission.
During hospitalization, she successfully underwent IVC filter placement and R atrial thrombectomy. Interval CT brain after anticoagulation did not show any new hemorrhage. Patient was discharged on oral anticoagulation.
This is a gentle reminder/example that the absence of echocardiographic R heart strain does
not
exclude pulmonary embolism, and of course, to use ultrasound as a diagnostic adjunct in patients with undifferentiated dyspnea. 
Happy scanning!
7/13/21