This week's image is brought to us by medical students Robbins and Lee.  The patient presented with hypotension and emesis. Bedside ultrasound quickly captured the image below.
Image 1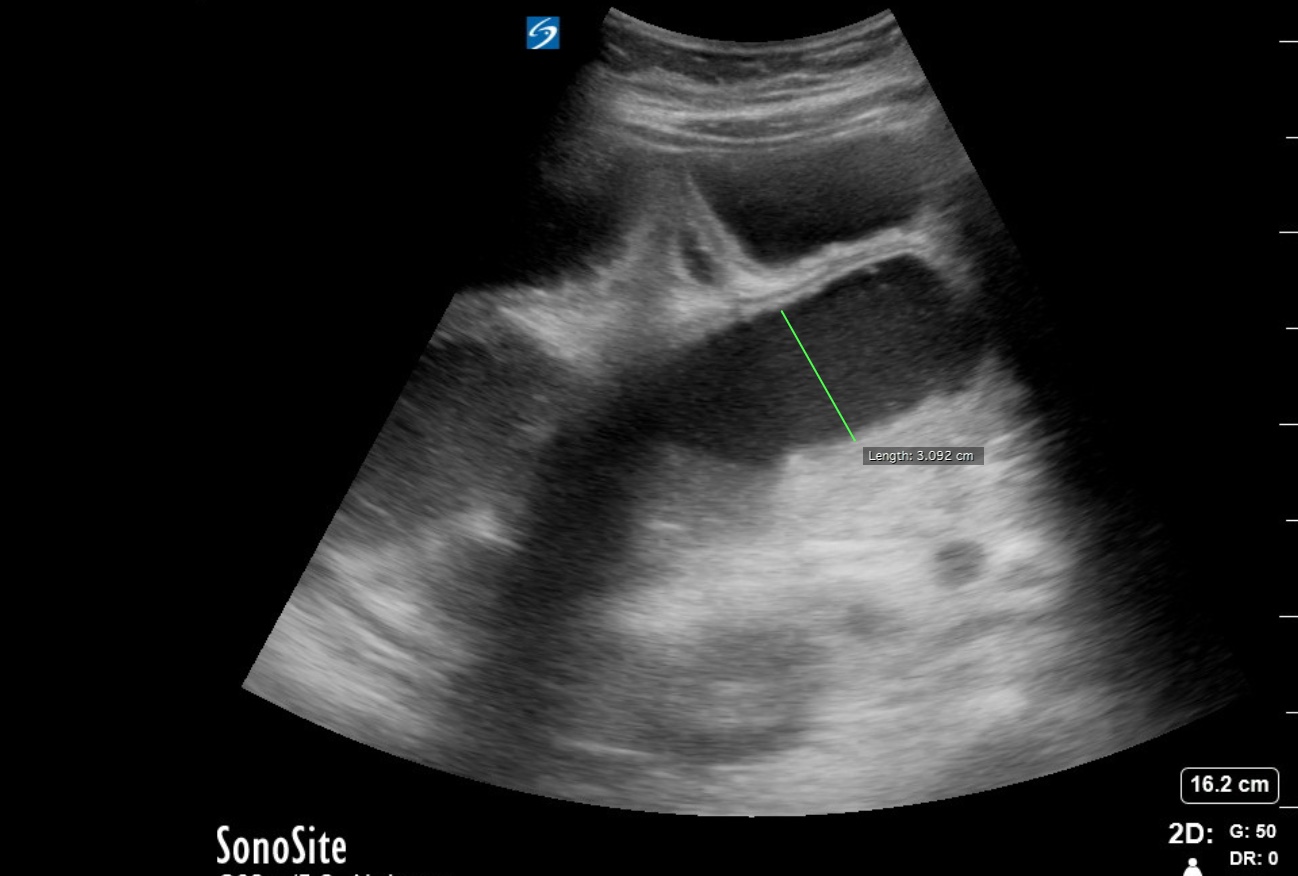 Notice a tubular structure, with a mixture of fluid (hypoechoic area) and debris (low level echos), with a diameter of 3 cm. Video was obtained see if you can identify pathology present. 
Video captures several signs of small bowel obstruction (SBO):the classic "keyboard" sign (visualization of the plicae circulares), abnormal (bidirectional)peristalsis, and dilated loops of bowel.To diagnose SBO with US, use the curvilinear probe and scan systematically over the abdomen. Look for fluid-filled, dilated loops of bowel (defined as >2.5cm). You may also see "back and forth" movements within the lumen as bowel contents move with dysfunctional peristalsis. The plicae circulares can be prominent as seen in the video, and helps you identify the bowel loop as small bowel. Although history, physical exam, and XR findings are the "classic" method to diagnose SBO, an ultrasound in skilled hands performs with a higher sensitivity and specificity vs traditional abdominal XR.  
Hefny AF, Corr P, Abu-Zidan FM. The role of ultrasound in the management of intestinal obstruction. Journal of Emergencies, Trauma, and Shock. 2012;5(1):84-86. doi:10.4103/0974-2700.93109.
Alice Chao, MD and Laleh Gharahbaghian, MD, FACEP. Tips and Tricks: Clinical Ultrasound for Small Bowel Obstruction – A Better Diagnostic Tool?
Thanks for all of your great images this week!
===============================
Zachary Wetendorf MD 
Department of Emergency Medicine
Emory University SOM