These ultrasound images were obtained by our pediatric EM colleague Dr. Tal Berkowitz on an infant presenting with vomiting. What on earth are we looking at?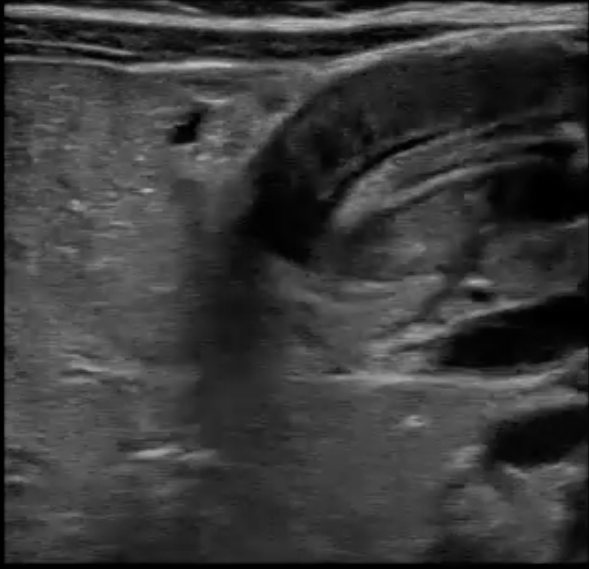 Like many pathologies in pediatrics, pyloric stenosis is best evaluated with ultrasound. Remember, pyloric stenosis is caused by hypertrophy of the muscular layer of the pylorus and failure of the pylorus to relax, leading to gastric outlet obstruction. Pyloric stenosis is the most common cause of vomiting requiring surgery in infants. It is more common in first born male infants.
To locate the pylorus on ultrasound, use the linear probe in a transverse position and first locate the gallbladder. The pylorus should be found posterior to the gallbladder. If the pylorus is thickened, you can see a "target" or "donut" sign.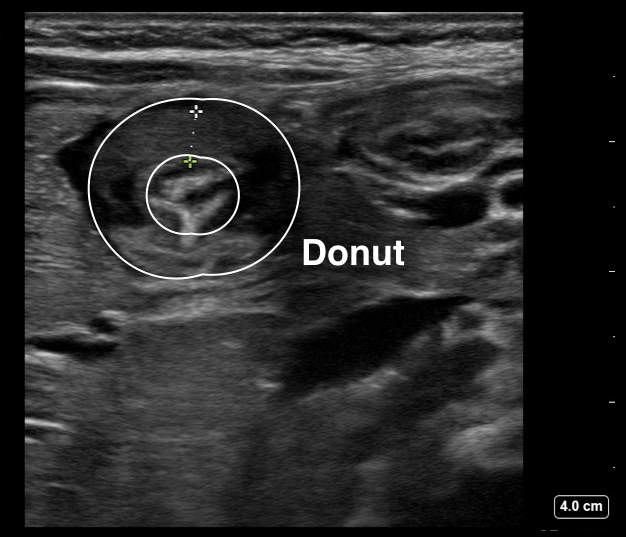 To assess for pyloric stenosis, first measure the muscular layer of pylorus in longitudinal and transverse views. >3mm thickness raises concern for hypertrophy. Then measure the length of the pyloric canal. There is a range in the radiology literature for abnormal pyloric channel length from >15 to 19 mm.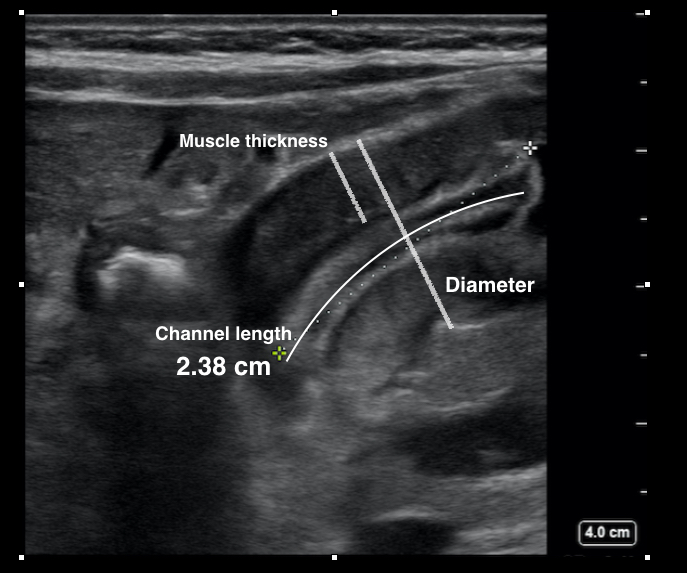 Another way to evaluate the pylorus is to check for passage of gastric contents: if you see gastric contents moving freely through an open pylorus, then pyloric stenosis is much less likely. 
Want to learn more?
Sivitz AB, Tejani C, Cohen SG. Evaluation of hypertrophic pyloric stenosis by pediatric emergency physician sonography. Academic emergency medicine. 20(7):646-51. 2013.
Malcom GE, Raio CC, Del Rios M, Blaivas M, Tsung JW. Feasibility of emergency physician diagnosis of hypertrophic pyloric stenosis using point-of-care ultrasound: a multi-center case series. The Journal of emergency medicine. 37(3):283-6. 2009. 
===============================
Claire Abramoff MD
Ultrasound Fellow
Department of Emergency Medicine
Emory University SOM