Watch video here or read on below...
The IOW this week comes from Dr. Shikha Kapil, Eli Shinnar and Julia Shinnick. Their patient was an elderly male who presented with abdominal pain. They performed an ultrasound exam to evaluate for small bowel obstruction and obtained this image. 
Image 1
On ultrasound SBO is identified by dilated fluid filled loops of bowel measuring greater than 2.5cm across as seen above. You can see dysfunctional peristalsis as bowel contents swirl back and forth. They continued to scan the abdomen and noticed something unusual in the liver. 
Image 2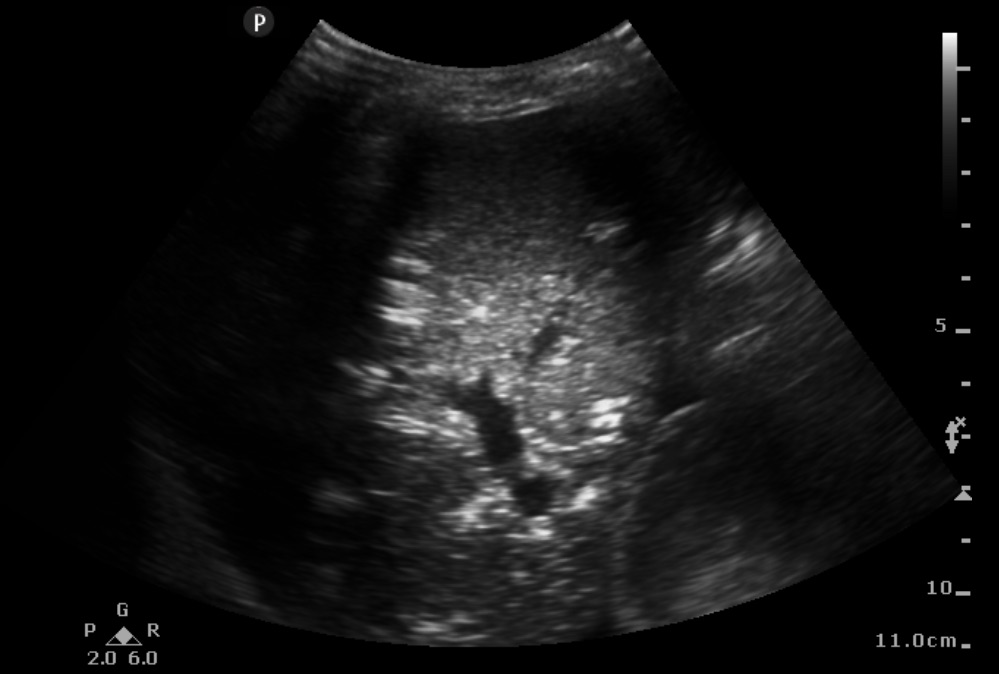 There are several abnormalities on this image. Note the hyperechoic patches located throughout the liver. This is air. In the video small bubbles are also seen circulating in the portal vein. Outside the liver we again see fluid-filled bowel loops with some small surrounding triangles of anechoic free fluid. Portal venous gas can occur in a variety of conditions including mesenteric ischemia, ileus and obstruction, perforated peptic ulcer, IBD, necrotic colon cancer, and intrabdominal sepsis (from appendicitis, diverticulitis, cholecystitis, etc.). It has been associated with high mortality rates largely due to its association with mesenteric ischemia. This patient's lactate returned at 7 and he was taken to the OR for exploratory laparotomy.
===============================
Sierra Beck MD
Assistant Professor
Department of Emergency Medicine
Emory University SOM