Our Research
Pain is a serious problem for many people with a spinal cord injury (SCI). In fact, studies suggest that approximately 70% of patients experience pain, a large number of which experience chronic neuropathic pain. The primary focus of my laboratory is examining the neural mechanisms that underlie the development and maintenance of neuropathic pain after SCI – mechanisms that are still poorly understood. Using contusion and transections models of SCI in rodents, my laboratory aims to identify adaptive versus maladaptive functional and cellular plasticity that influence functional recovery and the development of pain after SCI. Ongoing research projects include: 

Interactions between peripheral and central pain networks

There are no clear biological and/or experiential factors that predict the development of pain after SCI. These studies assess whether aberrant noxious stimulation, biological processes such as stress, anxiety and inflammatory responses at the time of SCI can influence the onset and expression of long-term pain hypersensitivity after SCI.

Plasticity of 'touch' afferent populations

Only few studies have assessed potential mechanisms of at-level allodynia after SCI. Two sub-populations of low threshold mechanoreceptors (LTMRs) known as C- and Ad-LTMRs are found in hairy skin and normally encode distinct modalities of touch. These studies investigate whether these C- and Ad-LTMRs are transformed into pain-encoding afferents after SCI. The studies are undertaken in transgenic mice that allow us to selectively target these individual populations of primary afferents.  These studies will also examine whether functional and/or anatomical plasticity of C- and Ad-LTMRs is a potential mechanical of at-level allodynia.

Interactions between autonomic dysfunction and neuropathic pain

Like pain, autonomic dysfunction is a major occurrence after SCI and dysfunction in autonomic signaling may significantly associate with sensory dysfunction after SCI. We undertake studies that use remote monitoring of heart rate (HR) and respiratory rate (RR) as measurable indices of sympathetic arousal that may also be indicative of pain after SCI.

BDNF-TrkB plasticity after SCI

Research examining the role BDNF plays in spinal nociception and pain overwhelmingly suggests that BDNF promotes pronociceptive effects. However, it is still unclear whether BDNF similarly contributes to neuropathic pain after SCI, although it has been shown to promote adaptive plasticity. Studies are done to examine the role peripheral and central BDNF-TrkB signaling plays in pain hypersensitivity after SCI. 

Cellular mediators of neuropathic pain after SCI

These studies focus on temporal and spatial expression patterns of several cytokines and kinases that are involved in inflammatory and neuropathic pain. These include TNFa, IL-6, ERK and pERK.
Techniques
Surgery: Peripheral and Spinal Cord injury models
Behavior: Modified conditioned place preference and place escape/avoidance paradigm, Locomotor assessment (BBB open field), Pain tests (thermal, mechanical), Other (USV recording and non-contact monitoring of respiratory rates)
Cellular assays:  qRT-PCR, Western blotting
Histology:  Light and fluorescent histochemistry
Inflammatory pain models
Electrophysiology
Commonly used behavioral techniques include thermal latency (left), mechanical sensitivity (right), and open field locomotion (not shown).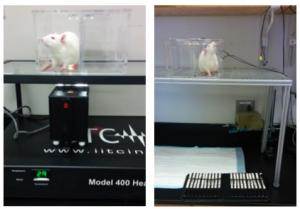 Studies to assess respiratory rates, ultrasonic vocalizations (USV) and at-level allodynia in mice.



Studies on the neuronal/glial mechanisms influencing spinal nociceptive plasticity.

Recent Grants
2018-2023: Funding Source: NIH/NINDS (R01). Examining the roles A-delta LTMRs and BDNF signaling play in neuropathic pain after SCI. Role: PI
2016-2018: Funding Source: Craig H. Neilsen Foundation. Compromised Ad-LTMRs function contributes to allodynia after SC. Role: PI
2015-2018: Funding Source: Department of Defense. Electrophysiological and behavioral evaluation of C-LTMR plasticity induced by spinal cord injury: transformation from pleasure to pain afferents. Role: PI
2014-2016: Funding Source: Mission Connect Grant (TIRR Foundation). Effect of C-LTMR plasticity and autonomic dysfunction on sensory pain processing: Role: PI
2013-2015: Funding Source: NINDS (R21). Interaction between SCI and Noxious Input: Modulation of Pain Hypersensitivity. Role: PI