"While we are heartbroken that we were unable to hold our traditional Match Day celebration this year, my class understands that the health of the American public far outweighs our need to celebrate. People should be assured that Emory is graduating a class of young physicians who are ready and eager to supplement our strained medical system in the face of the COVID-19 outbreak."
Peyton Hanson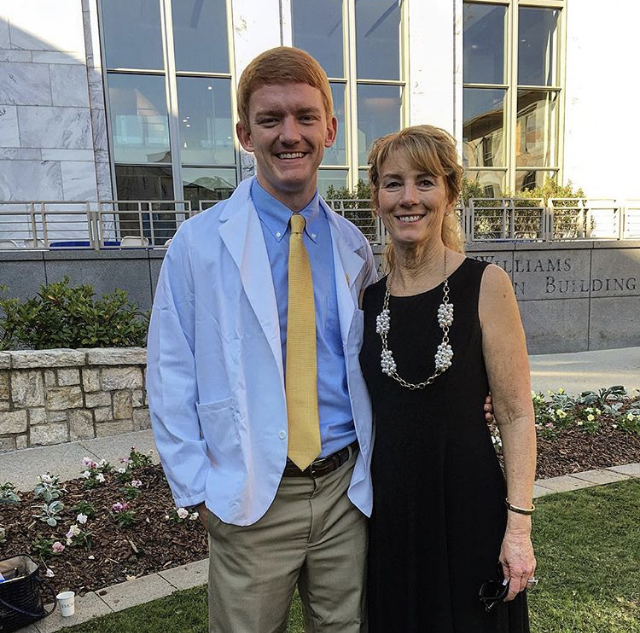 Peyton Hanson
,
2020 MD Candidate, Emory University School of Medicine, is from
the small town of Toccoa, G
A
and is a proud alumnus of Auburn University. "
I'm the son of two veterinarians
,
so
I have always felt drawn to the sciences and appreciated their role as respected
professionals
in the community. As a
people-oriented extrovert
, a career in medicine felt like the natural fit to best utilize my affinity for both people and the sciences
,
"
said Peyton.
He m
atriculate
d
at Emory SOM immediately after
completing his undergraduate studies
in
biomedical sciences
.
Along with his parents,
Peyton's
maternal grandparents, Betty and Howell Lawson,
were instrumental
on
his path to Emory. "They
picked me up from school almost every day and drove me to thousands of baseball
and
football practices. They were excellent role models
,
and through their work at local charities
,
they
taught me what it means to serve one's community in a humble manner. I would not be where I am today without them
," said Peyton
.
He also cites family as a whole as key to his success in medical school "I really am so lucky to have the support of my step-family as well. They're a loud bunch, more into business and politics than my family of scientists (Peyton's sister Leah is also a pediatric nurse), but they balance us out well. It's easy to lose perspective in medical school, but they remind me to lighten up and enjoy the important things in life."
He
hopes to pursue
Internal Medicine training
but has an
avid interest in medical education and plan
s
to pursue
a career as a clinician-educator.
"I am thankful to have had the chance to interview at many wonderful residency programs this year and would be thrilled to match at any of them, however my top choices include Massachusetts General Hospital, Johns Hopkins, Duke, UT Southwestern, and Penn. Peyton learned on virtual match day that he did in fact match with Massachusetts General Hospital.
While undecided on my sub
-
specialty choice, I feel I am most likely to pursue a fellowship in cardiovascular disease after completing residency
. This is
an interest that I owe largely to Emory's outstanding cardiology faculty that I've had the chance to work
alongside
and learn from
" said Peyton.
Peyton is proud to be spending his last month at Emory on a cardiology medical-education elective, teaching a small group of eight first-year students the fundamentals of cardiovascular physiology and pathology.
His peers have left a lasting impression.
He
was elected to serve as Class President at the beginning of M1 year, and recently found the notecard
he
prepared four years ago as part of
his
election speech to the class. On it is scribbled
,
"Though we don't know each other well yet, you are the most talented group of people I have ever met." One might have expected
him
to grow cynical towards this statement over time, but
his
classmates have proven it true ten times over.
"
We have had many highs and lows as a class, but each time we have been there to pull each other through.
I am looking forward with great anticipation to see what they accomplish in their lives and careers.
I want others to know that my classmates are the brightest and most incredible people I have ever met
,
"
said Peyton. 
"While we are heartbroken that we were unable to hold our traditional Match Day celebration this year, my class understands that the health of the American public far outweighs our need to celebrate. People should be assured that Emory is graduating a class of young physicians who are ready and eager to supplement our strained medical system in the face of the COVID-19 outbreak," said class president, Peyton Hanson.