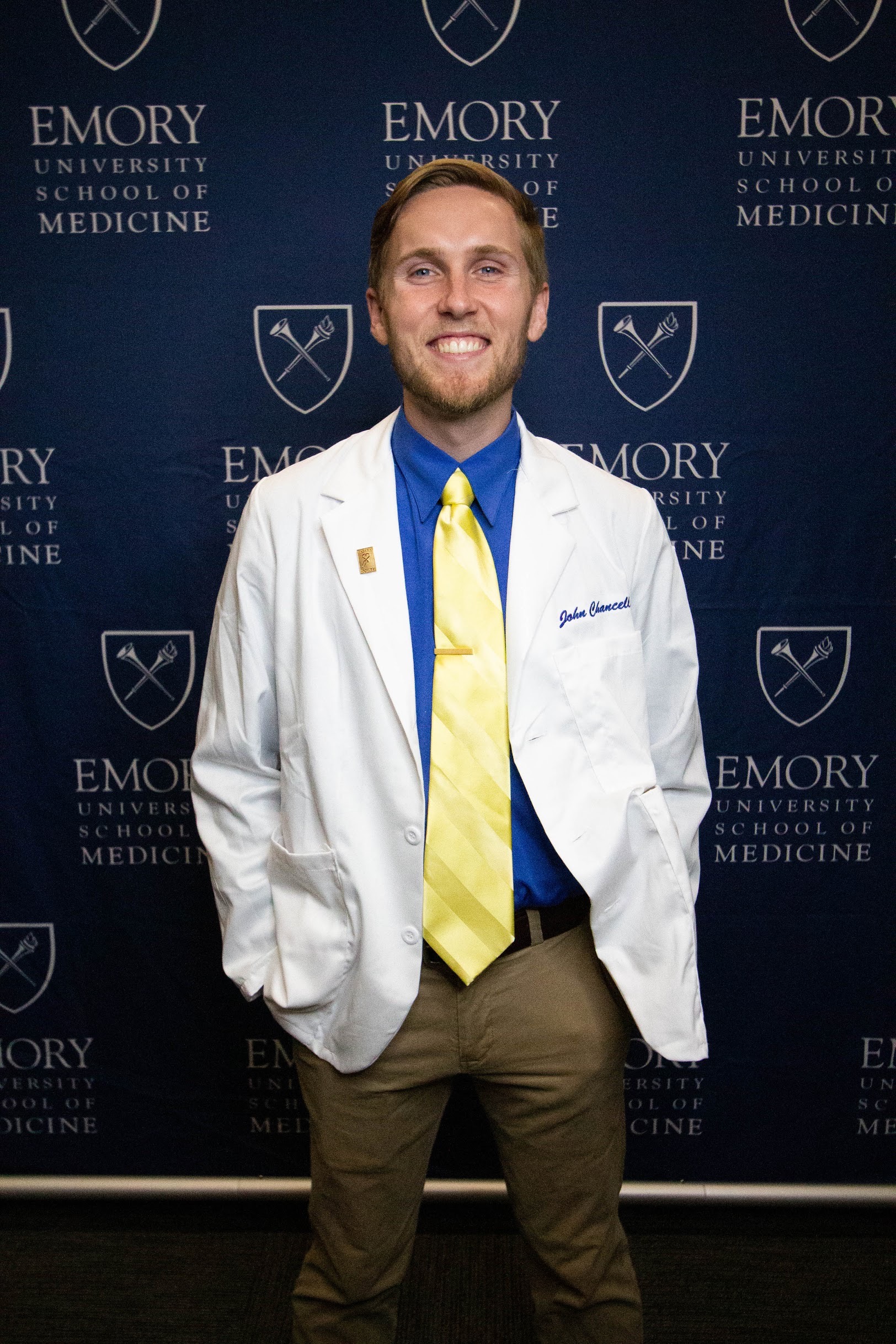 John Chancellor, 2023 Doctor of Medicine (MD) candidate, Emory University School of Medicine, is originally from Enterprise, AL. He went to undergrad at the University of Alabama at Birmingham (UAB) and studied neuroscience. "As a rural Alabama native, I am no stranger to homemade blackberry pie, warm greetings from barefooted children, or lingering, rocking-chair conversations," says John. Before starting medical school, he served as a biology/English teacher in Mozambique with the U.S. Peace Corps. Drawing from his experiences in rural America and rural Mozambique, he decided to pursue medicine to target the health care disparities present in the rural South and globally.
Match Day revealed that John will continue his training in family medicine/psychiatry at the University of Pittsburgh. "Emory really prepares you to train in a variety of environments from a safety net hospital to an academic university affiliated hospital. Going forward as a community physician, I will feel incredibly grateful for having the opportunity to train in such a spectrum of clinical settings," says John. 
John cannot speak highly enough about the people at Emory and his classmates who he sees as "top notch, visionaries, that are ready to build the most equitable systems for all." He will leave Emory with some lifelong friends and a more realistic and refined vision of what he wants to accomplish in medicine. His favorite memories of Emory and Atlanta include Anki walks in Emory's Lullwater Park, bonding with his Covid Quarantine Crew, finding ways to add spontaneity to his clerkship year with concerts (anything from Ben Platt to Burna Boy to Kid Cudi to John Mayer), watching Schitt's Creek and Love is Blind with his roommates, and exploring the cities best milkshakes and dance clubs.
John was awarded the 2023 Society of Teachers of Family Medicine Foundation Student Scholarship, which recognizes a strong commitment to academic family medicine through scholastic, volunteer, and leadership pursuits, this award acknowledges the recipient's strong potential for a career in academic medicine. He is also a recipient of Emory's Kathelen and Dan Amos Medical Student Loan Forgiveness Program, which is improving access to primary care in Georgia by supporting Emory students who are willing to commit to primary care practice in our state. "I would love to build my foundation as a physician here in Georgia, focusing on closing the care gap for individuals in the intersectionality of being medically underserved due to their geographic location as well as their sexual or gender identity," says John.