"I cannot even describe how my training at Emory, in Atlanta, at Grady, has framed my thinking on health policy systems change. All I can say is that I'm excited for the future of medicine and health care systems transformation in this country. I'm optimistic that we will see the changes that we need with time and with the support of physician-advocates."
Akshaya Kannan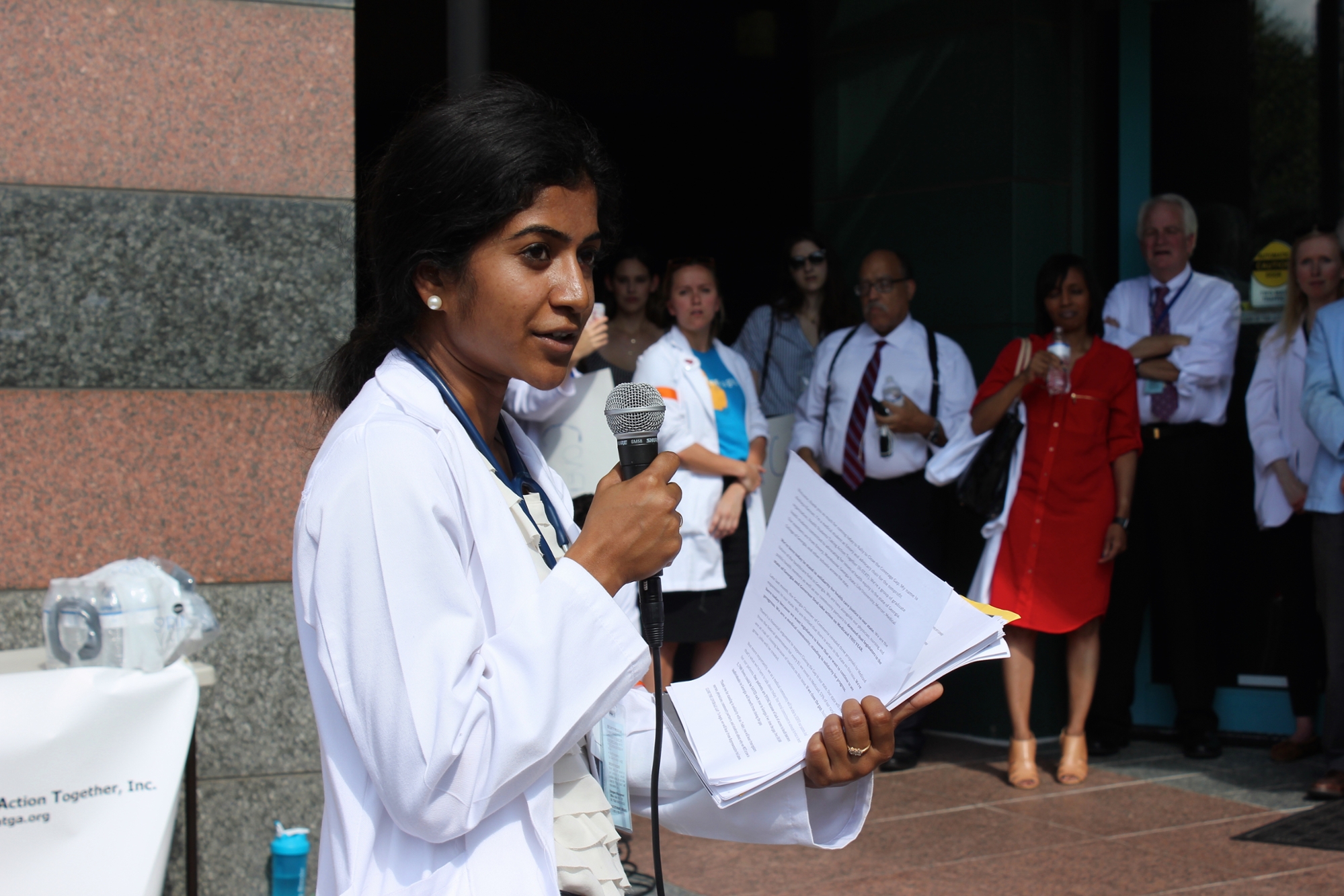 Akshaya Kannan, 2020 MD candidate, Emory University School of Medicine, is from many places and is a self-described immigrant many times over. Born in Chennai, India, her parents were both physicians and immigrated to Bridgetown, Barbados, shortly after she was born. When she was five, her parents immigrated to the U.S. in search of a better opportunities for her and her brother and re-did their residency training in Massachusetts. "Residency training is difficult. I never wanted to be a doctor, because I hardly saw my parents growing up. However, my parents absolutely loved what they did; and later in life, that passion for healing and working with communities spread to me and my brother," said Akshaya. After her parents' residency training, they moved to the Orlando, Florida area which she considers home.  

She went to the University of Chicago for undergraduate, majoring in Public Policy. "I'm passionate about social justice and government-led change. I became a U.S. citizen when I was 16 years old, and it is something I never take for granted. I really believe in the American democracy and am inspired by people-led movements like the Civil Rights Movement in the U.S. and the Independence Movement in India," said Akshaya. During college, she worked as a community organizer on the South Side of Chicago, advocating for a level one trauma center and received a Fulbright-Nehru Research Grant to study menstrual health and hygiene. This work was the foundation for her passion of working with communities. "I absolutely loved working with communities at the local level. I didn't want to simply "study" communities, I wanted to work alongside them. That's when I decided to apply to medical school," said Akshaya. She is extremely passionate about public hospitals and knew that she wanted to train at a medical school affiliated with one. 
 
Receiving the Woodruff Scholarship at Emory in 2015 was a dream realized for Akshaya. Emory SOM supported Akshaya's goal of being a physician-policymaker and encouraged her to take a leave of absence to pursue a Masters in Public Policy at the Harvard Kennedy School in 2018-2019.
  
"I cannot even describe how my training at Emory, in Atlanta, at Grady, has framed my thinking on health policy systems change. All I can say is that I'm excited for the future of medicine and health care systems transformation in this country. I'm optimistic that we will see the changes that we need with time and with the support of physician-advocates," said Akshaya. 

Her most memorable moment at Emory SOM was serving on the board of Health Students Taking Action Together. In her second year, she and 30 other medical students organized a rally on the steps of Grady Memorial Hospital. They were advocating for Medicaid expansion in Georgia. Over 120+ students, physicians, community members, and politicians participated. "It was such an amazing moment of solidarity on the steps of a historic hospital. I came to Emory because of Grady, and my experiences at Grady motivated my passion for health care justice and health equity. I'm so excited for the next journey, but I know that in my heart I'll always be #Gradymade," said Akshaya.  

"Akshaya came to Emory with previous experience in public policy (Chicago, Washington DC, and in Asia working for the U.S. Department of State) and found many social problems in Atlanta which she has worked to help solve. From "big picture" community issues, to careful attention to her patient's comfort and their complicated medical problems, Akshaya will likely become a superb clinician, advocate for the underserved, and respected physician-leader. We've been grateful to her for her service to our community in Atlanta, and we're excited to see how will shape the world," Ira K. Schwartz, MD, associate dean of medical education and student affairs, Emory University School of Medicine.

Akshaya matched with University of California San Francisco for obstetrics and gynecology training. "I matched at UCSF and I'm honestly still in shock. It has been my dream program for as long as I can remember. I cannot wait to join their community of women's health policy leaders!"