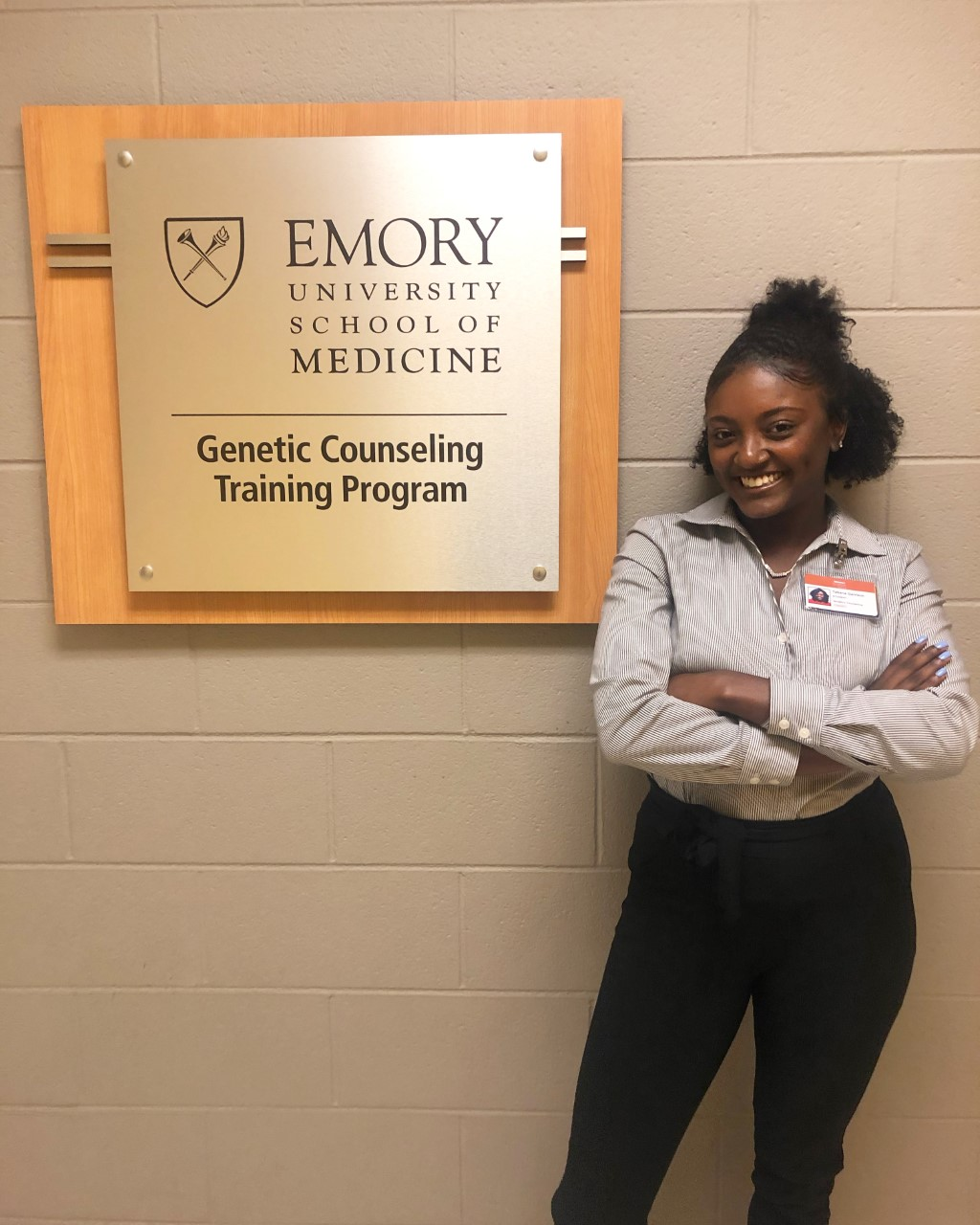 Where are you from?
Englewood, New Jersey
 
Where did you go for undergrad?
I graduated from Howard University with a BS in Biology and a minor in Chemistry in 2019.
 
Describe your path to the Emory Genetic Counseling Training Program.
I first heard about genetic counseling during my senior year of high school after my mother was diagnosed with breast cancer. This experience sparked my curiosity in genetics. During my sophomore year of undergrad, I spent the summer interning for a cancer genetic counselor at the Howard University Cancer Center. There I fell in love with genetic counseling and knew it was the career for me.
 
During undergrad, I was also involved in mentoring, tutoring and various volunteering. I participated in two alternative spring breaks in Memphis, TN to combat poverty through community development by targeting issues in education and youth violence. I also served as a camp counselor for Brainy Camps of Children's National Hospital where I aided to provide a safe, healthy and enjoyable camp experience for children with Type 1 Diabetes. I also worked for a year as a crisis counselor for the Crisis Text Line. I started applying to genetic counseling programs my senior year of undergrad and matched to the Emory Genetic Counseling Training Program in April 2019.
 
After graduating from Howard University in May 2019, I was a summer cancer research intern at the National Cancer Institute, where I worked with patients with rare genetic disorders such as Xeroderma Pigmentosum and Trichothiodystrophy. That August I came to Emory and I have enjoyed it ever since!
 
What field do you plan to pursue post-graduation?
I plan to work in the cancer genetics specialty in the Detroit metro area.
 
What would you want others to know about your years in the Emory Genetic Counseling Training Program?
 
My favorite part about the Emory Genetic Counseling Training program is definitely my 10 classmates. Over the past two years, I have been able to bond and form life-long relationships with them.
 
Why did you decide to pursue a career as a Genetic Counselor and come to Emory?
 
After my summer internship at the Howard University Cancer Center, I decided to pursue a career as a genetic counselor.
 
I decided to come to Emory for many reasons. One, I loved all the rotation options the genetic counseling program had to offer. I also liked the autonomy and experience incorporated within our focus internship, which provides the basis for our Capstone Project. At my interview, I also really enjoyed my experience with the faculty and students.
 

What did you like most about living in Atlanta?
I love the diversity of the population in Atlanta. I also love the weather and all the great food options available in the area. It's perfect for anyone who is a foodie like me.