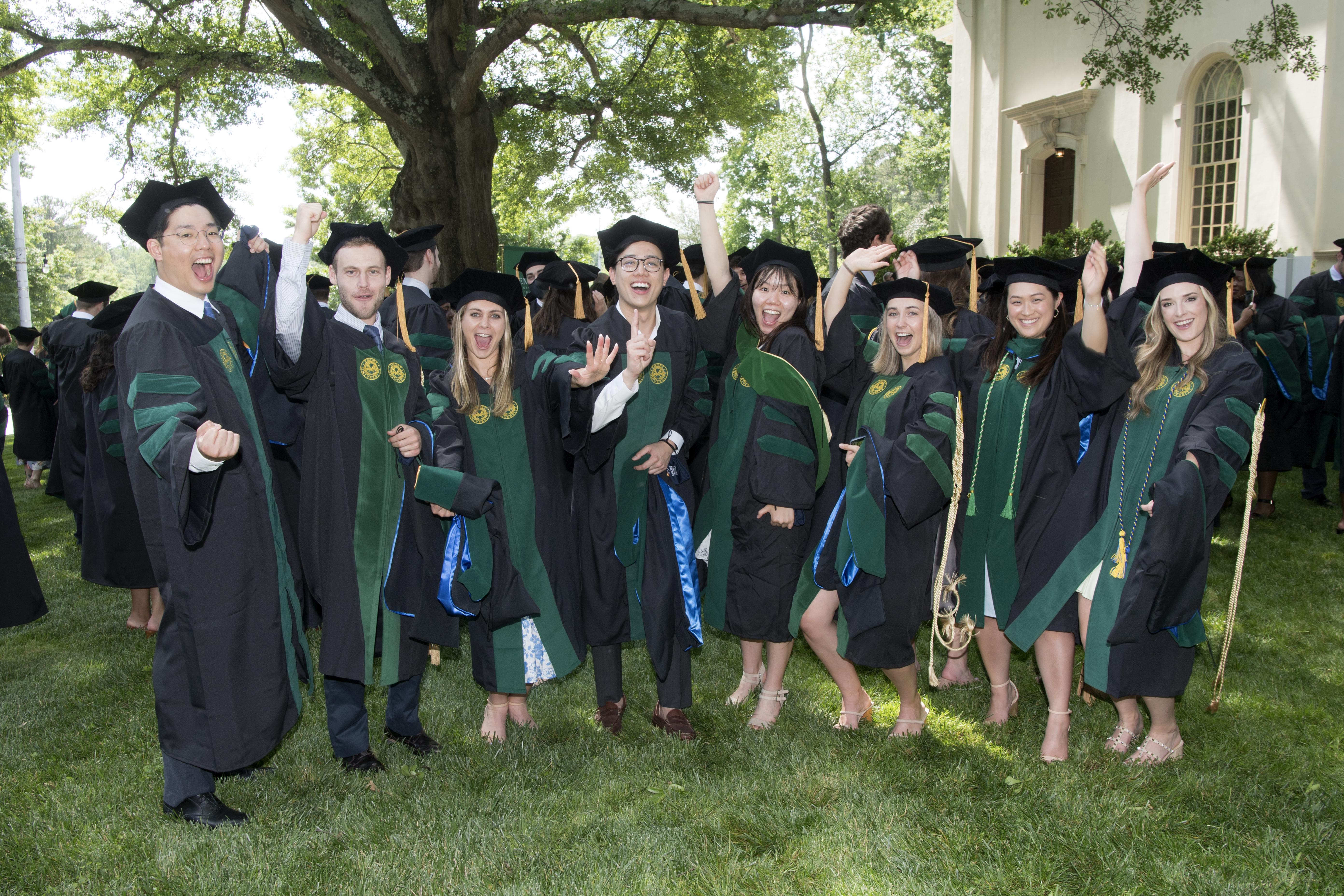 Bagpipes led the processional as the Class of 2022 Doctor of Medicine graduates filled Glenn Auditorium Friday, May 6, for their in-person commencement ceremony. The 150 new doctors are headed to residencies around the country, including some who are staying at Emory.
"After the extraordinary and challenging circumstances of the past two years, you have developed resilience and determination. Take that with you as you move forward in your medical career," said Emory Board of Trustees member Adam Rogers, 92C 96M, CEO and founder of Hemera Biosciences, as he congratulated the graduates.
Medical School Dean Vikas Sukhatme told the class members, "You will now join more than 6,000 graduates of the Emory School of Medicine spread throughout the world. You've received a lot of advice, so I just want to say, stay HIP. That's it: H-I-P. H is for humility, a willingness to learn from anyone, at any time, in any venue. H is also for honesty, leading with your heart, humor, and healing. I is for imagination, intellectual curiosity, innovation, impact. P is for passion. Find what uniquely engages you, especially if it is also in the service of others. Combine passion with compassion. P also means pause, take a moment to reflect, gain perspective, encourage, and respect differences. Stay HIP, stay in touch, and congratulations!"
Jonathan Lewin, executive VP for health affairs, executive director of the Woodruff Health Sciences Center, and CEO and chair of Emory Healthcare, gave the valedictory address on his personal recipe for success and happiness: "I'd like to share a few stories that have contributed to my growth as a physician, leader, and person." The most powerful was learned early on, watching his father, Dr. Leonard Lewin, who had a general practice in an underserved area of Cleveland, Ohio. "When I was back in Cleveland doing my residency, my landlord had worked in a nursing home where my father admitted patients. Most doctors, in the cold winters, would rush in and out quickly, he said. But my father took off his boots, sat down, and talked to the patients as people. The first ingredient, then, is respect."
Later, working a summer job as a garbage man, Lewin noticed that few people met his eye or said hello. "I was invisible. It made me wonder how many invisible people are out there, who we aren't seeing, every day. … Take the opportunity to get to know people. And make everyone on your team feel appreciated and included." Finally, Lewin said, remember to have humility, build trust, and show compassion: "No one has all the answers. Medicine is a continuous journey of learning. All of us are imperfect. Learn from colleagues, patients, each other. Never be afraid to ask for help, it's a sign of strength not weakness. … You are heading into a challenging, yet bright and impactful future. I know you are ready."
Several awards were given to School of Medicine faculty and graduates, including:
The Provost's Distinguished Teaching Award for Excellence in Graduate and Professional Education to Associate Professor of Obstetrics and Gynecology Mary Dolan, of Emory Women's Center at Emory Saint Joseph's Hospital.


The Evangeline Papageorge Distinguished Teaching Award to Assistant Professor of Infectious Diseases Varun Phadke. Student comments included: "The most dynamic, invested, and effective teacher throughout the MD curriculum." "Treats students with compassion." "So lucky to learn from this clinician educator." "My favorite lecturer."
The Papageorge Award was presented by pediatrician and epidemiologist Marshalyn Yeargin-Allsopp 72M, the first Black female graduate of Emory School of Medicine, chief of the developmental disabilities branch of the CDC and adjunct assistant professor of pediatrics at Emory. Yeargin-Allsopp, who knew Papageorge personally, recalls her intelligence, but also her kindness: "I often sought her advice, and she always gave it willingly."
Executive Associate Dean of Medical Education and Student Affairs J. William Eley recognized students receiving academic honors and multiple degrees. Following were the procession of medical graduates receiving their hoods and diplomas and signing the official record book with their professional titles for the first time.
Also graduating on Friday, May 6, were students receiving their Doctor of Physical Therapy (DPT). Genetic Counseling students graduate Saturday, May 7, and Medical Imaging students graduate Monday, May 9.
The two-hour School of Medicine ceremony concluded with a speech by Alexa Dantzler, class speaker elected by the graduating class: "I remember we were balancing classwork, community outreach, anatomy lab, exercise. We were eager to start rotations. And, just like that, we were thrown into a whirlwind. I don't think any of us could have imagined we would train to be doctors in the middle of a global pandemic. … Success is earned from lessons learned. …. We learned that in all the chaos and crisis we must remember to just be human, and to maintain positivity for our patients, even in their darkest hours."
Per tradition, the new doctors stood and recited the Oath of Hippocrates, led by Dean Sukhatme. And then, as wind gusts tousled robes and hoods, the new doctors walked out into the waiting world.