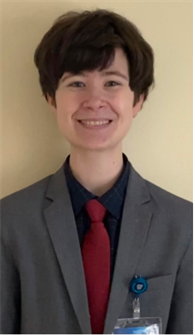 Kitteren 'Kit' Jester graduated with a bachelor of science in psychology degree and certificate in cultural diversity in health care in 2020 from Augusta University (AU). He lives in Rochester, MN, where he currently works at Mayo Clinic, assisting in staff care. Ultimately, Kit hopes to become a clinical research assistant at Mayo or return to graduate school and pursue a career as a child life professional. His academic and research interests include topics in neurology, psychiatry, psychology, occupational therapy and the arts in medicine. Kit's experiences include that of a patient as well as an individual interested in working in health care.
He was formally diagnosed on the autism spectrum in 2014 and acknowledges the value in recognizing important differences that color each other's perspectives and experiences. Kit also experiences several forms of synesthesia, contributing to his own colorful perspective.
Since May 2020, Kit has become a neighborhood artist, and his chalk art has encouraged healthcare workers, patients and friends beyond his local community to other states and countries. This has drawn attention of local media as well as national organizations, including the Dystonia Medical Research Foundation, through which he has been able to increase awareness of dystonia and share another piece of his story.
He also remains engaged with ongoing research in psychiatry from his undergraduate thesis at AU.