To be accepted into the program, candidates must be MDs with Board Certification in Internal Medicine who are currently residents or who have completed their training and intend to become certified in internal medicine.
Optimal candidates should have long-term career goals in academic medicine. Eligible applicants are considered for a possible position based on their academic credentials, ability, overall preparedness, communication skills, aptitude, and personal qualities (such as motivation and integrity).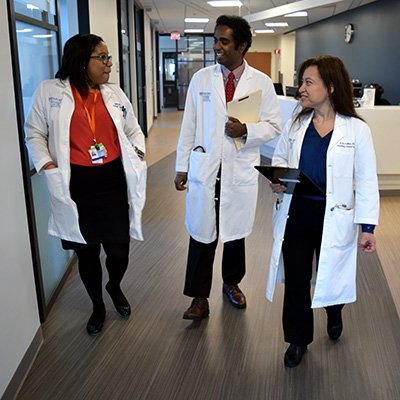 Curriculum
Fellows gain a comprehensive clinical education and exposure to the breadth and depth of the hematology/oncology specialties by rotating in three main clinical settings:
Grady Memorial Hospital
Emory University Hospital
Atlanta Veterans Affairs Medical Center
The curriculum allows sufficient flexibility to accommodate fellows' specific research and clinical interests. Dedicated research time provides an environment for focused clinical or laboratory-based research.
During the first year of training, fellows receive broad practical experience in medical oncology and hematology through a mix of inpatient and outpatient rotations at Emory University Hospital, Winship Cancer Institute, Atlanta VA Medical Center, Grady Memorial Hospital, and Emory University Hospital Midtown. First year fellows have two half-day continuity clinics per week. The second and third years of fellowship are tailored to accommodate each fellow's career goals and research interests in two separate pathways, one for clinical investigators and another for physician scientists. In addition, MD/PhD applicants may pursue the ABIM Research Pathway.
Fellows committed to academic careers are eligible to apply for the Georgia CTSA TL1 grant, which covers the cost of the Master of Science in Clinical Research degree or the Certificate Program in Translational Research. Application deadline is usually spring of the first year of fellowship.
Clinical Investigator Pathway
The clinical investigator pathway is for fellows planning to pursue clinical academic careers or community practice and/or are undecided. We tailor the second fellowship year to include more time in clinical training for fellows pursuing community practice, and more time in mentored-research for those pursuing academic careers.
Year 2: Fellows pursuing academic careers have up to 10 months of research time and two half-day continuity clinics per week. Fellows pursuing community practice have two half-day continuity clinics, time to complete a quality improvement or limited mentored-research project, and spend the remainder of the time in a mix of inpatient rotations and subspecialty clinics.
Year 3: Fellows have a mix of inpatient and outpatient, two half-day continuity clinics per week, and additional protected time for research for fellows who secure grant funding.
Physician Scientist Pathway
The physician-scientist pathway is for fellows who are pursuing careers in translational (bench to bedside) research in hematology and/or medical oncology.
Year 2: Fellows have protected time for research and one to two half-day continuity clinics per week. Fellows who demonstrate progress at the six-month review will continue with protected research time for up to 10-12 months.
Year 3: Fellows spend up to six months in research (based on progress to date) and six months in a mix of inpatient and outpatient rotations, in addition to one to two half-day continuity clinics per week.