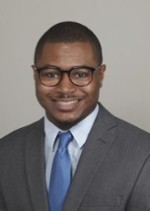 Hometown
Milledgeville, Georgia
Undergraduate Degree
Georgia State University
Medical School
Morehouse School of Medicine
Hobbies
basketball
tennis
crossfit
Why Emory EM?
At Grady, we serve the patient population that inspired me to go into medicine in the first place. They require the most help and I always look forward to doing what I can to improve their situation. In addition, Emory is a very supportive residency with a family environment that is felt as soon as you start.
Interests within EM
Global Health
EMS
Disaster Relief
5-Year Plan
Community
What would you be doing if you weren't doing EM?
I would likely be a college professor.
Random Fact
I used to be a car salesman.