1915-1925
William Simpson Elkin, MD
Specialty: Gynecology/Obstetrics

Dr. William Simpson Elkin came to Atlanta in 1884, when he was appointed "demonstrator of anatomy at the old Southern Medical College," where he eventually became a professor of clinical surgery (The Atlanta Constitution, April 25, 1944). Also in 1884, he cofounded and became president of the Atlanta Academy of Medicine. In 1913, he was named dean of the newly established Atlanta Medical College (AMC), born of the consolidation of the Atlanta College of Physicians and Surgeons and the Atlanta School of Medicine. Elkin had been serving as dean of the AMC for two years when it transitioned into the Emory University School of Medicine on May 24, 1915, with Elkin as its first dean. Dr. Elkin continued to serve as dean of the new School of Medicine for ten years.

After resigning as dean on June 9, 1925, Elkin received the distinction of dean emeritus. He practiced medicine in Atlanta and continued to support the Emory School of Medicine. In November of 1943, he wrote to then Emory president Goodrich C. White: "Please understand that I am always ready to help in any way in my power. The development of the medical school has always been foremost in my thoughts and efforts, and I look upon it not only with pride in its accomplishment but with deepest affection" (The Atlanta Constitution, April 25, 1944). When Elkin died on April 24, 1944, Dr. Harvey W. Cox, President of Emory from 1920 until 1942, said of him that, "[he had] done more than any other man for medical education in the Southeast" (The Atlanta Journal, April 26, 1944).

1925-1945
Russell Henry Oppenheimer, MD "Dr. Opp"
Specialty: Medicine

Russell Henry Oppenheimer, MD, received his bachelor's degree from Ohio State University and his MD from the University of Michigan. He interned at City Hospital in New York before entering the Army Medical Corps in 1918. After his discharge, in 1919, he began private practice in Detroit. He came to Emory in 1921, only six years after the School of Medicine was established. In 1925, he replaced W. S. Elkin as dean of the school. Oppenheimer remained as dean until resigning in 1945, after guiding the School of Medicine through World War II and helping the school shift from didactic to clinical teaching. He continued to teach and practice at Emory until his retirement in 1954.

During his tenure at Emory, Oppenheimer held many appointments, including resident physician and pathologist, superintendent and later medical director of Emory University Hospital, professor of medicine, professor of clinical medicine, chairman of the Department of Medicine, and director of postgraduate medical education. He also served as vice president (1935) and president (1940) of the Association of American Medical Colleges.

"Dr. Opp," as he was known, earned the admiration of medical students and colleagues for his humility, selflessness, and compassion. The Emory Alumnus described him as "the personification of a medical man—selfless, devoted, loyal, and interested only in improving the quality of medical instruction, medical knowledge and medical practice" (October 1954). Robert F. Whitaker, assistant to the president of Emory University, credited Dr. Opp for developing Atlanta into a medical center (The Atlanta Constitution, Jan. 22, 1966). Oppenheimer passed away in 1966 at the age of 77.
1945-1946
Eugene Anson Stead, Jr., MD
Specialty: Medicine

Atlanta born and raised, Eugene Anson Stead Jr., MD, received his bachelor's (1928C) and medical degrees (1932M) at Emory. He taught at Harvard University Medical School and worked at the Peter Brent Brigham Hospital in Boston before returning to Emory as Professor of Medicine and Chairman of the Department of Medicine on May 15, 1942. Dr. Stead was elected dean of the School of Medicine in June 1945, succeeding Dr. Oppenheimer. In his first annual report on the School of Medicine to the President of Emory University in October of 1945, Stead noted the progress in integrating the Emory University Hospital into the teaching program of the medical school. Stead departed Emory for Duke in 1946, where he formed the first physician's assistant program.

Charles D. Hollis, Jr., MD, remembered Dr. Stead as "an awesome as well as inspirational leader [with an] incessantly inquiring mind. . . . [He was] a legend in his own time at Emory. . . ." ("A Window On Emory's History: Pre- and Post-Stead," Journal of the Medical Association of Georgia, v. 79, 1990.) Dr. Stead passed away in 2005 after a life dedicated to medical education.
1946-1956
Richard Hugh Wood, MD
Specialty: Medicine

Growing up in modest circumstances in the Blue Ridge Mountain town of Floyd, Virginia, Wood had his mind set on medicine. Ever aware of his limited financial resources, he repeatedly asked the trustees at the Medical College of Virginia, Richmond, for permission to apply after only two years of college, so he could save some tuition. When they finally relented, he scored the highest of all applicants on the admissions test, began his medical education at age nineteen, and graduated with honors in 1921. After medical school, Wood remained in Richmond to train in pathology and then spent two years at the Peter Bent Brigham Hospital in Boston. Dr. Daniel Elkin, chair of surgery at Emory, recruited him to Grady Hospital, where Wood became the second medical resident in the history of that hospital and where he finished training in 1926.

Wood entered private practice in Atlanta with James Edgar Paullin, MD, and taught at the Emory School of Medicine as an attending physician at Grady. During World War II, Wood served as chief of the medical service of the 43rd General Hospital, Emory Unit, activated September 1, 1942. After the war, the military transferred the 43rd General Hospital to operation as the Lawson Veterans Administration Hospital in Chamblee, Georgia. Wood turned his energy to managing Lawson Hospital and was instrumental in relocating the Atlanta VA Hospital to Clairmont Road in 1967, on land donated by Emory.

In 1945, Wood became chief of medicine at Emory University Hospital since 1945, and in 1946 he was appointed dean of the medical school. He became the first (part-time) director of the Emory University Clinic in 1953, which had opened as the Private Diagnostic Clinic in 1949. Dr. Wood was one of the principal guides leading the complicated evolution of the Emory Clinic and its financial support to the School of Medicine. He championed the idea that the heart of a great medical center is its medical school. He retired from the deanship in 1956.

In the early 1980s, Wood accepted the task of staffing the newly formed Division of Geriatric Medicine and Gerontology at Wesley Woods. He was the first physician in the South to receive the Gold-Headed Cane Award. This award dates to 1689, when John Radcliffe, the physician to King William III, initiated the tradition to "recognize a physician who symbolizes the pursuit of the highest standards of scientific excellence and integrity." Wood died in 1984 at the age of 88.

1956-1979
Arthur Pawley Richardson, MD
Specialty: Pharmacology

Arthur P. Richardson, MD, eminent guide of the School of Medicine through decades of growth, was professor and chair of the Department of Pharmacology from 1947-1954, associate dean from 1950-1952, and Director of the Division of Basic Health Sciences from 1952-1956. He then became dean of the Emory University School of Medicine in 1956, the same year that the Emory University Clinic (now Emory Clinic) began operation. Friendly though formal, blessed with a booming voice, and generally sporting a bow tie, Richardson provided strong, effective, and wise leadership during a period when the school and the University strained to meet the demands of every department. A Colorado native and a Stanford-trained researcher, he instituted the equivalent of an institutional research board (IRB) long before such oversight of research had become standard.

Richardson oversaw three expansions of the Woodruff Memorial Building for research and construction of a clinical research building at the Grady Hospital complex. The school launched the Division of Allied Health Professions in 1968 and began to offer joint MD and master of community health degrees, forerunner of the current MD/MPH program. Along the way, Richardson and colleagues assisted Morehouse College in establishing a two-year medical school, now the fully accredited Morehouse School of Medicine. During his tenure as dean, the full-time faculty grew fifteenfold, to some eighteen hundred faculty members mentoring one thousand medical students and house officers. When Richardson retired in 1979, at the age of 68, he had become the "The Dean of Deans"—the longest-serving dean of all 124 medical schools in the country at that time. He passed away in 1993 at the age of 81.

1979-1980
Euclid Garland Herndon, Jr., MD
Specialty: Nephrology and Endocrinology

"Dr. Garland Herndon was a lieutenant colonel in the dialysis unit at Walter Reed when he was recruited by Dr. Willis Hurst to join the department of medicine at Emory University [in 1958]," recalled Armand E. Hendee, MD, professor emeritus of Gynecology and Obstetrics at Emory. Herndon was the principal founder and longtime director of the Clinical Research Center of the School of Medicine that was established in 1960. He served as medical director of Emory University Hospital, a position he held until his death. And he served as interim dean of the School of Medicine from 1979-1980.

Known as "Mr. Woodruff's Physician," Herndon served as the personal physician to philanthropist and Emory patron Robert W. Woodruff after the death of his previous physician, Dr. J. Elliott Scarborough, in 1966. Herndon famously was on twenty-four-hour call for Mr. Woodruff, and the two breakfasted together daily. Woodruff created a vice president for health affairs position, and Dr. Herndon was the first to occupy it. He held this position from 1973 to 1983.

After Herndon's death in 1984 at age 63, the School of Medicine established the Garland Herndon Professorship of Medicine in his memory.

1980-1983
James Francis Glenn, MD
Specialty: Surgery (Urology)

Following Herndon's year as acting dean, James F. Glenn, MD, arrived from Duke University, where he had been chair of the Urology Department, to take the reins of the Emory medical deanship in August, 1980. With degrees from the University of Rochester and Duke Medical School, he had also trained at Peter Bent Brigham Hospital in Boston, served on the medical faculty of Yale, then Wake Forest, before becoming chief of urology at Duke.

At Emory, Glenn was committed both to medical education and clinical practice. He was known as the "white-coated Emory dean" for carrying out his administrative duties as dean while caring for patients and performing urological surgery. During each day he repeatedly walked back and forth from his administrative office to the clinic and hospital. His ever-present white coat signaled his dashing about in this manner in fulfilling both roles.

Glenn was editor of Glenn's Urologic Surgery, a fundamental textbook in the field, and was a frequent speaker at international conferences. As dean, he increased faculty and office space, hospital beds, clinic space, and added an eye center and new medical library. During his tenure the medical school added a wing to the Woodruff Research Building. Faculty members recalled his vigor and drive, support of the basic sciences and graduate education, and ability to ask incisive questions at the right time. During his brief tenure, the medical school gained momentum, in part from his contagious enthusiasm and energy. Glenn resigned in March 1983 to accept the position of president and chief executive officer of the Mount Sinai Medical Center in New York City. He passed away in 2009 at the age of 81.
1983-1984
George William Brumley, Jr., MD
Specialty: Pediatrics

In 1981, George W. Brumley Jr., MD, left Duke University, his alma mater, where he had founded the division of neonatology, to become the Frances Winship Walter professor of pediatrics and chair of the Department of Pediatrics at Emory. Other titles he held at Emory included medical director of Egleston Children's Hospital and president of the Emory Egleston Children's Research Center and the Emory Egleston Pediatric Care Foundation. These were challenging times, with rapid changes in both the health-care environment and the relationship between Emory and the children's hospital. He became known as the "Pediatric Humanitarian." When James Glenn left the deanship in 1983, Brumley agreed to hold the position of interim dean, serving until 1984, when Richard Krause arrived.

At Emory, Brumley pioneered research that helped save thousands of infants, mentored young faculty, and tripled the size of the department. He and his wife, Jean, quietly had built a network of charities to help underserved populations. After retiring in 1995, he focused his efforts on these worthy activities. In 2003, at the age of 68, he died, along with eleven members of his family, in a small plane crash near Nairobi, Kenya, while they were on vacation. In his honor, Emory established the George W. Brumley Jr. Professorship and named a bridge connecting the Health Sciences Research Building and the Emory-Children's Center building after him.
1984-1989
Richard Michael Krause, MD
Specialty: Allergic, Immunologic, and Infectious Diseases

Dr. Richard Krause's recruitment as dean spoke volumes about the intensified ambition of the medical school to become a research power. Krause was a professor and researcher at Rockefeller University and a long-time member of the National Academy of Sciences. Named head of the National Institute of Allergy and Infectious Diseases (NIAID) at the National Institutes of Health (NIH) in 1975, he was among the first to recognize the reemergence of microbial diseases as a health threat. He steered NIAID through the early, tumultuous years of the AIDS epidemic. Arriving at Emory in 1984, he lost no time in recruiting strong leaders who greatly expanded the research of the medical school. He took a leave of absence from his position as dean starting Oct 1, 1988, and his tenure officially ended Jan 6, 1989, on the day of his 64th birthday. Soon thereafter, Dr. Krause returned to the National Institutes of Health and served as a senior scientific adviser until his death in 2015.
1988-1996
Jeffrey Lyle Houpt, MD
Specialty: Psychiatry

As chair of the Department of Psychiatry, beginning in 1983, after his recruitment to Emory from Duke, Jeffrey L. Houpt, MD, greatly increased the breadth and depth of the clinical and research efforts of his department. He was named acting dean in 1988, then dean the following year, and was ready to continue the push of the medical school toward research greatness. He recruited powerful chairs, created structures that eased tensions between researchers and clinicians, and oversaw a fifty-million-dollar renovation of the Woodruff Memorial Research Building and the opening of a new Whitehead Biomedical Research Building. Under his leadership, the medical school moved up twenty notches in National Institutes of Health research rankings which helped Emory University gain membership in the prestigious Association of American Universities (AAU). In 1997, following a research sabbatical, Houpt became dean of the school of medicine and vice chancellor of medical affairs at the University of North Carolina at Chapel Hill and later added the title of CEO of a newly created UNC Health Care System. After his death in 2020, UNC named the physician office building in his honor.
1996-2012
Thomas J. Lawley, MD
Specialty: Dermatology

Thomas J. Lawley, MD, earned his medical degree from SUNY-Buffalo and then trained in dermatology at Yale University, SUNY-Buffalo, and the National Cancer Institute (NCI) of the National Institutes of Health (NIH). He served as senior investigator at the dermatology branch of the NCI from 1981 to 1988, at which point he came to Emory University School of Medicine as chair of the Department of Dermatology. When he came to the department, it only had three faculty members and was unranked. Over the course of his chairmanship, he brought the department to the position of third highest in NIH funding and the number of faculty members to 18. Based on his impressive accomplishments, he was appointed dean of the Emory University School of Medicine in 1996.

As dean of the medical school, Lawley saw research funding rise more rapidly than far more established medical schools. Lawley launched the first research strategic plan of the school in a decade. Six years later, the school had 80% more investigators, half a million gross square feet of new research space, and new programs and services to support research.

Lawley also had the opportunity to oversee simultaneously the design of a new building and curriculum. The medical school began the largest construction boom since the university moved from Oxford, Georgia, to Atlanta in 1915, with one million square feet of new space added. The James B. Williams Medical Education Building, which opened in 2007, quadrupled teaching space and made possible a 15% increase in class size. The new curriculum, which also debuted that same year, exposes students to patients early and often from their first semester; teaches basic science in the context of its relevance to health and disease; provides more time in small group classes and outpatient settings, where most doctor-patient interactions occur; and includes a minimum five months of discovery at Emory, CDC, NIH, or other research settings; and a mentoring system in which faculty and students remain in the same small group together from year one through graduation.

Dr. Lawley has written more than two-hundred book chapters, research articles, and abstracts and served as chairman of the board of the Association of American Medical Colleges and other healthcare boards. A successful physician scientist, he also is an accomplished educator and highly respected clinical leader, having served eight years as head of the Dermatology Section of the Emory Clinic. His leadership and vision, with the help of an excellent leadership team, maximized the synergy of the missions of the school during his sixteen years as medical dean at Emory.
2013-2016
Christian P. Larsen, MD, DPhil
Specialty: Transplant Surgery and Immunology

On January 15, 2013, Christian P. Larsen, MD, DPhil, who chaired the Department of Surgery beginning in 2009 and served as director of surgical services for Emory Healthcare, became the dean of the School of Medicine. He was also appointed vice president for health center integration for the Robert W. Woodruff Health Sciences Center and chair of the board of directors of the Emory Clinic. An internationally recognized leader in transplant surgery and immunology, Larsen—an alumnus of Emory College and the School of Medicine—joined the Emory faculty in 1991, after completing a DPhil degree at the University of Oxford. He succeeded Thomas J. Lawley, MD, who retired from the deanship after sixteen years of dedicated leadership in that position.

As the founding executive director of the Emory Transplant Center (ETC), Larsen built one of the foremost research and clinical transplantation programs in the world. Since its creation in 2001, the ETC has remained a pacesetter in establishing standards to ensure reliable, family-centered patient care and a strong focus on multidisciplinary care before this approach was recognized as essential for positive outcomes. The ETC also has become one of the leading centers in the country for National Institutes of Health research funding in basic immunology, translational studies in nonhuman primates, and large, multicenter clinical trials. With longtime collaborator Thomas C. Pearson, MD, DPhil, professor of surgery, ETC has played a pivotal role in discovering a new class of immunosuppressive drugs known as co-stimulation blockers. Larsen and Pearson helped drive the development of belatacept, a demonstrated improvement over the previous standard of care. The drug was approved in June, 2011, by the U.S. Food and Drug Administration for kidney transplant recipients—the first time a new class of drug had been approved for transplant since the 1990s.

As dean, Dr. Larsen emphasized family-centered patient care, research excellence, and innovative education. In 2013, the School of Medicine and Emory Healthcare committed to work together under the title of Emory Medicine to improve effectiveness while maximizing resources in pursuit of the shared missions of patient care, research, and education. Dean Larsen also made a number of key appointments during his tenure. He was elected to the National Academy of Medicine in 2014.

In November 2016, after nearly four years of remarkable growth and activity, Dean Larsen returned to full-time pursuit of his clinical practice and research endeavors in the Department of Surgery and Emory Transplant Center.
2016-2017
David S. Stephens, MD
Specialty: Infectious Diseases

In November 2013, David S. Stephens, MD, the Stephen W. Schwarzmann Distinguished Professor of Medicine, professor of microbiology and immunology, and professor of epidemiology in the Rollins School of Public Health, took the helm as chair of the Department of Medicine. He had served as interim chair in 2013 and was the director of the Division of Infectious Diseases in the Department of Medicine since 1992. A leading researcher in infectious diseases and microbial pathogenesis, Dr. Stephens has contributed to the growth of the National Institutes of Health (NIH)-funded Emory Vaccine Center and other multidisciplinary research programs at Emory. He was the principal investigator for the Georgia CTSA (Clinical and Translational Science Alliance), a multi-institutional partnership housed at Emory and continuously funded from 2007 to 2027 by the NIH.

David S. Stephens, MD, served as interim dean from December 1, 2016, until the arrival of Dr. Vikas Sukhatme in November 2017. During Stephens's interim tenure, the school successfully recruited three new departmental chairs (Susan Margulis, PhD, in biomedical engineering; Haian Fu, PhD, in pharmacology; and Lucky Jain, MD, in pediatrics); appointed or renewed interim chairs and other leaders (anesthesiology, ophthalmology, Grady EAD); launched multiple national leadership searches and seventeen basic science faculty recruitments; secured University approval of new medical school promotion guidelines; launched the School of Medicine Diversity and Inclusion Initiative; contributed to the establishment of the Emory + Children's Pediatric Institute; successfully completed the School of Medicine LCME review with seven-year accreditation; and successfully transitioned the new dean.

David S. Stephens also serves as vice president for research in the Robert W. Woodruff Health Sciences Center (WHSC). He oversees the WHSC research enterprise and leads planning activities that enhance research programs and collaborations throughout WHSC and Emory University.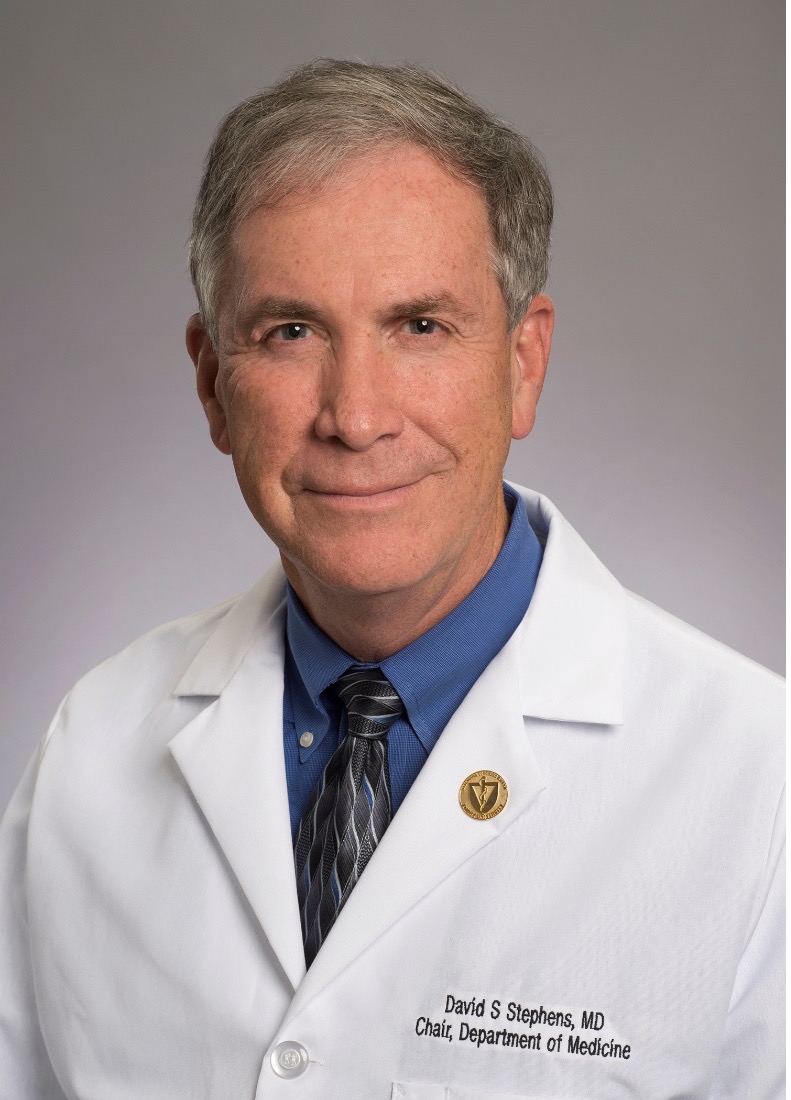 2017-2023
Vikas P. Sukhatme, MD, ScD
Specialty: Nephrology/Oncology

Vikas P. Sukhatme, MD, ScD, completed his doctorate in theoretical physics at MIT, and then attended the nascent Harvard-MIT Program in Health Sciences and Technology. He graduated from Harvard Medical School cum laude in 1979, after which he completed clinical training in internal medicine and nephrology at Massachusetts General Hospital and an immunology fellowship at Stanford. After completing his fellowship, he became a Howard Hughes investigator at the University of Chicago from 1985 to 1992 before his recruitment to Harvard Medical School, where he became a distinguished professor and faculty dean for academic programs at Beth Israel Deaconess Medical Center. At the end of 2017, Dr. Sukhatme arrived at Emory as Robert W. Woodruff Professor of Medicine, dean of the School of Medicine, and chief academic officer of Emory Healthcare.

Under Dr. Sukhatme's leadership, the School of Medicine developed and implemented an ambitious strategic plan titled "Reimagine Medicine: From Excellence to Eminence," which focused on faculty eminence, game-changer recruitments, internal growth, awards to encourage novel ideas, partnership development with local institutions, building infrastructure (including laboratory space, and the groundbreaking of the Health Sciences Research Building II, the largest biomedical research facility at Emory and in the state of Georgia), and innovation and entrepreneurship.

During Dr. Sukhatme's tenure, the total number of National Institutes of Health (NIH)-funded investigators at the School of Medicine, half of whom were women, significantly grew. The school reached $588 million in total research funding in FY22 and an all-time high NIH funding rank of 13 in the nation. The first Diversity, Equity and Inclusion strategic plan for the School of Medicine was initiated. In the course of his deanship, Dr. Sukhatme worked to launch "education transformation" across all degree programs in the SOM; appointed 12 new department chairs; and guided the school skillfully through the COVID-19 pandemic.

His last day as dean was February 28, 2023. He plans to continue his work as a full-time faculty member in the School of Medicine and lead the Morningside Center for Innovative and Affordable Medicine and a Clinics of the Future initiative.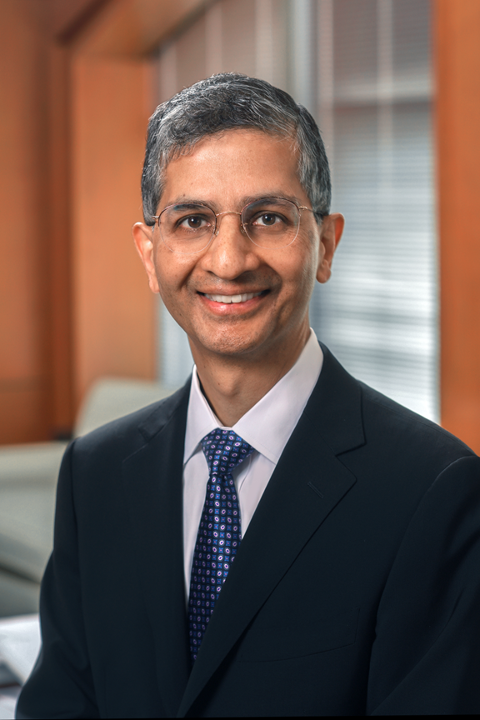 2023-present
Carlos del Rio, MD
Specialty: Infectious Diseases

Carlos del Rio, MD, an internationally known clinician, epidemiologist, and global health leader, was appointed interim dean for the Emory University School of Medicine in January 2023. As the Leon L. Haley Jr., MD, Distinguished Professor of Medicine in the Division of Infectious Diseases, he is also Professor of Global Health and Epidemiology at the Rollins School of Public Health, and Executive Associate Dean for Emory at Grady Hospital. He codirects the Emory Center for AIDS Research (CFAR) and serves as co-PI of the Emory-CDC HIV Clinical Trials Unit and the Emory Vaccine and Treatment Evaluation Unit.

A native of Mexico, del Rio attended medical school at Universidad La Salle and completed internal medicine and infectious diseases residencies at Emory. Prior to joining Emory in 1996, he served as executive director of the National AIDS Council of Mexico (CONASIDA).

Del Rio has focused on research, policy development, and disseminating scientific findings regarding global public health crises, such as the COVID-19 pandemic, and the prevention and continuum of care for HIV. Throughout the COVID-19 pandemic, he advised local and national leaders and frequently served as a source for international media to educate the public about the health crisis. He also served as an adviser and task force member for WHO during the 2009 pandemic.

Del Rio's many honors election to the National Academy of Medicine in 2013, del Rio was also elected to the American Academy of Arts and Sciences in 2022; the Thomas Jefferson Award from Emory University, the highest honor conferred by Emory to a faculty or staff member who has significantly enriched the intellectual and civic life of the Emory community; and the Ohtli Award from the Government of Mexico for work that benefits communities of Mexican origin living in the U.S. In 2021, the Carnegie Corporation of New York recognized him as a "Great Immigrant, Great American," and Atlanta Mayor Keisha Lance Bottoms presented him with the Phoenix Award, the highest honor bestowed by the City of Atlanta.