Director(s):
Goals, Learning Objectives, & Outcome
Goals:
This 24-month track will support residents & fellows to gain the knowledge, skills, and methods necessary to: (a) become leaders in healthcare system's quality and safety committees, initiatives, and activities and (b) prepare them for careers in this field.
Learning Objectives:
To obtain knowledge in quality improvement methods

To apply quality improvement methods to a healthcare gap in quality

To identify system failures and medical errors in health systems and report them in the appropriate hospital error reporting system.
Outcome:
Upon completion of the track, residents will be awarded a certificate of completion and graduate with a distinction in Quality Improvement and Patient Safety from Emory University School of Medicine.
Key Components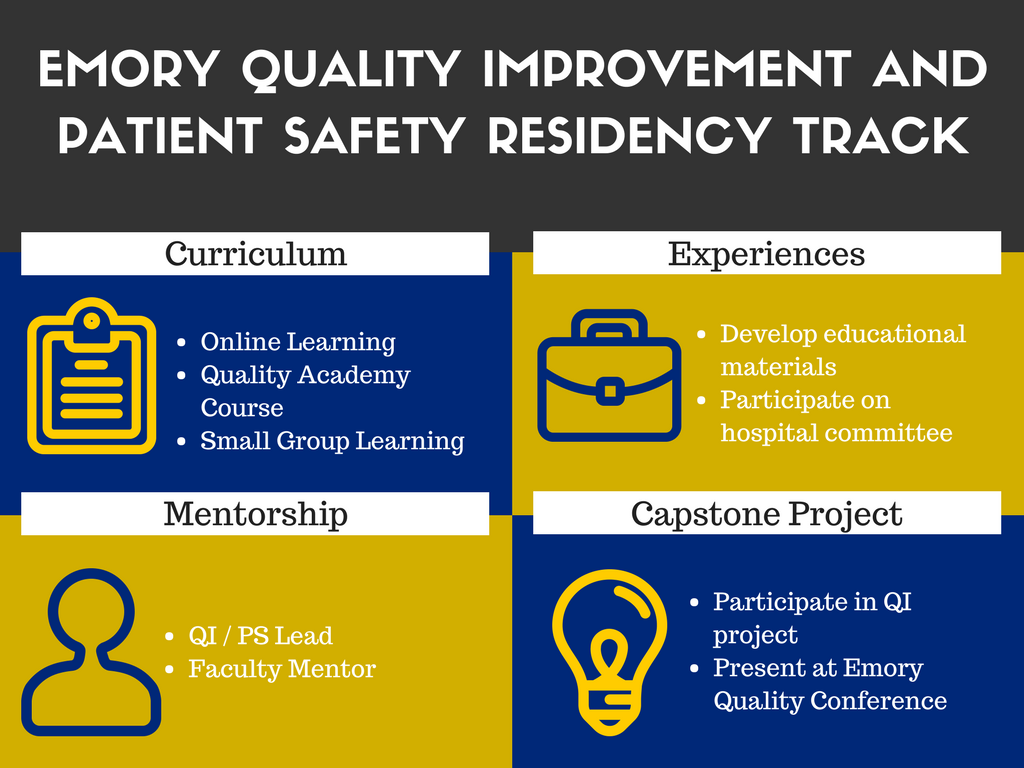 Application Process
Participation will be restricted to residents and fellows at the PGY-2 or higher level. Applications are due in the Spring (deadline of April 30) and are open to residents or fellows who will be PGY-2 or higher level as of July 1 of the same year.

The application must include the following components:
A personal statement describing why you would like to participate in the residency track, your interest in Quality Improvement and Patient Safety, and your expected goals and outcomes.  The personal statement should be limited to no more than 1 page.

A brief letter of support from the Program Director. A letter of support from the applicant's program director must be included as part of the application process.  The letter should indicate support for the resident's participation in the Quality Improvement and Patient Safety track including allowing the resident to attend the required Small Group Learning sessions and EHC Quality Academy course.
Each year, please submit your application to Dr. Adam Webb at awebb03@emory.edu no later than April 30 for consideration in the cohort starting in July. 
2017-2019 Cohort
Name: Steve Tucker

Email: shtucke@emory.edu

Specialty: Ophthalmology

QI-PS Interests:

Medicine is a wonderful field where practitioners can use their knowledge and skills to help patients. However, I have learned that systems practices and quality improvement science is necessary to decrease error rates and provide the best patient care possible. This curriculum is helping me to improve not only my methods and practices but also provides me an opportunity to pass these practices on to both colleagues and future work settings.

Name: Vanessa Cousins

Email: vcousin@emory.edu 

Specialty: Emergency Medicine

QI-PS Interests:

In addition to improving workflow, efficiency, and patient centered care as components of quality improvement, I am also drawn to learning to become a resilient and compassionate leader. I am captivated by the utilization of technology to improve patient centered care and bring the healthcare process back to the patient's bedside

Name: Mohamad Raad

Email: Mraad@emory.edu

Specialty: Internal Medicine

QI-PS Interests:

To ensure excellent patient care we should always strive to improve the healthcare system. The latter as it exists includes many gaps and insufficiencies in the method, quality and outcomes of the care provided. My goals from the Quality Improvement and Patient Safety Track is to build a solid understanding, knowledge, skills, and methods in the implication of Quality improvement patient safety projects to identify failures and improve in-patient resource utilization and outcomes.

Name: Maria Braileanu
Email: maria.braileanu@emory.edu
Specialty: Diagnostic Radiology

Name: Jake Gissy
Email: jacob.james.gissy@emory.edu
Specialty: Anesthesiology

Name: Vicky Melanson
Email: v.g.melanson@emory.edu
Specialty: Anesthesiology

Name: Martine "Lory" Camille Ridore
Email: martine.ridore@emory.edu
Specialty: Emergency Medicine

Name: Anna Trofimova
Email: anna.trofimova@emory.edu
Specialty: Diagnostic Radiology

Name: Chengcheng "Cindy" Ye
Email: chengcheng.ye@emory.edu
Specialty: Internal Medicine
2018-2020 Cohort
Name: Christopher Michael Haydek

Email: chaydek@emory.edu 

Specialty: Internal Medicine

QI-PS Interests:

Quality Improvement and Patient Safety Interests: Part of the intrigue of QI-PS is the vast amount of information that advancements in technology have yielded us, making way for continual improvement in efficiency and patient outcomes. I am drawn to this constant opportunity for progress which translates into tangible results for patients.

Name: Cicily Vachaparambil

Email: cvachap@emory.edu 

Specialty: Internal Medicine

QI-PS Interests:

I have an interest in transitions of care between the inpatient and outpatient settings, specifically improving communication and coordination between providers to ensure recommended follow-up procedures and office visits are completed.

Name: Mariam Amin
Email: mariam.amin@emory.edu 
Specialty: Dermatology

Name: Anita S. Deshpande
Email: asdeshp@emory.edu 
Specialty: Otolaryngology

Name: Alexandra Grace Nicole Lopez-Aguiar
Email: alexandra.grace.nicole.lopez-aguiar@emory.edu 
Specialty: Surgery

Name: Amanda Renee Ross
Email: amanda.renee.ross@emory.edu 
Specialty: Emergency Medicine