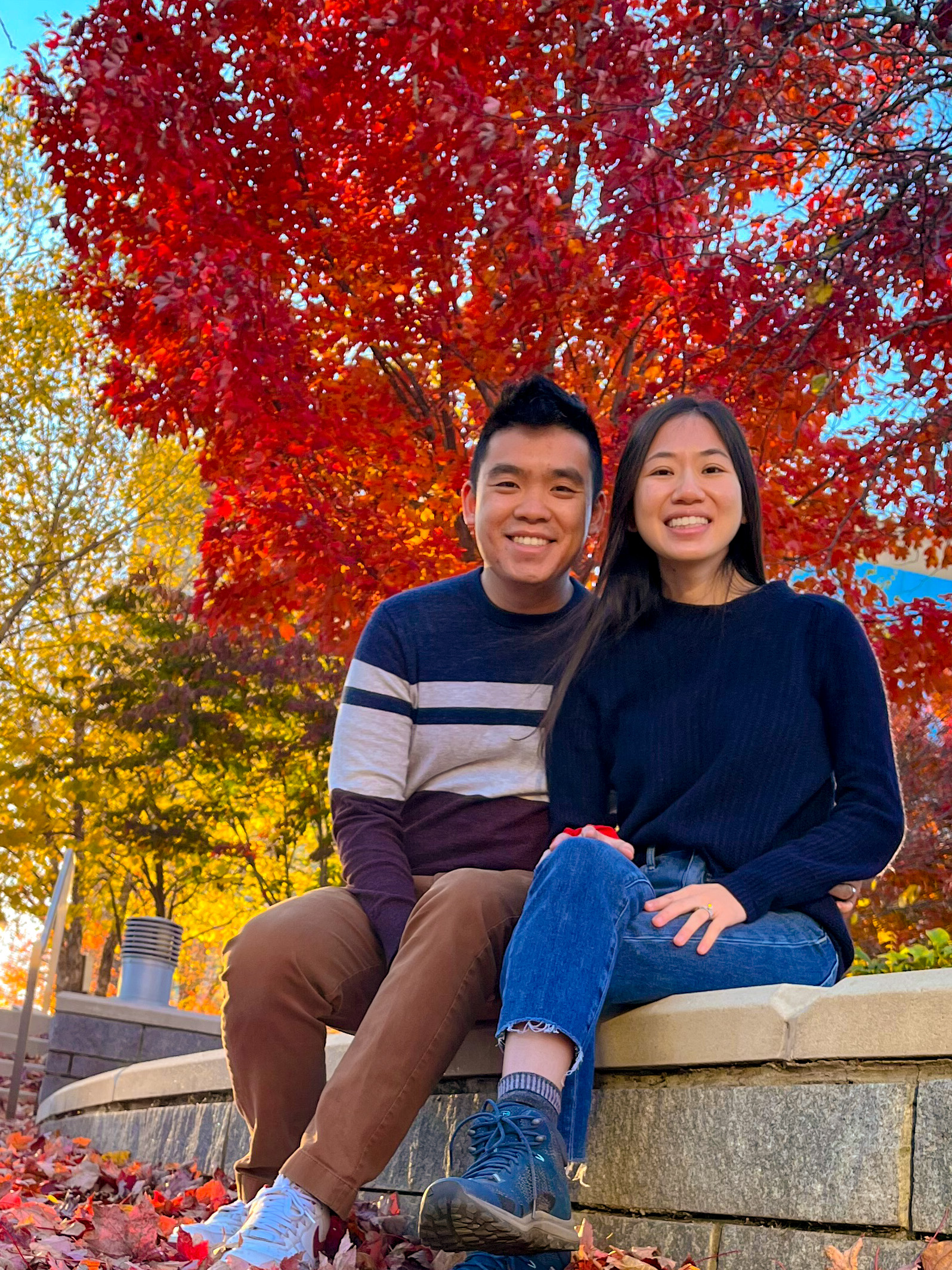 Stephanie Liu-Lam, 2023 Doctor of Medicine (MD) candidate, Emory University School of Medicine, is originally from Cincinnati, OH and attended Dartmouth College for undergrad, majoring in biology. "Volunteering as a patient advocate in undergrad and having the ability to empower patients during vulnerable and pivotal decision-making moments in their care ultimately brought me to medicine," says Stephanie. Before medical school, she spent a gap year in Ann Arbor, MI as a clinical study coordinator researching maternal infant health. Stephanie's husband, Oliver, is also a fourth-year medical student at Emory. "There wasn't a "couples match" system for medical school applications so we were grateful and excited to both be accepted to Emory, a program that we independently loved," says Stephanie. They both wanted to train at a safety net hospital like Grady and to serve refugee and immigrant populations in nearby Clarkston.
Stephanie and Oliver are now participating in the couples match for residency. Matching as a couple allows two residency applicants to link their rank order lists, usually for purposes of obtaining positions in the same geographic location. Oliver noted that, "In a way it feels like we are couples matching for the second time as we applied to medical schools together! We are grateful that a system exists to support our ability to continue training in the same location and are excited to see where this next stage of training takes us."
Match Day will reveal where Stephanie will continue her training in psychiatry. She arrived at medical school imagining a career in Family Medicine. Stephanie says, "Growing up surrounded by immigrant families, I saw the importance of preventative care and longitudinal patient-physician relationships in healing communities. However, I unexpectedly fell in love with Psychiatry during my third-year rotations. Treating psychiatric illness is intimately linked with understanding and responding to the social issues underlying each patient presentation. I witnessed patients receive comprehensive mental health treatment and subsequently interview for their first jobs, secure safe housing, and restore fraught relationships with loved ones. This experience cultivated my passion to provide trauma-informed and culturally responsive care for communities in need as a psychiatrist."
Oliver Liu-Lam, 2023 Doctor of Medicine (MD) candidate, Emory University School of Medicine, is originally from Hong Kong until the age of 14 when he immigrated on his own to Cincinnati, OH, where he attended high school and met Stephanie. He completed his undergrad at the University of Michigan and worked as a campus chaplain for five years where he walked alongside college students in their most vulnerable moments. Each encounter with his students, along with the steps taken towards healing, ultimately informed his values of advocacy and service that drove him to pursue medicine.
Match Day will reveal where Oliver will continue his training in otolaryngology - head and neck surgery. Oliver says, "I was first drawn to the field by the technically challenging surgeries – resecting a mandible full of malignant tumor and repurposing a new jaw from a fibula. But as I explored the breadth of otolaryngology, I recognized the power and opportunity to address patients' most pressing concerns and provide for patients what often matters most to their quality of life: the ability to hear a loved one's voice for the first time, to share a meal at the dining room table free from pain, and to have a conversation without gasping for air." It is a field that pairs his love for problem-solving and critical thinking with the ability to create meaningful change through the work of his hands.
As they consider residency programs, Oliver and Stephanie looked for programs with two priorities in mind: first, to be close to loved ones, and second, to be able to care for medically underserved populations. "Emory's mission and location uniquely fulfills both of those values. We both love Emory's Psychiatry and Otolaryngology Departments, who have provided exceptional training and unwavering support for us." Stephanie's parents and elderly Yorkshire terrier, Hippo, live just thirty minutes away. The support and care from her family was essential to their wellness and mental health during the past four years. 
Stephanie has been a coordinator with the Harriet Tubman Women's Clinic at the Clarkston Community Health Center since her first year of medical school. The teaching clinic provides care for uninsured and underserved women. As the daughter of Taiwanese immigrants, she is passionate about improving care in language-discordant health care encounters. In this role, she has learned to advocate for refugee patients whose health care decisions are heavily influenced by cultural and religious values. The patient navigation responsibilities of the role have been deeply meaningful. As a coordinator Stephanie helps patients receive follow up care and navigate the frustrating bureaucracy of the health care system to ensure that patients receive essential treatment. "I've loved working with this team and engaging in creative problem-solving to get our patients care that they so desperately need. It's infuriating and incredibly motivating to recognize that without this work, these patients would be without necessary health care," says Stephanie.

Another one of Stephanie's passions is working with the Nia Project. The Nia Project is a free, comprehensive behavioral health program located at Grady that provides individual and group therapy for Black women who are survivors of interpersonal violence and suicide. "Working with the Nia Project was like being welcomed into a family. I spent my Discovery months (and additional elective time) co-leading groups and conducting research on intimate partner violence," says Stephanie. As a part of the Nia Project, she had the opportunity to co-lead skills-based groups, support groups, and empowerment focused groups. "I cannot say enough wonderful things about my mentor, Dr. Nadine Kaslow (founder of the Nia Project), and the team of psychologists who taught me so much about psychotherapy and how to center patients and their community in this work," says Stephanie.

Hearing colleagues' stories of the effects of mental health stigma and barriers to care motivated Stephanie to advocate for medical student mental health and wellness during her second year of medical school. In a hierarchical field filled with long training hours where burnout is so prevalent, systemic changes towards mental health reform are imperative. Stephanie worked with her colleague, Matthew Brown, to propose a wellness half-day policy for Emory's clerkship curriculum where students were granted required, "no questions asked" half-days for the sole purpose of student wellness. "It's incredibly rewarding to witness my colleagues use these half-days to be well and advocate for their needs during one of the most grueling years of medical school," says Stephanie.
Oliver also made a personal impact at Grady and with the refugee community in Clarkston. "As a trainee at Grady and a volunteer in the Clarkston community, I had the opportunity and privilege to learn how to care for and counsel patients from underserved communities with formidable barriers to health care from my peers and mentors who are also neighbors, teachers, advocates, and policy makers in the community. I learned that providing holistic care to patients requires physicians to be holistic participants in the communities to which their patients belong," says Oliver.
Other important experiences during Oliver's time at Emory include serving in the Student Curriculum Committee and the Medical Student Senate during all four years of medical school, where he was able to explore his career interest in medical education while also advocating for his classmates. He was part of a group that created and proposed a longitudinal curriculum to incorporate teaching the electronic health record in medical school. He was also involved with the Asian Pacific American Medical Student Association, assisting during interview days and mentoring Emory pre-medical students.
"The most memorable moments in medical school were those of sharing life together with my classmates: the late nights in the anatomy lab, the private messages on Zoom accidentally sent to all,  the communal studying for board exams, the knowing nods given in hospital hallways, and certainly, the opening of a fateful envelope," says Oliver.
During Match Day, Oliver and Stephanie learned they matched at Emory University!