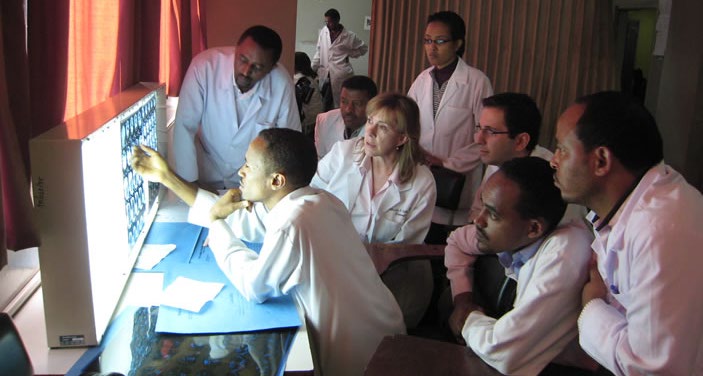 Request for Applications for Academic Year 2023-2024
   Application closed for 2023-24 academic year
The Emory University School of Medicine (SOM) Global Health Residency Scholars Program (GHRSP), established in 2012, includes a year-long curriculum consisting of monthly seminars and a one-month clinical rotation in Addis Ababa, Ethiopia. The program aims to provide residents and fellows from clinical departments with knowledge and practical experience in global health by building on the ongoing collaborations between Emory and Ethiopian institutions, in particular Addis Ababa University (AAU) and its main teaching hospital, Black Lion Hospital. The GHRSP was established as a collaborative partnership and strives to be mutually beneficial for both AAU and Emory University. We aim to provide meaningful field experiences for Emory housestaff in which they can learn, contribute to building local capacity and sustainable relationships, and are inspired to consider a career incorporating global health. To date more than 130 residents and fellows and 60 Emory faculty have participated in the GHRSP. The one-month rotation in Ethiopia focuses on clinical education and teaching and is carried out in a collaborative fashion between the appropriate departments at Emory and AAU (including the Emory resident/fellow and an Emory faculty member in collaboration with colleagues at AAU). The rotation in Ethiopia is structured to provide the Emory resident or fellow with learning opportunities, as well as opportunities to contribute to medical education and teaching of Ethiopian residents, medical students and other trainees at AAU in collaboration with the Emory faculty member and the collaborating AAU department. This requires pre-travel communication and planning with Ethiopian colleagues to discuss expectations and identify specific objectives for the one-month in-country rotation. To culminate the program, Emory Global Health Residency Scholars will give brief presentations about their work and experiences.
AAU and Emory have established a close working relationship over the past decade through the GHRSP across many departments and divisions and welcome new departments or divisions interested in participating in this meaningful program. We remain committed to our mission of working closely with Ethiopian colleagues to continue to enhance our bilateral partnership focused on improving medical education, postgraduate training, and the delivery of healthcare. To that end, the GHRSP will be supporting several senior residents from AAU in a one-month observership at Emory. 
Curriculum
Monthly seminars: Residents and fellows selected to participate in the Emory GHRSP will commit to attend monthly seminars. Residents will be expected to attend at least 80% of the monthly seminar meetings which run from August 2023 through June 2024.
Case Studies: Complete online case studies from the Ethical Challenges in Short-Term Global Health Training and participate in discussions of ethical challenges experienced by fellow residents during a dedicated monthly seminar session.
Educational training and webinars: Include live and online travel and safety training, etc.
International rotation and faculty supervision: The international experience will consist of a one-month clinical rotation which will occur in Ethiopia, generally in Addis Ababa at AAU/Black Lion Hospital. Collaborations between AAU and Emory faculty are well established for a number of Departments. See the list of Departments/Divisions with faculty who have traveled previously and have established collaborations with Ethiopia in the table below.                                                                                                    The Emory resident or fellow rotation will be structured to focus on clinical and educational activities and must be supervised by an Emory faculty member for the first 7-14 days of the rotation.
Report: Emory Global Health Residency Scholars will prepare a report on the clinical rotation, summarizing experiences, teaching, lessons learned and contributions to medical training at AAU/Black Lion Hospital and will also present an overview of their work and clinical experience to the group.
Application Requirements
Participants in the Emory Global Health Residency Scholars Program will be restricted to residents and fellows at the PGY-3 or higher level.

  Applications for participation in the GHRSP during the 2023-2024 academic year are due

on February 28, 2023,

and are open to residents or fellows at the PGY-2 level or higher level (

who will be PGY-3 or higher level during the 2023-2024 academic year)

.   

Note: For the Emory Internal Medicine Residency, only those residents participating in the Global Health Distinction Program are eligible to apply for GHRSP.
Emory residents and fellows applying to the Global Health Residency Scholars program must be in good standing with their residency program and the Emory Graduate Medical Education Office. Their application must be supported by their Department and Program Director (as documented by a letter of support from the Program Director and Department Chair or Division Director, to include a statement of the financial support for the applicant's travel and lodging for the 1-month rotation).
The GHRSP application must be completed via an online submission form (Jotform) found here and include the following components:


A personal statement describing why you would like to participate in the program, your interest in and definition of "Global Health," your expected goals and outcomes, and how your participation may contribute to efforts to improve medical and postgraduate education at the Ethiopian institutions (e.g., Addis Ababa University and their teaching hospitals such as Black Lion Hospital). The personal statement should be limited to no more than 2 pages (with 1-inch margins and no smaller than 11 font).
A brief Curriculum vitae (preferably in the NIH Biosketch non-Fellowship style: https://grants.nih.gov/grants/forms/biosketch.htm)
Program Director:  A detailed letter of support from the applicant's program director must be included as part of the application process.  The Program Director's letter of support should indicate their support for the applicant, detail the structure of the rotation in Ethiopia including goals and objectives of the rotation, a statement regarding how the department/division will provide oversight and supervision during the clinical rotation in Ethiopia including Emory faculty supervision of the resident or fellow while in Ethiopia, and the program director's pledge to follow the Emory GME requirements for an international rotation (Emory GME Site Policies).  See below for further information on the necessary steps prior to resident departure.
Chair or Division Director: The Chair (or Division Director) letter should indicate support for the resident or fellow's participation in the Emory Global Health Residency Scholars Program including allowing the resident or fellow to attend the monthly seminars and their commitment to support the air travel costs to Ethiopia and lodging costs in Ethiopia if the resident or fellow is accepted into the Emory Global Health Residency Scholars Program (resident/fellow salary support for the one-month rotation in Ethiopia will be supported by the School of Medicine Dean's Office funds for those accepted into the program).
Faculty:  A letter of support should also be obtained from the Emory faculty member, who will be providing supervision while the resident is in Ethiopia.
The above components of the GHRSP application should be submitted by February 28, 2023, via online submission using this link.
For those Departments or programs that do not have established collaborations in Ethiopia (see list in the table below), it is recommended that the Program Director or Chair contact one of the Co-Directors of the GHRSP prior to submitting an application.
The selection of the residents to participate in the GHRSP will be done by an Advisory Committee comprised of Emory faculty engaged in the program.
For questions regarding the program including the application process, please contact the GHRSP Program Coordinator, Saiza Jivani (sjivani@emory.edu).
Departments/Divisions with faculty who have traveled previously and have established collaborations with Ethiopia
Department / Division

 Emory Faculty

Internal Medicine

·          General Medicine

·          Infectious Diseases

·          Pulmonary

·          Cardiology

·          Endocrinology

·          Rheumatology

R. Kempker, P. Rebolledo

H. Blumberg, R. Kempker, C. del Rio

J. Kempker

A. Dollar

M. Sweeney

F. Ayele

Anatomic Pathology

J. Guarner

Anesthesiology

C. Sullivan, M. Caridi-Scheible

Clinical Pathology

J. Guarner

Dermatology

B. Stoff

Emergency Medicine

M. Wheatley, A. Yaffee

Family Medicine

O. Nwosu

OB/GYN

J. Goedken, G. Northington

Ophthalmology

J. O'Banion

Oral and Maxillofacial Surgery

S. Roser

Orthopedic Surgery

S. Hobson

Otolaryngology

M. Sebelik

Pediatrics

T. Berkowitz, S. George, B. Murray

Pediatric Neurology

N. Sankhla

Podiatry

J. Mann

Psychiatry

M. Ward

Radiation Oncology

N. Esiashvili

Radiology

G. Joshi

Surgery or Surgical Critical Care

D. Koganti

Surgery/Plastic Surgery

P. Thompson