Online Experience

Meet prospective classmates, current students, and faculty at Emory School of Medicine.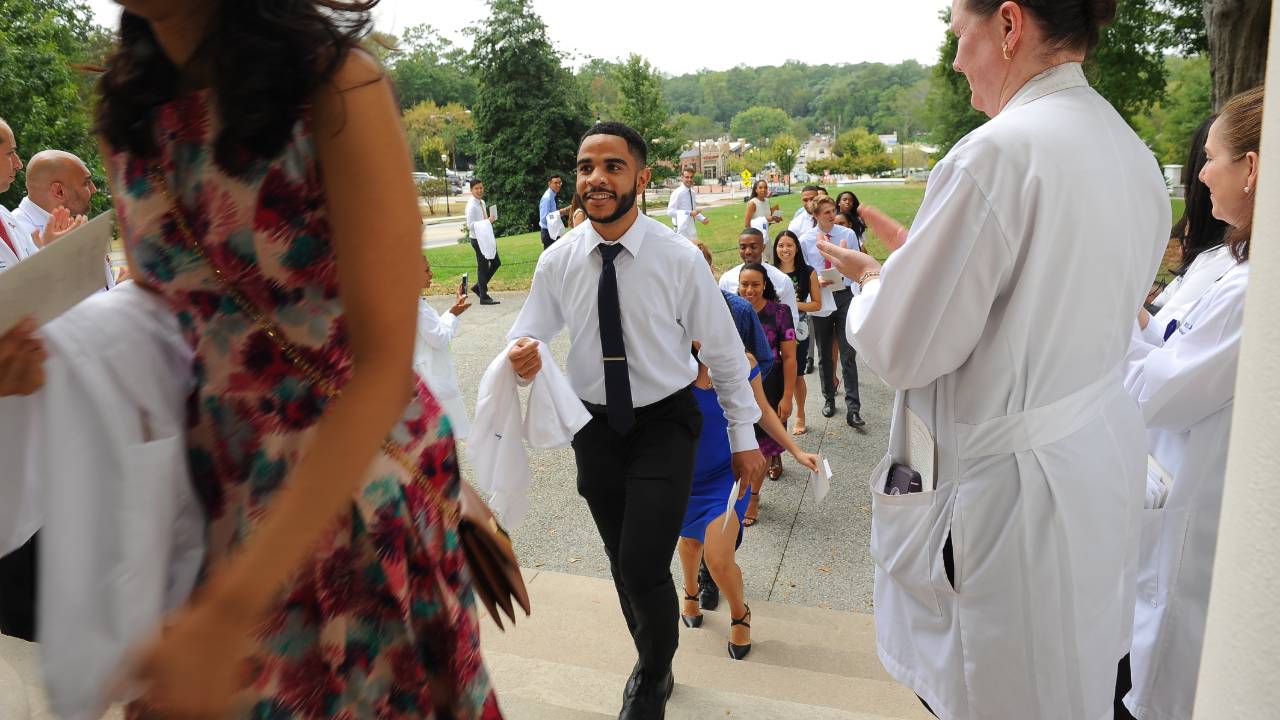 Welcome to Emory!
Class of 2025 Emory Revisited
The Office of Multicultural Affairs welcomes accepted applicants to revisit Emory University School of Medicine through our Virtual Revisited Experience.

Emory Revisited provides an opportunity for accepted underrepresented minority applicants in the MD program to learn about the various learning experiences available at Emory, and to connect with other prospective students, current students, staff, and faculty. This event is only by invitation from the Office of Multicultural Affairs.

Engage with us on social channels to connect and share with other participants.

• Facebook - @EmoryMedicine
• Twitter - @EmoryMedicine
• Instagram - @EmoryMedSchool

#EmoryRevisited2021
Here is our 2021 Emory Revisited programming schedule.
Check your invitation email for session links. If you need assistance, email us.
Thursday, March 18, 2021 
Living in the "A"  | Noon - 1:00 P.M. EST
Meet with current students to discuss housing and life in Atlanta.
Faculty Panel | 5:00 P.M.- 6:00 P.M. EST
Meet with Emory faculty leadership in diversity, equity, inclusion and racial advocacy.
Friday, March 19, 2021
1:1 with Financial Aid 
There are a limited number of slots available on March 19th to speak with Mike Behler, Associate Director, Financial Aid and Scholarships. You can sign up now for one of these slots or email to make other arrangements.
Sign up for a 10 minute meeting
Match Day 2021
This year Students will celebrate at home with their loved ones and share their excitement on social media. Click here to read student stories from the class of 2021, and please join us for a virtual Match Day event beginning at 11:40 a.m. EST. 
Tuesday, March 23, 2021 
Thriving, Not Just Surviving| Noon - 1:00 P.M. EST
Meet with Deans, Student Support Services, and student affinity groups about Wellness initiatives at the School of Medicine. 
Our classes are racially diverse, and a substantial percentage of our first-year students are "nontraditional," meaning they were out of college for at least a year before starting medical school.
530
Health Profession Learners
We have five health professions programs, including a Physician Assistant program ranked 3rd and a Physical Therapy program ranked 5th in the nation by US News & World Report.
1,311
Residents and Fellows
We provide more than half of the residency training positions in Georgia, and 53 of our 106 training programs are the only such programs in the state.
2,895
Physician and Basic Science Faculty
Our school is part of an academic health sciences center, and our faculty collaborate with faculty in schools of public health and nursing and a primate research center.