One of the Most Acclaimed Urologists of the 20th Century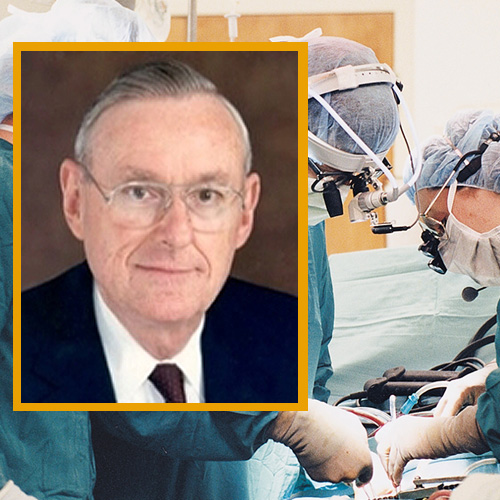 The William Hollis Cooner Award is given annually to an Emory Urology resident who has best emulated the compassion and care for patients exhibited by William Hollis Cooner, MD.
Dr. Cooner was born in Jasper, Alabama, the son of a judge and a schoolteacher, and the grandson of a country physician. After receiving his medical degree from the University of Alabama in 1951, he pursued his urology residency at the University of Pennsylvania. He then spent nearly a decade of service as chief of urology at various Air Force hospitals.
As the founder of the Mobile Urology Group in 1965, Dr. Cooner began applying the life-saving potential of new technologies for the early detection of prostate cancer. His work received international attention, and he made scores of presentations and lectures throughout Europe, Canada, Japan, the United States, and Australia.
In 1978, Dr. Cooner served as president of the American Association of Clinical Urologists. He was honored with the Distinguished Contribution Award in 1990 and the Presidential Citation Award in 1994 of the American Urologic Association. In 1992, he was presented with the University of Alabama Distinguished Alumnus Award.
Dr. Cooner was a professor of urology at Emory University from 1992 until the spring of 1994, when he became seriously ill and returned to his home in Mobile. As Dr. Cooner was preparing to leave Emory, his Emory Urology colleagues established an annual resident's award in his honor. He signed 100 certificates to be paired with the bronze medal bearing his likeness, thus assuring the first century of the award's perpetuity. Dr. Cooner died later that year.
Award Recipients
2022 – Michelle Song Sheng, MD

2021 – Elizabeth J. Traoré, MD, MPH, TM

2020 – Mark A. Henry, MD

2019 – Dean D. Laganosky, MD

2018 – Charles Adam Lorentz, MD

2017 – Jonathan Huang, MD

2016 – Aaron D. Weiss, MD

2015 – Aaron D. Weiss, MD

2014 – Lindsey A. Herrel, MD

2013 – Austin B. DeRosa, MD

2012 – Justin M. Watson, MD

2011 – Jordan E. Angell, MD

2010 – Hadley W. Wyre, MD

2009 – Kate H. Kraft, MD

2008 – Wayland Hsiao, MD

2007 – Nedra Y. Hood, MD

2006 – Andrew R. Bullock, MD

2005 – Chester C. Wilmot, MD

2004 – Thomas K. Slabaugh, MD

2003 – Anand Krishnan, MD

2002 – David Scott, MD, PhD

2001 – Nick Symbas, MD

2000 – V. Keith Jiminez, MD

1999 – Chad W. M. Ritenour, MD

1998 – Jonathan Kalish, MD

1997 – Murphy F. Townsend, MD

1996 – Murphy F. Townsend, MD

1995 – Todd H. Hoekstra, MD

1994 – Edwin A. Smith, MD