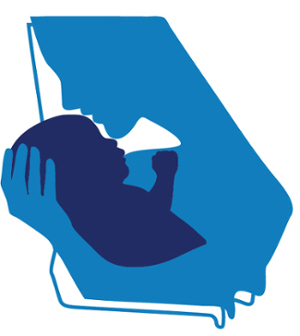 For a majority of women giving birth, motherhood is a joyous occasion.  Sadly, this is not the case for all.  Psychiatric issues are the most common adverse event that women experience during the postpartum period.
Georgia has 3.2% of the nation's population, but only 2.3% of the nation's psychiatrists.  Other mental health providers, such as psychologists, counselors and therapists, are also in short supply.  Of the state's 159 counties, only eight are believed to possess an adequate number of mental health practitioners. Those eight counties are all within or surrounding Georgia's cities, highlighting the needs of rural communities. 
Not only is there a shortage of practitioners, there is a lack of coverage for mental health services.  Medicaid services cover nearly 50% of women during pregnancy and postpartum care, yet provide minimal coverage for mental health. As a result of this, it is difficult for women to obtain or afford mental health evaluation and care during this uniquely vulnerable time.
To combat this issue, the Georgia state legislature through the Department of Public Health approved funding for a psychiatric program which will provide consultation to physicians, physician assistants, nurse midwives and nurse practitioners. This program aims to:
Support clinicians caring for mothers, mothers-to-be and their families
Educate caregivers about the resources available to patients in their communities
Provide health professionals with information so they can best treat their particular patients.
Train medical professionals to recognize and treat psychiatric illness in their perinatal patients
Educate physicians in training how to best address the needs of this vulnerable population
The program will be staffed five days per week with physicians specifically trained in women's mental healthcare who are current faculty members at the Emory University School of Medicine Department of Psychiatry. The psychiatrists will provide consultation, as well as educational material and didactics to practitioners and trainees in order to improve the knowledge of those caring for this population. In addition, Healthy Mothers and Healthy Babies Georgia will be available to assist moms in need in finding appropriate social services and supports that will further alleviate mothers' symptoms. 
What does PEACE stand for?
Perinatal Psychiatry - Caring for the mental health needs of women before, during and after pregnancy, helping them be healthy mothers
Education - Sharing knowledge about women's mental health to those caring for them.
Assessment - Evaluating women to personalize the care she receives
Community - Bringing together governmental, academic and civic organizations
Engagement - Committing to improve the future for Georgia's mothers and children
How will PEACE for Moms help me with a patient?
Using a team approach, PEACE for Moms will collaborate with obstetric providers to:
Help a provider determine if a woman needs medication or if other treatments are appropriate
Adjust treatment to minimize risks to the developing fetus
Optimize psychiatric medication to improve the pregnant mother's functioning during pregnancy and after delivery
Weigh the risks and benefits of a woman becoming pregnant in the presence of serious psychiatric illness
Support a mother who has experienced a miscarriage or stillbirth with her grief and plan for future pregnancies
Prescribers
Physicians, nurse practitioners, nurse midwives and physician assistants are required to register to before obtaining clinical consultations and be informed of educational programming.  Save time and register now.
To initiate a consultation or obtain community referrals:   855-579-MOMS (855-579-6667)