Check your risk for COVID‑19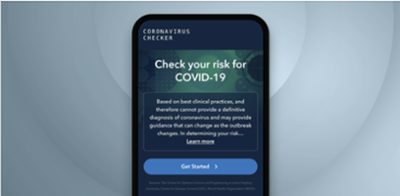 Emory doctors have helped create a new online tool allowing people everywhere to assess how likely it is that they have contracted the novel coronavirus.
The free tool was designed by Vital software with guidance from Emory Department of Emergency Medicine's Health DesignED Center and the Emory Office of Critical Event Preparedness and Response.
The site is for educational purposes and not a replacement for a healthcare provider evaluation.
C19check.com acts as an easy way to digest expert information and choose the best plan of action. Based on the answers to questions about signs and symptoms, age and other medical problems, a person is directed to guidance based on CDC guidelines and is placed into one of three categories:
high risk (needs immediate medical attention),
intermediate risk (can contact their doctor for guidance about how to best manage their illness),
low risk (can most likely administer self-care or recover at home).
In any case, the person is never dissuaded from seeking professional medical advice or contacting their healthcare provider for more guidance.