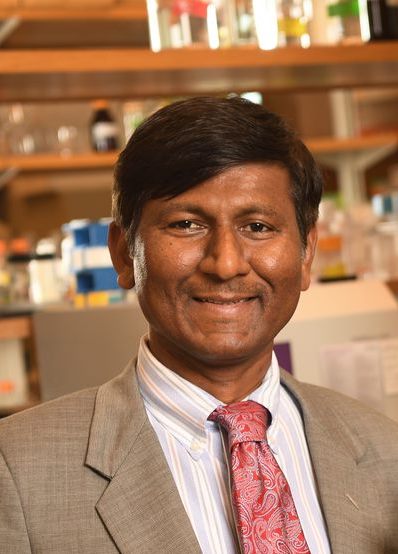 Scientific Achievement Award in Drug Discovery and Development
The ASPET Division for Drug Discovery and Development is pleased to award Dr. Thota Ganesh from Emory University the 2023 Scientific Achievement Award in Drug Discovery and Development. This award recognizes outstanding investigators that have made significant contributions in drug discovery, translational and/or drug development science. 
Dr. Ganesh is receiving this award in recognition of his seminal innovative discovery and development of novel allosteric potentiators and competitive EP2 antagonist therapeutics to address challenging CNS diseases, as well as his sincere commitment to training the next generation of scientists by enabling access to STEM education in underdeveloped areas. 
Dr. Thota Ganesh is an academic leader in the creation and development of novel compounds that attenuate inflammation and oxidative stress. His key contributions range across many subjects including the molecular basis of taxol-tubulin interactions, identification of the first allosteric antagonist of the prostaglandin EP2 receptor, identifying neuroinflammation targets that promote cognitive failure in epilepsy, sepsis and delirium models, and creating the first truly selective inhibitors of NADPH oxidase 2. He has ten issued patents and is co-founder of Pyrefin, Inc., a company that is developing his EP2 antagonists towards clinical trials. Dr. Ganesh is an associate professor of pharmacology and chemical biology at Emory University. He was educated at Osmania University in Hyderabad, India through his PhD training, then completed postdoctoral work at the University of Durham in the United Kingdom and at Virginia Tech in the US before moving to Emory University. Moreover, he created and funds the Thota Foundation, which improves the education of schoolchildren in the rural village where he grew up. Dr. Ganesh has been a member of ASPET since 2019.
The award will be presented by the Division for Drug Discovery and Development on Saturday, May 20 during the ASPET 2023 Annual Meeting in St. Louis. Additionally, Dr. Ganesh will present a lecture on his work, titled "Discovery of Small Molecule EP2 Therapeutics to Attenuate Neuroinflammation and Cognitive Deficits in Epilepsy and Alzheimer's Disease" as part of the annual meeting.